Interiors
Interiors: Graphic modern apartment
Interiors: Graphic modern apartment
Interiors
Interiors: Graphic modern apartment
Wander into this 900-square-foot 1920s Montreal apartment and you'll immediately feel a little warmer, a bit more carefree and a lot more playful than you did before. Maybe it's the aubergine and mustard palette. Or the way dark accents pop on light walls. Maybe it's the striking combination of geometrics, stripes and paisleys. Or the displays of unique artwork here and there. Whatever it is, the space epitomizes designer and stylist Nicola Marc's style: plenty of personalized details that culminate in a delightfully coherent aesthetic.
A welcoming entryway
Since the apartment opens directly onto the living area, designer Nicola Marc created a
stylish vignette
to give the space a sense of welcome.
Living room
An L-shaped
sofa
with its back to the entrance was used to demarcate the open-concept living area.
Kitchen
interior
Eschewing upper
kitchen
cabinetry
on the feature wall lends the kitchen a light, open feel. Floating black shelves are kept tidy with pretty displays. Nicola used different fabrics for the kitchen and
living room
drapery to separate the spaces. The fabrics work well together - in part because of their playful linings.
Feature wall
For visual impact, the kitchen's feature wall was covered in marble tiles. The wooden
kitchen island
looks like a piece of furniture that ties into the
living room
.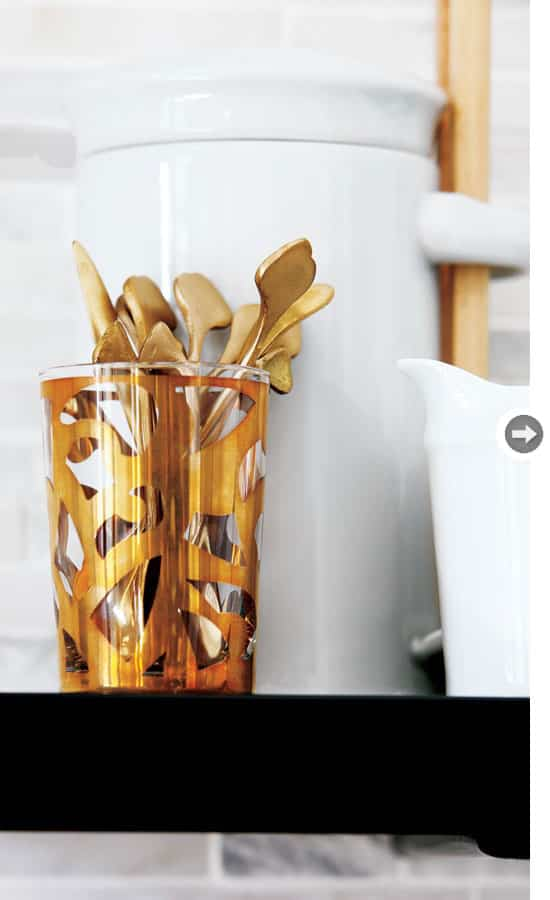 Kitchen accessories
Nicola created attractive vignettes on the kitchen's
open shelves
with useful items like these pretty gold teaspoons.
Dining area
In the dining area, a round
dining table
was a great way to deal with the
small space
. Above it hangs a clever art display that Nicola fashioned by framing photographs of her own shoes.
Home office
The
guest room
/home office has a relaxed, lived-in look, thanks to the sculptural desk and artwork leaned casually against the wall. The yellow chair is "a ray of sunshine," says Nicola.
Sofa
The sofa bed is a
neutral colour,
but the
throw pillows
provide hits of pattern and colour. The pinboards are painted bluish grey to play to the other bold accents in the guest room/ home office.
Floral accent colours
"
Pink
is bold enough to make a statement but gentle enough to match with almost any colour," says Nicola.
Beautiful bedroom
In the master bedroom, metallic
wallpaper
creates a focal point, while the custom headboard covered in grey velvet grounds the lighter colours. A sleek white bedside table is topped with a desk lamp that Nicola painted black.
Bedroom furniture
The archair in the corner of the master bedroom is an antique, reupolstered in white linen. "You need a chair in the bedroom," says Nicola. "It's not only a great dumping ground, but it also beckons you to sit down and relax."
Bathroom vanity
A sleek white vanity replaced a tired old pink one. It's simple lines allude to the style of the home and fit nicely in this very
small space
.
French doors
Sliding
closet
doors were swapped for French doors outfitted with mirrors to provide light and sparkle.
Dresser
The dresser, formerly dark wood, was painted a cool
grey colour
and fitted with modern white handles.
If you like Nicola Marc's graphic modern home, you have to see Lindsay Mens' eclectic and colourful condo.