Interiors
Interiors: Regal English Christmas home
Interiors: Regal English Christmas home
Interiors
Interiors: Regal English Christmas home
For Michele and her husband, Ryerson Symons, the 10-foot-high Christmas tree brings back many memories of England, since some of the
festive Christmas decorations
date back to the couple's very first Christmas there. "Ryerson's family was visiting and we didn't have a thing," says Michele, "so I went out and bought various pieces from Peter Jones, one of the old Sloane Square department stores. I still have those decorations, and every year since then I've added to them – it doesn't matter where I am, I always find something. Our collection is a true reflection of where we've been." The tree features beautiful Murano glass balls, hand-stitched items, interesting ornaments that depict the six wives of Henry VIII, and hand-painted eggs from Prague.
Traditional Christmas tree
The huge tree in the library is decked out with ornaments collected over many years. "There's no point in having a precious
Christmas tree
that the kids can't help with," says homeowner Michele Leighton Symons. However, they pitch in after their mum has hung all of the Murano glass balls. The prints on the wall are of the Great Exhibition of 1851 in London, England, housed in what became known colloquially as the Crystal Palace, and are a reminder to Michele of her thesis on Canada's participation in the first World's Fair. The English Regency Gothic Revival
chandelier
was sourced in England as Michele planned the decor of her new house. Stylistically, it works beautifully with the late 19th-century Aesthetic Movement mirror and sconces.

English Regency round rent table
Michele has a story about most pieces in her home, including the round rent (or drum) table from the English Regency period in the hall. "A landlord would stand at such a table and spin it to the drawer assigned to each tenant as they queued to pay," she explains. The circa 1775 red lacquered clock is in the chinoiserie style.
Tabletop decor
A black lacquered Victorian papier mache tray with gilded detailing holds Egyptian blown-glass balls picked up during Michele's travels.

Lavish living room
One of the first things Michele did in the
living room
was measure the space for her mirror. It fits perfectly, hung to sit on the cornice. "That's how the French put their mirrors up. They never put them flush to the wall – they're always tilted so you can see the room," she explains. For a lush garland to
dress up the mantel for the holidays
, Michele mixed fresh greenery with her collection of dried Christmas decorations, which she brought from England. The antique English
sofas
were bought at a fair in New York. "They had been re-covered in pink satin damask, so they were very boudoir-esque," says Michele. Now upholstered in Michele's favourite colours, the pair anchor the formally arranged living room.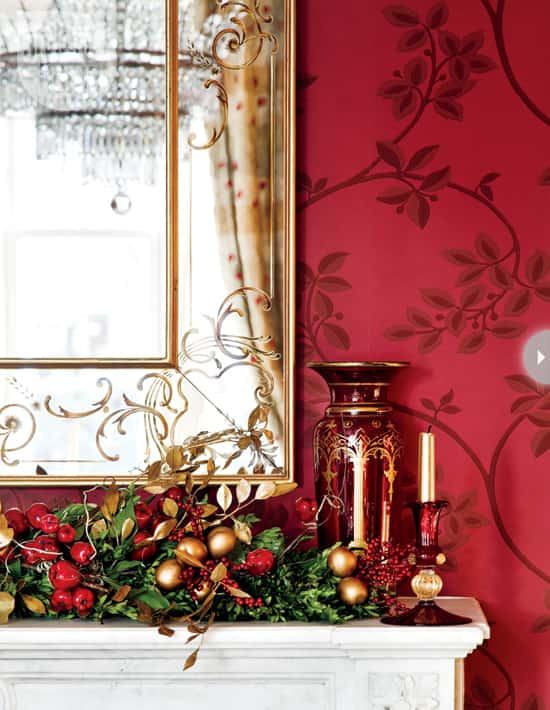 20th-century French mirror
An early 20th-century
French mirror
bounces light from the window into the
dining room
. The walls are covered in
Farrow & Ball
's The Ringwold Papers, which is based on a silk pattern designed in the early 18th century.

Regal dining room
The English Regency
dining table
and chairs had been sitting in Michele's basement in London, waiting for the perfect home. The table can seat up to 16, and at Christmas, Michele sets up a second table allowing her to seat 25 for dinner. The late 18th century English Georgian linen press holds family heirlooms and other
table linens
Michele has collected. Three pieces of fragile decalcomania are displayed on top.
Holiday tablesetting
Michele sets her holiday table with her collection of
red and green
Murano glass. "I don't set a table that's perfectly matched," she says. Her glass collection also includes Austrian and a wide range of Victorian ware.

English Regency chair and details
In the
living room
, the black lacquered English Regency chair with gilded detailing dates back to about 1820 and is the style that was used to furnish the set in the BBC
Pride & Prejudice
series.