Bathroom
5 tips for creating a posh bathroom
Image: Stacey Brandford / Styling: Ann Marie Favot
Bathroom
5 tips for creating a posh bathroom
Learn how this stunning clean-lined bathroom in Toronto came together.
Take your bathroom from predictable to picture-perfect with our five tips for creating a magazine-worthy space like this one.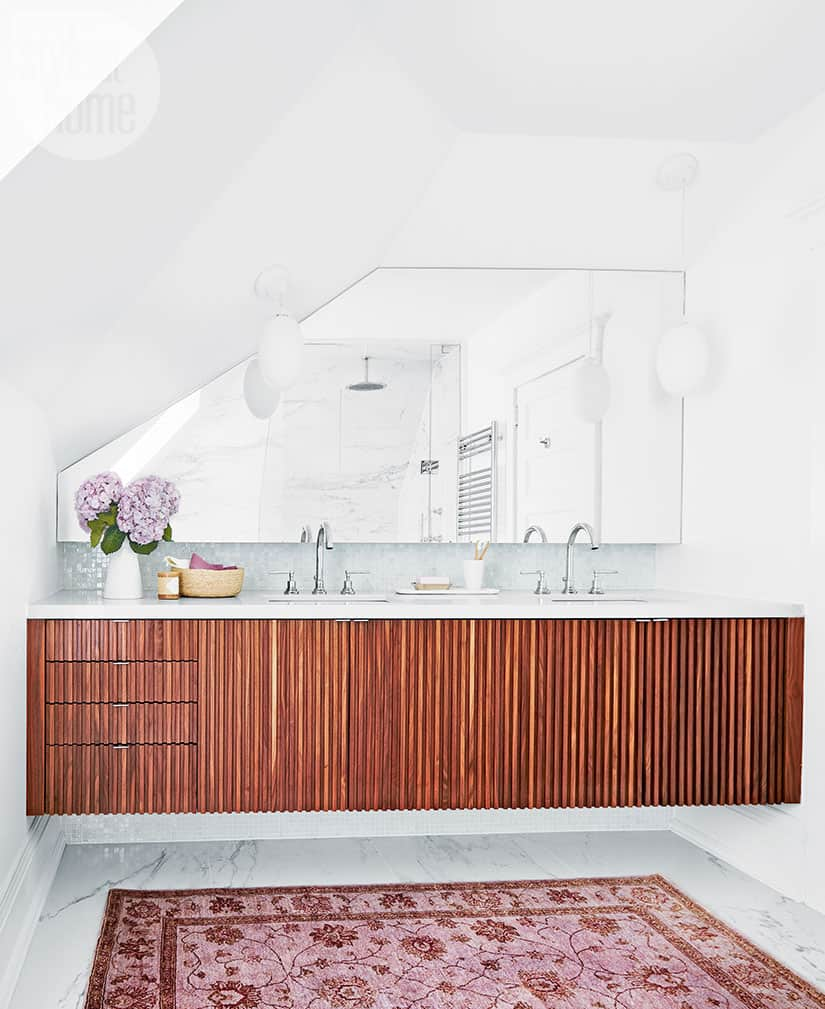 1. Allow the size of your space to determine the hero items.
"For a large bathroom, this one had a lot of wasted space," says designer Shirley Meisels, who was tasked with reimagining the 150-square-foot room. Up first was replacing a smaller vanity with a larger one that makes better use of an awkward dormer and allows for his-and-hers sinks – a must-have for the homeowners.
2. Add warmth with walnut pieces and a bold rug.
With their abundance of hard surfaces and sleek fixtures, contemporary bathrooms can risk feeling a little cold. Here, the custom walnut floating vanity helps ground the look and lends the space warmth; its clean lines and tonal variations suit the room's cozy modern vibe, which is enhanced by the large vintage-look rug.
3. Rely on pendant lights for extra style.
The sleek pendant lights hanging at eye level look right at home in such a sophisticated space. Notice how Shirley made clever use of the funky dormer ceiling by staggering the placement of the fixtures.
4. Carry tiles all the way up.
The gorgeous oversized marble-look porcelain floor tiles continue up the shower walls, giving the impression of a seamless piece of stone. The simple glass enclosure doesn't detract from this stunning touch.
5. Conceal extra storage in a chic place.
The homeowners wanted to utilize the vacant space below the window, so Shirley added a built-in window seat that looks similar to the vanity. The piece features a genius addition: pullout drawers for laundry storage.