Bathroom
8 new bathroom products
Bathroom
8 new bathroom products
It may be the smallest room in the house, but the bathroom commands the royal treatment in 2009. "People are still putting a lot of money into the bathroom when they renovate and redecorate," explains Nathalie Rosset, buyer and visual merchandiser for Zone Maison in Montreal. "They want high-quality products, products that are going to last."

The latest products are smooth and serene, just right for the powerful spa-bath trend. "We definitely need a place to retreat, despite all economic forces," say Ellen Halpern and Paula Seligman of Peony Design in Toronto. "A spa-like retreat in which to regroup, to feel like you're being taken away."
Key words for the 2009 bathroom are minimal, sleek, shiny -- think glass, tile and silver. To warm up colder materials, add touches of bamboo. "Everything is bamboo," says Rosset. "It adds warmth, it doesn't stain, it lasts and it's eco-friendly."

Sit back and relax with our top picks to updating your bathroom for 2009.






1 It's got a hefty price tag but you'll be hard-pressed to find anything more relaxing than the Fountainhead VibrAcoustic bath (starting at $7,134) from Kohler. The bath combines sound vibration, chromatherapy and music to help slow your breathing and heart rate and to make you say, "ahhhhh."





2 A new tub isn't the only way to turn your bathroom into a relaxing retreat. A simple bamboo bathtub caddy ($52.50) to hold a glass of wine, a scented candle and a favourite novel while you soak away your sorrows in some steamy water will do the trick just fine.









3 Bath salts are another simple way to dissolve the stresses of a busy day and the beautiful bark rim bowl ($99) they come in is sure to put a smile on your face even before you step into the tub.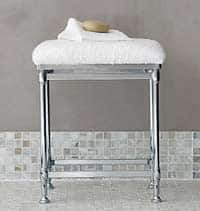 4 A bath stool ($199) -- pictured here in trendy polished chrome and comfy terry cloth -- is a little luxury every spa-like retreat needs. It's the perfect perch for a towel, bowl of bath salts or stack of magazines you plan on reading during your me-time.




5 White never goes out of style and this new line of plush monogrammed terry guest towels ($29 each) updates a classic indulgence.









6 It may look too pretty to stand on, but a bamboo bath and shower mat ($45) is an eco-friendly alternative to a traditional cloth bath mat. It's also safer, with non-slip pads to keep it in place and more hygienic as the raised profile, slat design and water-resistant material help it dry faster.
7 Eco-friendly is one of the leading trends for every room in the home for 2009. These natural soaps (handmade in Turkey!) are both beautiful and practical. Large bar, $10.
8 The 2009 bathroom is all about reflection, say Ellen and Paula. Look for beautiful accessories -- trays, canisters, dispensers, etc. -- as well as mirrored objects and mirrors, like this exquisitely carved acacia wood hand mirrors ($30.87 each).