Bathroom
Bathroom decor: Classic and feminine
Bathroom decor: Classic and feminine
Bathroom
Bathroom decor: Classic and feminine
When human resources executive Silvia Marabeti moved into her new-build Toronto condo, she was intent on making a powerful personal statement in its only bathroom. "She wanted to shed the existing builder's look – sedate and masculine – and make the space hers, even though it was also going to be used as a guest bathroom," says Emily Hollis of Emily Hollis Interior Design. "My job," she says, "was to rein in her extreme passion for all things feminine and pretty."

The design vision started with a few inspirational tear sheets loaded with marble, says Emily. Concerned that an all-marble bathroom might feel too cold, especially in the small 75-square-foot space, Emily employed a few tricks to soften the stone and balance its cool white and grey tones. The result is gorgeous, softly swirling Carrara marble that runs only halfway up the wall, with larger 12-by-12-inch tiles laid on the floor in a diamond pattern to bring visual relief. To add warmth and subtle colour to the room, the cabinetry and walls were painted a delicate, airy blue.

The custom cabinetry and millwork were designed with simple profiles and adorned with crystal knobs to speak to Silvia's love of pretty accents and further dress up the space. "It was important to stick with clean lines throughout in order to balance the more feminine elements," say Emily. Finally, working within typical condo restrictions, Emily was able to alter the room's boxy feel by knocking out part of the shower wall and installing glass. "It's incredible the difference that makes in opening up the space when you walk in. It also creates the feel of a window where there isn't one." Now when Silvia retreats to her sophisticated and glamorous bathroom, she has a space she can truly call her own.


Feminine hardware and fixtures
The clean lines of the cabinetry and marble edging complement and balance the more feminine hardware and fixtures.

Designer touch: The tailored brushed-silver mirror pretty much sums up the bathroom's style, which is a mix of classic and feminine.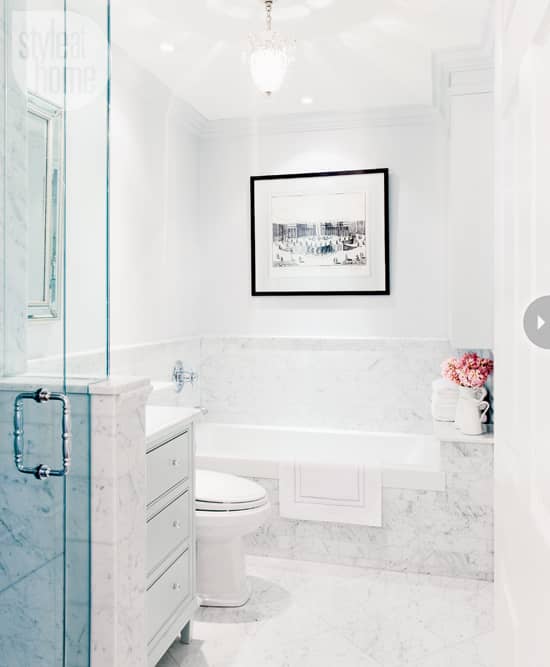 Marble tub
The highlight of the room is the marble, which draws the eye to the soaker tub. This tub has the same footprint as the old one but a lot more interior space. "It's tall, with a low profile at the same time," says designer Emily Hollis.
Designer touch
: A perfectly scaled crystal
chandelier
adds an incredible amount of sparkle, illuminating without overwhelming the whole room.

Custom cabinet
Homeowner Silvia Marabeti needed storage space, but Emily put the brakes on leaded-glass doors. "It would have been too much detail alongside all the marble." This custom cabinet holds plenty of necessities on clear glass shelves. A marble shelf was added below to provide extra
storage space
, plus it's a handy ledge for a vase of fresh flowers and a glass of wine.

Designer touch
: Bigger-than-standard-size subway tiles look less busy in the all-marble space.