Bathroom
Bathroom decor: West coast luxury
Bathroom decor: West coast luxury
Bathroom
Bathroom decor: West coast luxury
Men dream about big TVs; women dream about big bathrooms!" says Vancouver designer Kelly Deck of Kelly Deck Design. And there's no doubt this master
bathroom
, which features a tub that overlooks the Pacific Ocean, is a dream come true for the White Rock, B.C., owners.
At 600 square feet, it's one of the largest bathrooms Kelly has ever designed. "And in some ways, it was one of the most challenging," she says. "I wanted the room to feel like you were at a luxury hotel
spa
, not at home. But when you're dealing with that much space, a bathroom can come across as cold and impersonal." Her solution? Use a combination of different materials and textures. "I knew the bathroom had to yield to the vista outside the
windows
, to embrace the sea and sky. I wanted it to echo the largesse of the natural world," she says.
Tile play
Applying the same tile in two different shades to a wall is a subtle yet effective way to divide a space.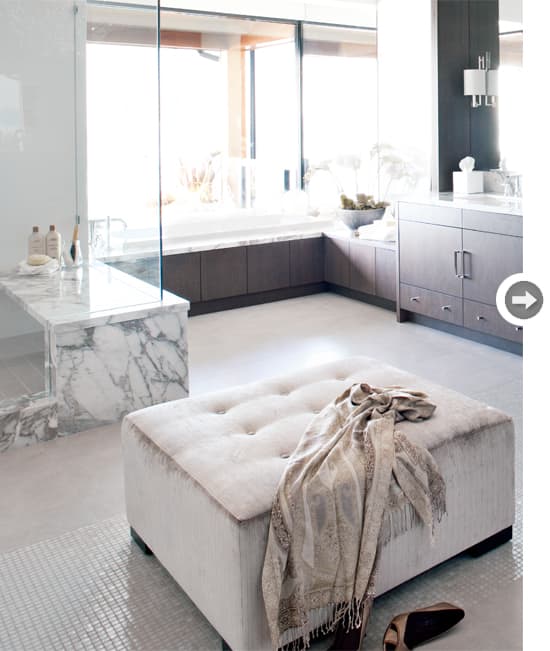 The rich oak millwork used throughout the ensuite grounds the space and introduces a warm grey brown to the otherwise pale interior. To create a focal point in the spacious room, designer Kelly Deck selected sparkling mosaic tiles for the vanity wall and then ran the tilework across the floor. The glinting surface of the mosaics offsets the matte finish of the dark millwork and porcelain floor tiles. The tub was placed in an alcove surrounded by windows to take advantage of the view of the Pacific Ocean. Setting the tufted ottoman in the centre of the room sends the message
that this is a place to relax and unwind.
Consistency rules
Using the same materials throughout creates a seamless effect that's pleasing to the eye.

Cozy touches
Adding upholstered pieces to a bathroom helps soften the harder elements.
High shine
Simple chrome faucets add just the right amount of jewlery-like bling to the space.
Great divide
A "runner" of sparkling mosaic
tile
cleverly breaks up the expanse of porcelain floor and tile.
Find more inspiring design ideas with our beautiful bathroom interiors.