Bathroom
Bathroom lighting tips
Bathroom
Bathroom lighting tips
Lighting in the
bathroom
is key and does require some thought. What type of lighting will you use? Where will you place the light? What type of fixtures and finishes do you want? Understanding the basic concepts of bathroom
lighting
will make answering these questions much easier and result in a beautiful, well-lit space. Use these five lighting tips to minimize the amount of shadow and glare, while perfectly brightening up your bathroom!
Photography by Stacey Van Berkel Haines.

Above the mirror

If you have the space, using diffusers (open or closed) centered above the mirror will minimize shadows on your face. Also, translucent
white
diffusers work best to avoid any glare, so be careful with clear glass fixtures that expose the bulb - they tend to produce a glare.
Photography by Stacey Brandford.

Beside the mirror

Putting lights beside the
mirror
, such as sconces, provide the best
lighting
while minimizing shadows. The sconces should be placed on both sides of the mirror, at face height. The fabulous thing about sconces is that they are fantastic for both task and accent lighting. Since they are placed at face level they are perfect for grooming or applying makeup; and with the multitude of sconces available you won't have to sacrifice
style
for function!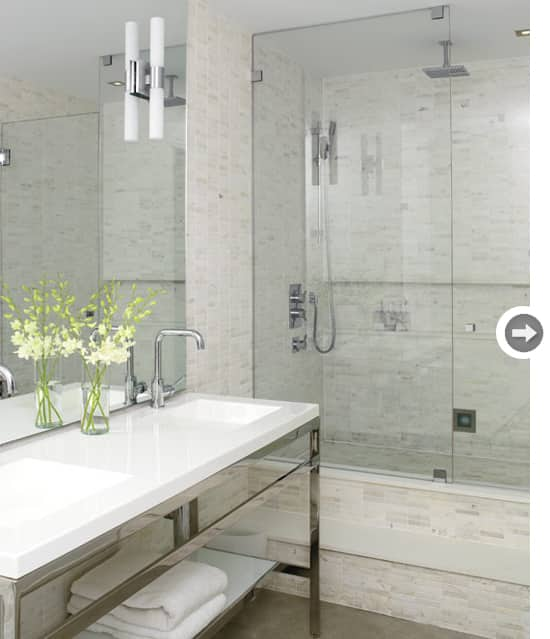 Photography by Mark Burstyn.

On the mirror
If placing a light directly on the
mirror
be sure it is as nicely finished in the back as it is in the front. The mirror will be reflecting the back portion (usually unseen) of the light so it has to look good! This option is also nice if you want a clean and sleek look in your
bathroom
, like the one shown here. The fixture is simple and slender, and blends easily with the other finishes in the bathroom.
Photography by Evan Dion.

Recessed

This
lighting
option is great for a clean, unobtrusive look. The recessed lights become part of the architecture and simply blends into the room. When using recessed lighting, it's best to place them closer to the
mirror
to get the most light coverage where you need it and avoid as much shadow as possible. Also, putting two or more recessed lights, spaced out in a row, play off each other, creating a lighter, brighter space.
Photography by Stacey Brandford.

Decorative

Decorative lights enhance light coverage, working with other task lights, while adding to the
decor
and mood of the
bathroom
. A gorgeous
chandelier
over a free standing tub, for example, is an instant hit of glam and elegance. To ensure a cohesive look throughout the space, coordinate the materials and finishes of your decorative
lighting
with the hardware in the room, such as faucets and handles. If using coloured glass, try to keep it away from the mirror as you can discolour the light where you need it most.