Bathroom
Bright and whimsical kids' bathroom decor
A fun and bright childrens' bathroom
Bathroom
Bright and whimsical kids' bathroom decor
This stylish kids' bathroom, with its whimsical accents and bright pops of colour, has us harking back to our rubber ducky days.
The fresh and airy appeal of this kid-friendly bathroom, designed by Toronto-based decorator Jennifer Glover, is testament to the idea that the simplest touches are often the most striking. The space was created with her son and youngest daughter in mind, incorporating hits of sunny yellow to counter the bursts of blue.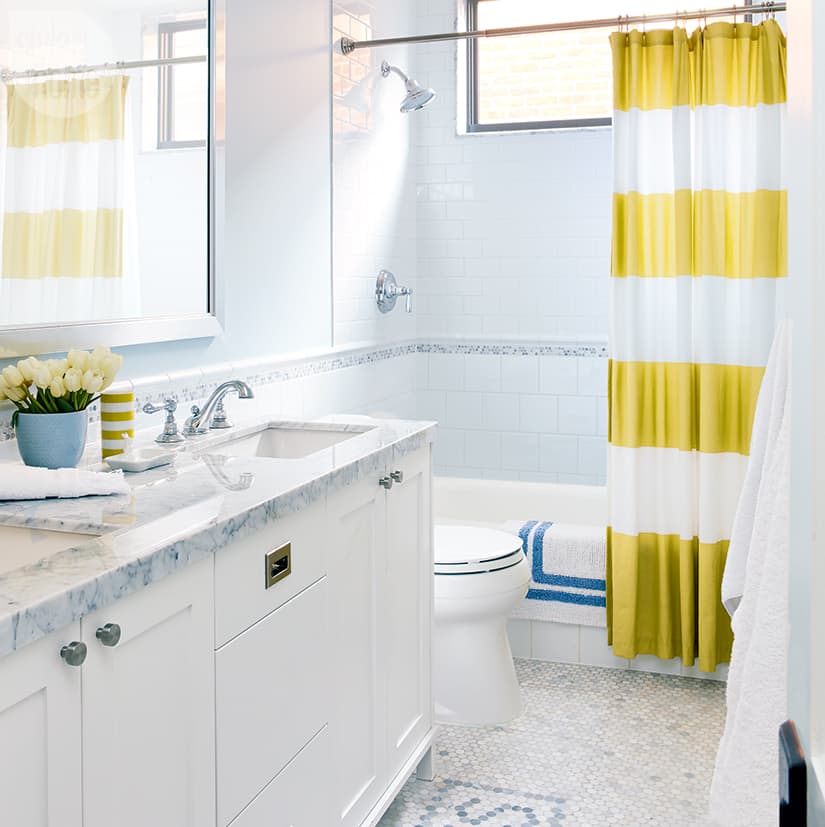 Fun and bright childrens' bathroom
The room's piece de resistance? It's a toss-up between the custom double-sink vanity and the marble mosaic floor tiles that playfully spell out "girls" and "boys". Either way, for the two youngsters, tub time means making a splashy statement.
Custom mosaic tiles
Customized mosaic tiles are an ultra-creative addition to the already stunning floor.
Cheerful countertop accessories
A fresh bouquet of tulips, a porcelain bunny soap dish and a brightly patterned cup fill the space with cheer.
Get this look on a budget:
Photo Gallery
Get the look: Bright and whimsical kids' bathroom decor
Shower curtain
Morocco shower curtain in gold. $40, Bed Bath & Beyond
Image by: Style at Home Source: Bed Bath & Beyond
Get the look: Bright and whimsical kids' bathroom decor
Sconce
Beacon sconce in white. $98 US, Serena & Lily
Image by: Style at Home Source: Serena and Lily
Get the look: Bright and whimsical kids' bathroom decor
Ring dish
Giraffe ring dish. $16 US, Anthropologie
Image by: Style at Home Source: Anthropologie
Get the look: Bright and whimsical kids' bathroom decor
Soap dish
Losjon soap dish. $4, IKEA
Image by: Style at Home Source: IKEA
Get the look: Bright and whimsical kids' bathroom decor
Hangers
Losjon hangers. $9 (set of 5), IKEA
Image by: Style at Home Source: IKEA
Get the look: Bright and whimsical kids' bathroom decor
Bath towels
Style at Home Solid-Colour cotton bath towels. $23 each, Sears
Image by: Style at Home Source: Sears