Bedroom
A prim yet practical boudoir with brass and velvet accents
Photography: Stacey Brandford | Styling: Ann Marie Favot
Bedroom
A prim yet practical boudoir with brass and velvet accents
Comfort and convenience are the ultimate luxuries for a busy professional who puts practical before pretty.
Comfort is always in style. That's the mantra that keeps Au Lit Fine Linens, Joanna Goodman's popular linens and home furnishings company, relevant. And for Joanna herself, who is also a bestselling novelist and a mother of two, comfort and convenience are a well-honed way of life. "I'm the least fussy person," she says. In fact, fuss-free is central to Joanna's decor aesthetic, but you wouldn't guess it from looking at her lovely modern glam home in Toronto's Lawrence Park neighbourhood. Even her most private rooms – her bedroom, master bath and office – are the epitome of pretty and practical.
Boasting a perfectly made silk velvet-upholstered king-sized bed, a glamorous primping station and a hotel-worthy sitting area that opens out to a Juliet balcony, the spacious boudoir Joanna shares with husband Miguel Cardinal glitters in silver and white with sparks of brass. But Joanna doesn't let the envy-inducing decor belie her laid-back lifestyle: "I'm a fan of a coverlet you can just pull up to hide all the stuff that's going on underneath," she says. As for the brass-based faux leather chairs that create a conversation area by the French doors? "I wish I could say I have my latte there each morning, but I never sit there." The pieces are fetching space fillers that add layers of texture in the otherwise cavernous zone. And that opulent oval makeup table? "I do a lot more writing there than makeuping. I write anywhere I can set down my laptop – and wherever my kids aren't," says the author, whose actual office down the hall embodies stylish simplicity (think: linear silhouettes and golden bronze finishes).
The busy professional does take time to unwind and relax, however. "I have a bath almost every single night," says Joanna. "It's the only time I can get away and read." Enveloped in marble – including graphic Statuario on the upper halves of the wainscotted walls, as well as white Thassos with a grey Bardiglio border on the floor – her decadent 145-square-foot ensuite was professionally designed in 2017. "Baths are not my domain," says the bedding expert, who chose designer Tara Fingold, a long-time Au Lit customer, for the job. "Our tastes vibe, and she brought out some girly glam in me," she says, referencing bits of sparkle in the room like the Lucite vanity pulls. Ever pragmatic and forever down to earth, Joanna adds, "And Tara is super decisive like me. I want to get it done and move on. She gets that."
A pair of extra-tall king pillows, called grand kings, is Joanna's symmetrical alternative to a trio of euro pillows.
The curvaceous vanity chair, a gift from her husband, inspired Joanna to add pops of brass with items like her late mother's tray.
With two occupations and two kids, Joanna Goodman rarely sits idle. Her bedroom's glam demilune chairs are luxe eye candy.
Family photography is apt art in this writes-from-the-heart author's office. Key pieces like the desk chair are from RH Teen. "It's the best- kept secret for grown-ups," says Joanna. "There's nothing teen about this chair, and it's super comfy."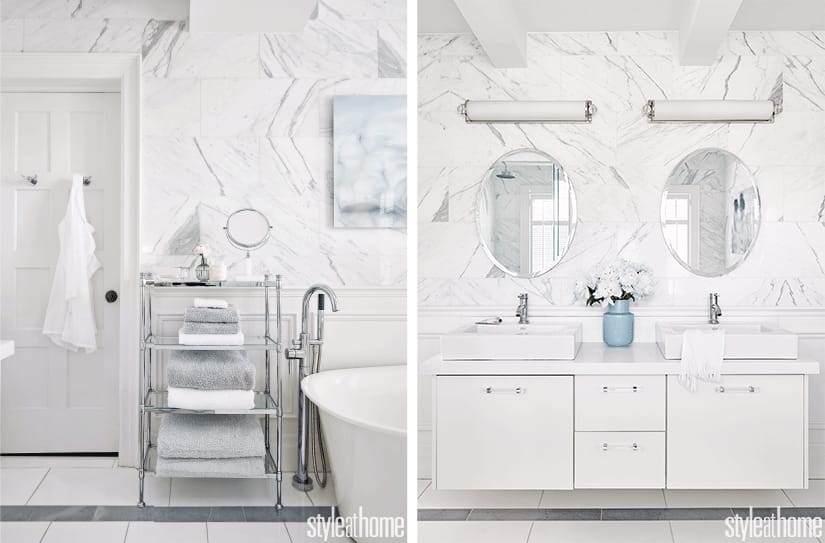 "There can be too much of a good thing," says designer Tara Fingold of the ensuite's former dizzying Statuario marble-clad walls and floors. Tara added wainscotting and replaced the flooring with subtler marbles. A pale palette, oval elements and plush towels on display net serene softness.