Bedroom
Bedroom accessories under $50
Bedroom accessories under $50
Bedroom
Bedroom accessories under $50
From basics to accessories, any bedroom can be beautiful and luxurious on a budget. At less than $50 per item, we prove that you can still indulge in fabrics, textures and styles without emptying your savings. Here are 10 fabulous bedroom decor ideas to inspire your own inexpensive makeover.



Satin sheet set
Not only does satin feel divine against your skin, but just the look of a satin-laid bed screams luxury! With this satin sheet set you get the indulgence without the price tag. Sears.ca, $39.99-$69.99.
Mongolian lamb pillow cover
Whether sleeping or curling up in bed with a book, you can't go wrong with luxurious textures and fabrics. These pillow covers are not only soft and plush for comfort, but also add a textural element to the bed as a whole.
West Elm
,
$49-$129.

Stockholm mohair throw
As adults, we may not need a security blanket anymore, but we do need a little warmth and comfort from time to time. This mohair wool throw is so soft and cosy you may just end up taking it with you from the bed to the sofa and back. IKEA, $44.99.

Cherry blossom burnout window panel
With spring just around corner, it's only a matter of time before fresh air comes breezing through the windows. The cherry blossom silhouette pattern creates a delicate contrast in the light, making these soft, sheer curtains an elegant window treatment.
West Elm
,
$39-$54.


Whirl disk table lamp with white shade
Give your room a hit of elegance and whimsy all in one with this table lamp. The extended white cotton shade softens the light, playing off the nickel sheen of the circular base.
Crate and Barrel
,
$49.95
.

Ung drill frame
Make a bold statement in your bedroom with this ornate black frame. The Victorian look adds dramatic flair to the room and can double as a mirror or picture frame.
IKEA
,
$39.99.

The Wedding vintage illustration print
Wall decor
is an essential. Whether art, photography or displayed objects, they bring richness and drama to any room. All you need are a few pieces to accentuate the style and colour palette of your decor. Beautiful prints, such as this, are an easy and cost effective way to dress up your bedroom and give it a little personality.
Etsy
,
$12.

Glass shadow box
We tend to hide our clutter in storage boxes, drawers and, of course, the trusty old closet. However, these glass boxes are so simply elegant they can actually enhance your little odds and ends. Store your special
jewelry
and pretty knick-knacks, or wall mount the boxes to display precious photos and art.
West Elm
,
$24-$34.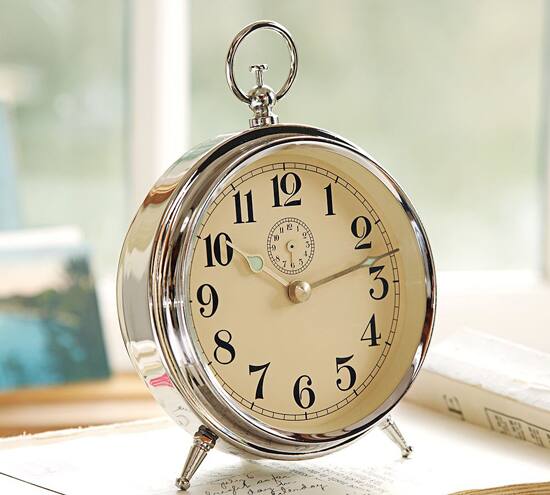 Charleston vintage clock
Let's face it: Nobody likes alarm clocks, and those black digital clocks are
so
not chic. If we must be woken up, why not rise to a beautiful vintage clock like this one? Designed after a classic pocket-watch and finished in polished nickel, this timepiece makes an elegant addition to any nightstand.
Pottery Barn
,
$39.
Oslo candleholders
Nothing sets a mood like candles, so warm up your bedroom's ambiance with these modern crystal candleholders. Spread them out or cluster them together ... they'll look gorgeous either way!
Crate and Barrel
,
$36.95.