Entryway
Get the look: Eclectic foyer
Get the look: Eclectic foyer
Entryway
Get the look: Eclectic foyer
This month, we're feeling inspired by the unique use of punchy patterns in the flashy foyer of Toronto designer Meredith Heron.



Photography by Stacey Brandford; design by Meredith Heron Design.

Why we love it
It's the first impression of your home – and we love that this vibrant foyer doesn't play it safe. The large-scale palm leaf wallpaper boasts a bold and modern pattern that contrasts nicely with the classic houndstooth on the stools. The hint of colour from the raspberry red rug and touch of glamour in the pair of brass lamps bring the predominantly black and white space to life.

Why it works
This graphic aesthetic is effective because it's mostly black and white, which seems neutral, keeping the look from feeling chaotic. Proportion and scale are also done right here: The covered stools, which Meredith had painted and reupholstered, are small enough to tuck away neatly, and the tall, thin bases of the table lamps mimic the lean lines of the console. The large wall mirror gives the space added depth.

1 Pavillion black mirror
This 30' x 40' pavillion black mirror allows for a quick glance just before running out the
front door
.
Crate and Barrel, $299
.

2 Mini crystal chandelier
This
stunning chandelier
comes with a silver finish, and is ideal for hanging in the centre of this eclectic vignette.
Union Lighting and Furnishings, $340
.

3 Leaf wallpaper
A perfect backdrop for this
eclectic space
, this black and white small leaf
wallpaper pattern
showcases a gorgeous bold pattern.
Sandpiper Studios Mondo Collection MN81000 wallpaper, Crown Wallpaper & Fabrics, $62 per roll
.

4 Black console
This black dexter console follows suit with the colour scheme of this foyer. Pier 1 Imports, $280.
5 Rasberry red rug
In a beautiful raspberry red, this 5' x 8'
rug
adds just a hint of colour to the space.
Ethan Allen, $619
.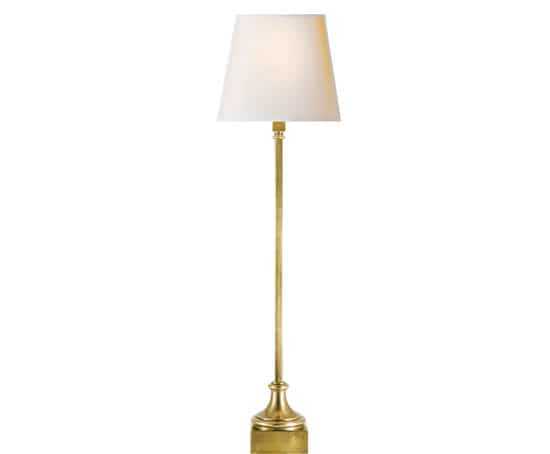 6 Buffet lamp
Placing these brass buffet
lamps
on either sides of the console will add charm to the foyer
.
Elte, $495
.