House Tours
A Cottagey Look House With A Little Bit Of Farmhouse, A Sprinkle Of Rustic And A Dash Of Industrial
House Tours
A Cottagey Look House With A Little Bit Of Farmhouse, A Sprinkle Of Rustic And A Dash Of Industrial
Peeling back the layers and adding a trove of found treasures made this diamond in the rough sparkle again.
I figured all this house needed was a little lipstick to make it look better," says Edwina Grittani, recalling her first visit to the 1940s fixer-upper in Ontario's Prince Edward County. "But during the inspection, the realtor just stood in the kitchen, shaking his head. Obviously, lipstick fixes were not going to be enough – this place would need major surgery!" But she and partner Ousama Rawi bought it anyway.
Photography Janet Kimber
When Edwina Grittani comes home, she drops her keys and phone on a shallow shelf. "I made it from an old wooden pool-cue case," she says. When she and partner Ousama Rawi are ready for a sundowner, Edwina tugs on a framed blackboard, which doubles as a secret door to a wine cupboard. Onions and potatoes from the farmers' market get tossed into wall-mounted wire baskets she found curbside. At bedtime, she goes from a landing she stencilled in a mosaic pattern to stairs she stencilled with numerals. "We used gas pipes to create the handrail," says Edwina.
WALL PAINT, Chantilly Lace OC-65, Benjamin Moore. STAIR RAISERS PAINT, Coal Black, Fusion Mineral Paint.
Photography Janet Kimber
Edwina teetered atop a ladder more than once as she pulled water-stained acoustic tiles off the sunroom ceiling. But it was worth it. "The original tongue-and-groove ceilings were underneath!" she says. To brighten the room, she painted everything white and lined the walls in shiplap. Then she added black accents, including a mirror, lighting and round display shelf. "This room is great for guests. When they sleep over, they just roll the trunk/coffee table out of the way to pull open the daybed," she says. The end table holds two baskets. "To be clear, Emmy and Oscar are not the names of our kids!" says Edwina, laughing. "The baskets refer to our votes for films."
RUG, ROUND SHELVING UNIT, LANTERNS (by mirror), MIRROR (painted black), HomeSense. END TABLE (painted white), Debbie Travis. SCONCE, Home Depot. LAMP, IKEA. CUSHIONS, HomeSense; West Elm. CEILING FAN, Lowes.
"I refer to the house as the Onion House because of the astounding layers of wallpaper, flooring, ceiling tiles, drywall and carpeting we had to peel away," says Edwina. Undaunted, she and Ousama stuck with it. Noting the home's quirky layout, they embraced it. Discovering its fire damage, they erased it. And turning to lawn sales and salvage shops, they DIYed the decorating, then showcased it. "Fortunately, I gravitate toward intriguing oddities that can be turned into something entirely different, and I love old objects that have a captivating story," says Edwina. Making the most of this, she paired her creativity with her can-do attitude to take on every design challenge that came her way. Her motto? "I will not be defeated."
Photography Janet Kimber
Edwina tore up orange-toned laminate from the dining room floor only to discover…concrete! "I really wanted the dining room to allude to the kitchen, so I stencilled the concrete in a fun black and white pattern to match," says Edwina.
FLOOR PAINTS, Simply White OC-117, Wrought Iron 2124-10, Benjamin Moore.
Photography Janet Kimber
"We think the living room may have been part of a porch," explains Edwina. To reclaim the space, she tore out a popcorn ceiling. The original wood ceiling was behind it, but parts were damaged. "Since I couldn't use all of it, I created this new pattern with salvaged wood. I love the texture it adds," she says. The chairs feature numerals and text, which echo the stencil work on the kitchen stairs. The formerly orangey oak electric fireplace got painted white before Edwina layered in Moroccan accents and flea market finds from Budapest.
CEILING FIXTURE, Amazon. RUG, IKEA. Mirrored END TABLE, West Elm.
"Some people see the patterns on the floor as stars. Some see pinwheels."
Photography Janet Kimber
"I am a lawn sale junkie and I found this old butternut table at a good sale by Lake Simcoe," says Edwina. Its aged beauty and obvious pedigree didn't keep her from surrounding the table with chairs and a light fixture that are more modern. And while most of us would never think to, Edwina installed old floorboards horizontally on the wall, which she painted black. "I love reusing things," she says. "The pendant light in the back corner is suspended from a clothesline pulley."
CHAIRS, RUG, West Elm. PENDANT, Structube. RUNNER, Beddington's.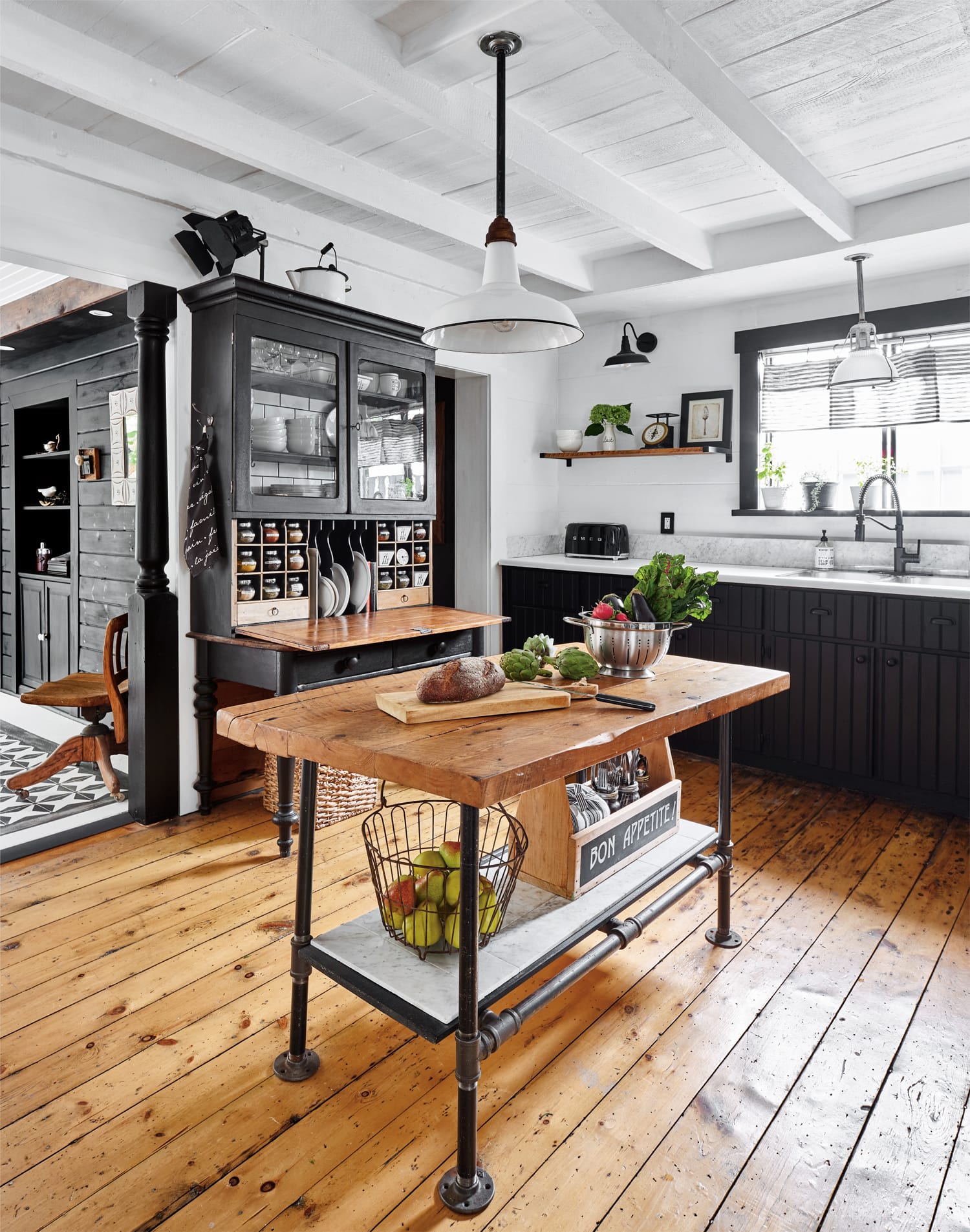 Photography Janet Kimber
"Almost anything you like, especially if it's vintage, can be used to create something fun and unexpected."
Photography Janet Kimber
"When I discovered old wooden beams had been tossed into a garbage bin, I rescued them and turned them into the top of the kitchen island," says Edwina. A vintage pendant over the sink is as much about charm as it is about lighting. The antique hutch wasn't always this gorgeous. "It had this weird purple stain," says Edwina, so she painted it to match the kitchen cabinets, then dashed off to her shed in search of boards to turn into shelves. The rustic pine floors were revealed after removing
layers of tile, linoleum, plywood...and more linoleum.
HUTCH, Funk & Gruven Antique Barn. RANGE HOOD, Wayfair. TILE, Home Depot. CEILING FIXTURE (over sink), MacCool's Reuse. SCONCES, Amazon. BRACKETS (painted black), IKEA.
Photography Janet Kimber
"I thought, there must be a cavity back there somewhere," says Edwina. So she swung hard at the wall with a sledgehammer and found a space that was the perfect size for a pantry. She added wood shelves and painted the backdrop black, giving the room attractive additional storage space.
Photography Janet Kimber
The little guest room fits two single beds. "My lovely friends in Toronto generously gave us the daybed. It was a creamy white, so I sprayed it black for some contrast," says Edwina. She paired it with a metal sconce and inviting check throw. The apothecary cabinet is new but has a vintage vibe.
SCONCE, CHECKERED BLANKET, FAUX SHEEPSKIN RUG, HomeSense. PILLOWS, Pottery Barn. SISAL RUG, Crate and Barrel.
Photography Janet Kimber
After peeling back grey carpeting, Edwina discovered a plywood subfloor. Since this is the primary bedroom, she wanted something fresher, so she laid a brand-new pine floor, then painted it high-gloss white. For texture, she took the bed frame down to metal. Edwina's suitcase collection, used here as a bedside table, hails from world-wide travels, as well as from her mom. Sconces with rope details are consistent with the home's repurposed panache. Edwina made the handsome bedskirt out of Moroccan towels.
CEILING FIXTURE, SCONCE, RUG, CUSHIONS, THROW, HomeSense. END TABLE/DRESSER, St. Lawrence Antiques Market.
Photography Janet Kimber
"That will do it," thought Edwina as she hauled an old wooden ironing board from her shed to the laundry room. She topped it with a thick slab of reclaimed wood and a galvanized tub. Wall-mounted brass fixtures punctuate the backdrop of framed graphic tiles.
The light is suspended from an old clothesline pulley.
LIGHT fixture, IKEA. TILE, Home Depot.
Photography Janet Kimber
An old shoe mould holds a hand towel in the primary bedroom's ensuite. Edwina stencilled the Moroccan-style pattern on the floor. The sink was added after creating a textured backsplash with leftover marble tiles. The hook for the mirror is an old faucet handle.
ROUND MIRROR, HomeSense. SINK, Wayfair.
"I told my best friend I was looking for a small dresser to convert to a vanity. She emptied her dresser drawers, and said, 'Take it.' Talk about a good friend."
Photography Janet Kimber
In the main bathroom, a modern bowl sink adorns the vanity, created from a painted dresser decked out with office-style hardware. "I love how the wall-mounted faucet saves counter space," says Edwina. She made the shelf from barnboard and suspended it with rope. Disliking the large gaps between the floorboards, Edwina glued sisal rope in between, then coated the top with urethane.
SINK, Rona. WALL PAINT, Black HC-190, Benjamin Moore. WALL HOOKS, IKEA.
Photography Janet Kimber
"The fence used to be pale blue. Thankfully, my brother and sister willingly rolled up their sleeves to give it a new look," says Edwina. The sofa was created by adding a back to an old IKEA lounger. Edwina used fence boards, a chimney cap and oversized casters to make the coffee table. "The painted stump stools are from a tree we had to cut down," says Edwina. The rug is a take on the stencil work from inside. To finish the space, Edwina hung a mirror on the fence.
LOUNGER (converted to sofa with DIY back), CHAIR, IKEA. RUG, Crate and Barrel. PILLOWS, Crate & Barrel; HomeSense; Lowes.
Photography Janet Kimber
"The yard is deep, and there's a charming shed at the back. Someday, I hope to turn it into a bunkie," says Edwina.
Photography Janet Kimber
When Edwina and Ousama purchased the house, they were clear that they wanted to do the majority of the work themselves. Says Edwina: "Getting others involved is never as satisfying as being able to high-five each other at the end of the day and exclaim, 'Look what we did together!'"