House Tours
A grand Victorian shakes off stuffy and takes on the mood of the modern, fun-loving family who live here
House Tours
A grand Victorian shakes off stuffy and takes on the mood of the modern, fun-loving family who live here
This house may be 150 years old, but its grandeur is no less apparent than it must have been the year it was built. "The architectural details alone, even on the ceilings, are exquisite," says designer Cindy McKay.
And that doesn't even begin to account for its five bedrooms and nearly 6,000 square feet of living space. "The scale of this place is absolutely wild." That said, it hadn't been updated since the 1990s. "And that wasn't great for the family of five who live here," says Cindy.
"They're very energetic. I mean, this is where you want to be going for drinks on Friday nights!" So, rather than lean into the home's history, Cindy swung the other way, creating a contemporary, fun-forward haven. "It's breathtaking," says client Julia Grieve. "With three teenagers and a dog, I wanted a home that could be used, not just admired. Cindy gave us both!"
"It all started with that wall niche, which is original. I loved that curve at its top, that softness," says designer Cindy McKay. "It made a rounded console table seem perfect for this spot." The two velvet stools have brass detailing like the console table. "I thought having two round mirrors would look young and unexpected."
PHOTOGRAPHY, Lauren Miller | DESIGN, Cindy McKay Interiors. CONSOLE, West Elm. STOOLS, Structube. MIRRORS, HomeSense. WALL PAINT (throughout), Oxford White CC-30, Benjamin Moore. STAIRWAY RUNNER, Y&Co. CHANDELIER, Union Lighting & Furnishings
"The wool runner was the first thing I chose because it's so impactful to be met by such an enormous staircase. One never sees steps this wide anymore," says Cindy. She paired the runner's black and-white graphic pattern with a huge multi-globed chandelier. "Scale-wise, it's historic. Shape-wise, it's all about now."
The windowed double doors and stained-glass sidelights flood the entryway with light and put to rest Victorian architecture's reputation for dark and dreary. The exquisite original elements stand out all the more thanks to the injection of modern features. Says Cindy, "The entry decor is grand in scale like this Victorian, but modern and fun like the people who live in this home."
"I love the tension between the home's historic architecture and its contemporary furnishings." – Cindy McKay
The living room is a showpiece with its blissful bay window and grand archway. "But impressive as it is, it's also where everyone watches TV," says Cindy. She had to find ways to combine cocktail-worthy furnishings, such as the olive velvet armchairs and oval stone coffee table, with no-rules pieces, like the sofa that's plop-down comfy for humans and dogs. "I chose those cross-hatched vintage chairs because they're sculptural without closing off the room," says Cindy. The same is true of the modern statement chandelier.
PHOTOGRAPHY, Lauren Miller | SOFA, EQ3. ARMCHAIRS, COCKTAIL TABLE, Article. Vintage CHAIRS, Elle & Eve. COFFEE TABLE, Rove Concepts. CHANDELIER, Elte Mkt. FLOOR LAMPS, Renwil. WALL ART, Minted. FRAMING (wall art), On the Wall Framing.
An 1800s fireplace and high ceilings with a glorious ceiling medallion call for decor drama, so Cindy went bold with the dining room chandelier. "The huge white bobbles are such a contrast to the black fireplace," she says. "Then, you have the reverse with those thick black wires against the vivid white walls."
"There's no bad seat at this table," says Cindy. "The curvy reeded pedestals are tucked neatly away from guests' legs." And the top is solid stone, so it's as practical as a kitchen counter. "I call this room 'colourful contemporary.' Sure, the walls are white, but the art and seat cushions inject brightness and a casual vibe."

PHOTOGRAPHY, Lauren Miller | CHANDELIER, Union Lighting & Furnishings. TABLE DESIGN, Cindy McKay Interiors TABLE CARPENTRY, Cabinet Inc. CHAIRS, Wayfair. RUG, Y&Co. WALL ART, Home- Sense; Minted. Style Union Home BOWLS (on table); FRAMING (wall art); On the Wall Framing.
Before Cindy came on the scene, the kitchen had dark wood cabinetry. "They're such happy and energetic people," she says about Julia Grieve (shown) and her family. "The former kitchen didn't reflect them at all!" The designer opted to brighten the former cabinetry with white paint and new hardware, and added globe shaped pendants over the island.
The floors weren't changed, but the room got a style lift from new brass fixtures and hardware, and the layering in of backsplash tiles with a subtle variance that makes them look handmade. To contrast the white, Cindy went with green paint for the island. "I love it. It's almost black, but more relaxed," she says. The white stools can be pulled up by the home's many guests.
PHOTOGRAPHY, Lauren Miller | ISLAND PAINT, Studio Green 93, Farrow & Ball. BACKSPLASH TILE, Mettro Source.
The kitchen table, which has been long loved by the family, runs perpendicular to the island. "I wanted to play down its farmhouse vibe, though, so I went super fun with the light fixture," says Cindy. A former home office was replaced with a butler's pantry. "The space connected the kitchen to the dining room, so it was a natural fit," says the designer. Bistro-style wall tile and moody painted millwork set the tone for cocktail hour with friends.
PHOTOGRAPHY, Lauren Miller | MILLWORK PAINT, Off-Black 57, Farrow & Ball. WALL TILE, Wayfair.
"Where do you ever get a view into your bedroom like this?" – Cindy McKay
The primary bedroom had been powder blue, but the new, rich dark hue transforms it. "They get great light in this room, so could afford the drama of dark walls and a modern take on a stately four-poster bed," says Cindy. The modern bedside tables, contemporary chair and soothing framed landscape are sophisticated, not stuffy.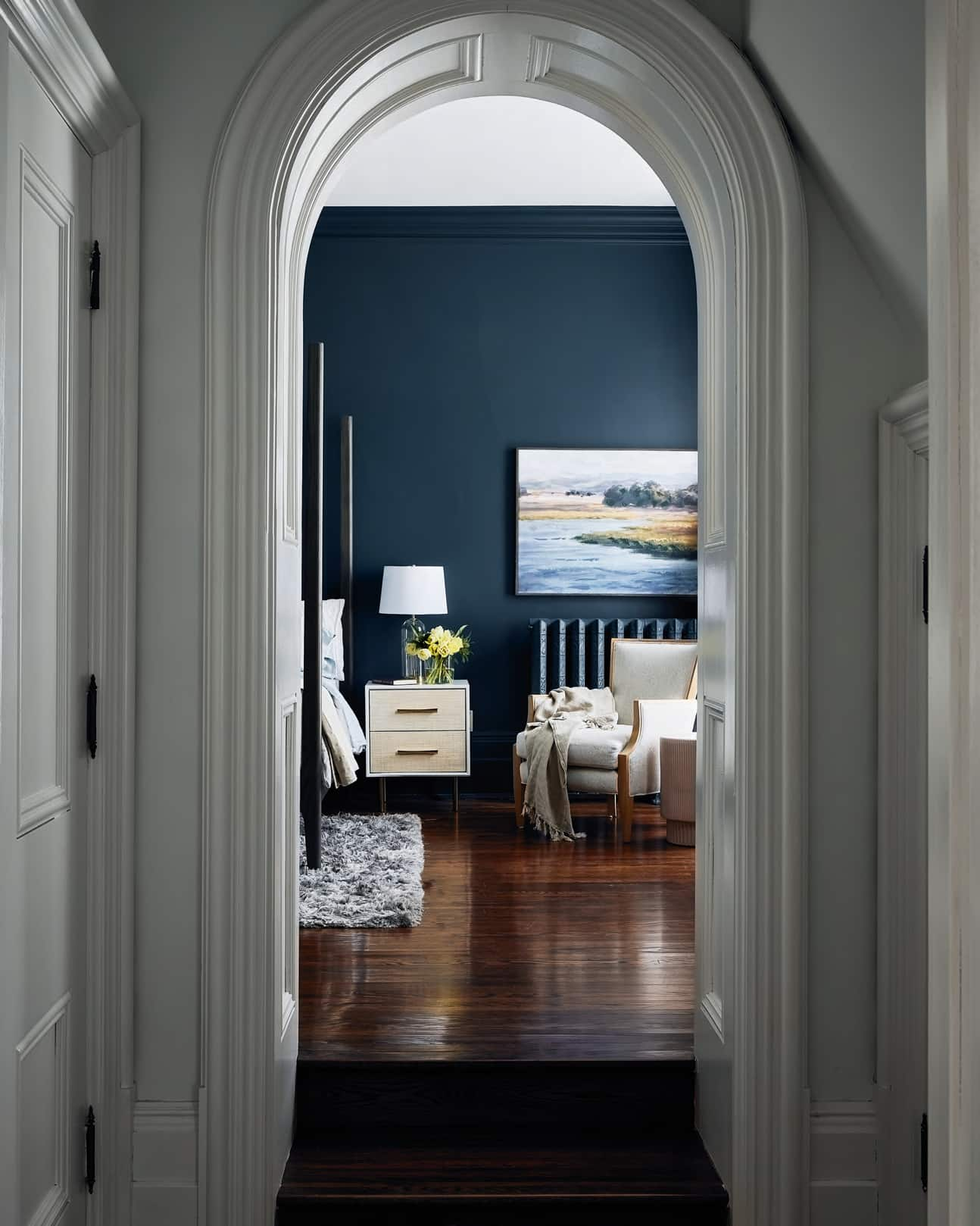 WALL PAINT, Hague Blue 30, Farrow & Ball. BEDSIDE TABLES, West Elm. BEDSIDE LAMPS, WALL ART, HomeSense. Armchair FABRIC, Tonic Living. UPHOLSTERY, ReStyle Studio.
"That crown-shaped chandelier has real presence, which a room like this really needs," says Cindy.
As a foil to the dramatic wall colour, the easygoing white linen duvet provides contrast and creates a backdrop for lumbar and throw pillows in rich accent tones.
BED, CHANDELIER, CB2. COVERLET, West Elm. Square PILLOWS, Penney & Company. Lumbar PILLOW, Cindy McKay Interiors. Lumbar pillow FABRIC, Pindler; SEWING, Hemme Custom.
With so many guests, a main-floor powder room is a must. Here, as elsewhere in the home, the original millwork is white. The sink and sconces are also white, but their metal and porcelain finishes play differently, bringing a quiet complexity to the space.