House Tours
A Scandi-chic home made festive with twinkling lights and lots of greenery
Photography: Janis Nicolay | Design: Denise Ashmore
House Tours
A Scandi-chic home made festive with twinkling lights and lots of greenery
Short days and chilly temps don't seem so harsh when you love to celebrate the season from start to finish.
How much does designer Denise Ashmore love the holidays? "Let's just say that, when this house was being built, I had extra square footage added to the living room to make sure I had enough room for a big tree!" says the principal of ProjectTwentyTwoDesign. "Hey, when you're a designer, you think about these things."
It's no wonder, then, that when winter rolls around, her 2,820-square-foot four-bedroom Vancouver home takes on a spectacular holiday glow the whole family – which includes husband Paul Rapp and their two teenaged kids, Owen, 16, and Aida, 14 – helps deliver. "We don't use Christmas colours; we just put twinkling lights everywhere, indoors and out," says Denise. "The house becomes a big box of light." Indeed, the Ashmore-Rapp clan adorns every single room, bedrooms and bathrooms included, with symbols of the season.
Though the family goes all out come the holidays, the look isn't over-the-top glitzy. It's warm, natural and relaxed, with subtle Scandi-chic nods that perfectly accent the home's modern architecture. In fact, the flourishes are so well suited to this space that the home remains decorated this way right through to the end of January. "For our family, this is a celebration of winter, not just Christmas Day," says Denise. And with stylish details like these, it's no surprise she's happy to live with this look all season long.
Here, ten ways to add some Christmas charm to your abode.
1. Play with textures
An oversized wreath made of cedar and eucalyptus imparts a warm holiday welcome alongside a stack of kraft paper-wrapped presents, a cozy faux sheepskin throw and snowshoes. "Not that we ever use them," says Denise with a laugh. "But they're a quintessential symbol of winter and make for great seasonal decor."
2. Opt for a tree trio
Denise fashioned a festive forest in the living room with three tall slim trees of varied heights adorned with three to five sets of string lights. "Lighting is like music. It sets a mood," she says.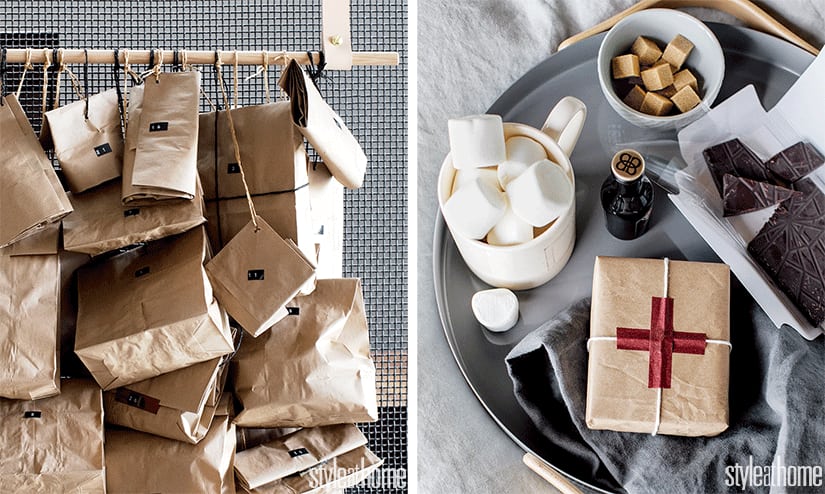 3. Make new family traditions
With a kit including brown paper bags, twine, washi tape, date stickers and a dowel, Denise made a simple and stylish Advent calendar for every family member. She also set up a station for nightcaps: "Hot cocoa with Baileys Irish Cream and a tiny gift mark a quiet Christmas Eve before raucous gift opening the following morning," says Denise.
4. Get crafty with a chandelier
A seasonal chandelier was created from a willow branch wrapped with magnolia and eucalyptus sprays. Battery-operated LED lights are hidden among the sprigs. "It gives off such a pretty glow," says Denise.
5. Use natural elements for the tablescape
The linen tablecloth, simple dishware and monochromatic palette echo the casual Scandi-chic warmth throughout the house and let the focus fall on the food. Brass flatware offers a hint of glam.
6. Add cozy textures to dining chairs
Classic Wishbone chairs winterized with faux sheepskins amplify the dining room's cozy feel.
7. Create a practical garland using herbs
Fresh herbs, such as sage, rosemary and thyme, are strung into festive garlands with butcher twine. Their leaves can be easily snipped for culinary use throughout winter.
8. Add a touch of whimsy in the kitchen with sweet treats
A gingerbread cookie "town" nestled in a glass canister filled with icing sugar makes for a snowy cookie display that also keeps the goodies fresh. Elsewhere, cookies are nestled in brass-toned bowls for easy grabbing and a decadent ginger cake celebrates this season of indulgence.
9. Be sure to have stools or a step stool in the kitchen to encourage company and little helping hands.
Winter baking is in swing all season long in the open kitchen. Walnut stools are perfect for company to draw up to the island and help the hosts make treats. "When people drop by, they just join in on the fun," says Denise.