Photography: Robin Stubbert
After two years of remodelling, a house built for celebrating Christmas is finally a serene wintry wonderland for a family of four.
From our home's inception, every design decision we made had to pass the Christmas test," says Dharshini Wijayakamar, referring to the remodelled four-bedroom Oakville, Ont., house she shares with husband Krish Parameswaran and their two sons, Ojas, 3 and Adi, 2. "I'd look at every room, every detail and wonder, how would this look at Christmas?" She credits this sentiment to growing up in a home that came to life during the holiday. "My parents implanted a real sense of wonder in us kids. Christmas was a truly sensorial experience," she remembers. "You'd smell the shortbread cookies baking and see the garlands on the stairs. That's something Krish and I wanted to pass along to our boys."
Before this could happen, though, some serious work had to take place. "This was a 1960s house that had never been updated," says Dharshini. So the couple spent the next two years working with an architect and builder to open up the layout and increase the square footage. "By the time we got to furnishing our new space, we had two little kids and a serious case of decision fatigue," says Dharshini. "Knowing more hands make for light work, we turned to a designer to make our rather empty-looking house into a home."
Enter designer Brittaney Elgner of Olly + Em Interiors, who embraced the family's vision for a relaxed, open home filled with easy-care furnishings. To that end, she brought in comforting textural layers and a downy palette of winter whites and warm grey tones. The aesthetic plays beautifully all year long and especially shines at Christmas. Brittaney had a hand there, too, adorning the home with aromatic eucalyptus, lush evergreen boughs and earthy pine cones. Says Brittaney: "The look is relaxed enough to be modern, but traditional enough to convey the magic of home." The perfect setting to create new holiday traditions.
Photography: Robin Stubbert
"The bank of windows provides so much natural light," says designer Brittaney Elgner. The chairs, covered in performance fabric, allow for a light palette even with kids.
Photography: Robin Stubbert | DESIGN, Brittaney Elgner, Olly + Em. ARCHITECTURE, Gus Ricci Architect. BUILDER, Stoneshore Custom Homes. TABLE, Pier One Imports. Seaton DINING CHAIRS, House Warmings. Darlana Medium Linear Lantern CHANDELIER, Chapman & Myers. TABLEWARE, FLATWARE, Zara Home. CANDLESTICKS, Black Rooster.
The Christmas table is set with snowy white dishes, clear-as-ice goblets, and seasonal greenery. "We kept the look fresh, edited and natural," says Brittaney.
Photography: Robin Stubbert
A wood door opens to reveal an old-school pantry complete with shiplap walls and an easy-clean cement-tile floor. "It's like stepping back in time," says Dharshini. Jars and wicker baskets organize supplies.
Photography: Robin Stubbert | Industries STOOLS, small WREATHS on range hood, Accents for Living. Estatuario E05 COUNTERTOP and BACKSPLASH, Neolith Porcelain. Darlana Small Lantern PENDANTS over island, Chapman & Myers. Polished nickel FAUCET, Perrin & Rowe. SHEEPSKIN on stools, HomeSense. ISLAND PAINT, Coventry Grey HC-169; CABINETRY PAINT, Simply White OC-117; Benjamin Moore. WALL PAINT, All White, Farrow & Ball.
The kitchen's soft glow is thanks to its white-and-grey palette. "The porcelain backsplash and countertops are kid-friendly and durable, and its veining pairs well with both warm and cool tones," says Brittaney. Quiet Christmas touches, such as the wreath and greens atop the range hood and the plate of pomegranates, lend a subtle festive note.
Photography: Robin Stubbert
The nearly-Nordic look of the raised island provides a smooth transition to the adjacent open family room. To up the cozy factor, Brittaney layered leather stools with sheepskin. It's a place the family naturally gravitates to during the holidays. "Growing up, our home was filled with the aromas of my mom's Christmas shortbread cookies, which she sprinkled with crushed candy canes," recalls Dharshini. "I love passing traditions like these along to Ojas and Adi."
Photography: Robin Stubbert | Custom CABINETRY (kitchen and family room), Jack Creasy, Bloomsbury Fine Cabinetry. Sahara Optic White SOFAS, WICKER TRUNK, BLUESTONE END TABLE, CUSHIONS, Muskoka Living Interiors. Lee Industries SWIVEL CHAIRS, CUSHIONS, Cocoon Furnishings. Thaddeus marble COFFEE TABLE, RH. CHRISTMAS TREE, Indigo. WREATH, Holland. GARLAND, Accents for Living. WALL PAINT, All White, Farrow & Ball.
In lieu of a sectional, Brittaney suggested two sofas covered in winter-white performance fabric and paired with a duo of swivel chairs in cloud-grey. For warmth, she added a wool sisal rug, and cushions in cozy tones. The woven-wicker chest contrasts with the smooth porcelain fireplace surround. "I love this room," says Dharshini. "Something about the tones and textures in here feels like permission to plop down and relax." Brittaney's Christmas decor takes its cues from nature. "Who doesn't love the smell of eucalyptus?" says the designer. "And fresh greenery adds the perfect pop."
Photography: Robin Stubbert
Brittaney adorned a flocked Christmas tree with gilded decorations and nestled it in the corner. "It has a perfect balance of snow and greenery, transforming the room for the season," she says. A cuddly sheepskin is fashioned into a snowdrift at the tree's base.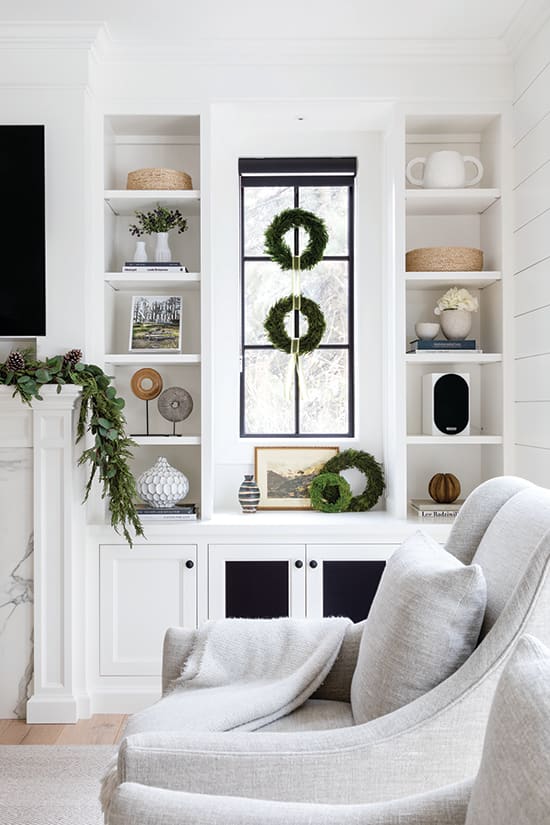 Photography: Robin Stubbert
"The simplicity of a wreath goes a long way," says Brittaney. She hung two in the family room, and propped two more below. The room's swivel chair can turn toward the twinkle of the Christmas tree or to the window to watch the falling snow.
Photography: Robin Stubbert | CHILD'S TENT, Nature's Blossom. WALL ART, Accents for Living. TINY CHRISTMAS TREES, Pottery Barn. SHEEPSKIN, HomeSense.
"Dharshini and Krish wanted the boys to grow up feeling free to use every inch of their home," says Brittaney. To this end, this little tent in the hallway is ready for playtime – anytime! It's accompanied by a tiny winter forest and a sheepskin "bed of snow" inside.
Photography: Robin Stubbert | BED, IKEA. Dash & Albert Sand Moon RUG, GARLAND, Accents for Living. Chapman & Meyers BEDSIDE TABLES, TABLE LAMPS, Barbara Barry VASE, linen BEDSKIRT, COVERLET, Cocoon Furnishings. SHEETS, HomeSense.
The guest bedroom is decked with boughs of eucalyptus and an unexpected spring bouquet of winter-white tulips to set a snowy tone. Brittaney paired niveous bedding and a linen bedskirt with green-washed bedside tables and an ombre wool rug. The iron bed echoes the linear outline of the window frames.
Photography: Robin Stubbert | Nior Furniture BEDSIDE TABLES, Sand Linen EURO PILLOW, Pine Cone Hill SHAM, COVERLET, and Pine Cone Hill SHEETS, Muskoka Living Interiors. Armato BEDSIDE LAMPS, Lee Industries BENCH, Cocoon Furnishings. Dash & Albert Neils RUG, Accents for Living. Lumbar PILLOW, CB2. Faux Fur THROW, Elte.
The master bedroom's canopy bed is enclosed enough to be cozy yet also open and airy. Deep-toned Kelley Wearstler lamps with brass accents are paired with white-washed bedside tables; at the foot of the bed is a cushy bench covered in sweater-like wool. The fluffy feather wreath and faux-fur throw nod to the season, as does an understated vase-full of greenery. Brittaney kept the room open and fresh by choosing simple furnishings with clean lines, and pulling in layers of wool in a variety of textures to soften hard surfaces.
Photography: Robin Stubbert
The master bedroom is the couple's escape, says Brittaney, "and the ensuite bathroom with its glorious wallpaper and vintage vanity, completes the experience." At Christmas, rich red blooms and a pretty wreath duo at the mirror extend the holiday feeling throughout the home.
Photography: Robin Stubbert | TABLE and BENCH, Sherpa Stools, RH. CREDENZA, Elte MKT. Dash & Albert RUG, Accents for Living. Fiona Walker England ANIMAL WALL ART, West Coast Kids. CHRISTMAS DECORATIONS, Michaels. Red wool CHRISTMAS TREES, Hofland. Melissa and Doug GIRAFFE, HomeSense. CORNER CHRISTMAS TREE and DECORATIONS, IKEA. FRAMED ART, Pottery Barn Kids.
Playtime for Ojas and Adi unfolds in a room that's merry and bright. The wood furnishings and wool Sherpa stools provide a natural backdrop for the colourful mounted make-believe animals dressed in holiday attire and a joyful Christmas tree, decked in decorations the boys crafted themselves. Tiny wool trees on the credenza create an imaginary woodland alongside little conifers. Low storage keeps toys and supplies out of sight.
Photography: Robin Stubbert | BEDS, RUG, Muskoka Living Interiors. Nailhead Linen STORAGE BENCHES, LAMPS, Sherpa STOOL, RH. DUVET COVER and PILLOW, IKEA. THROW, West Elm. Animal SHAM, GARLAND, Pottery Barn Kids. Yellow PILLOWS, Zara Home. HANGING CHAIR, Serena & Lily. SHEEPSKIN, HomeSense. Cross stitch WALLPAPER, Magnolia Home. STAR PILLOW, Zara Home. TOY DEER, Elte.
Bedtime is dreamtime, and the boys' room is just the spot. A sugary palette in linen and wool is brightened with printed sheets. And who wouldn't want that hanging chair adorned with Brittaney's signature holiday garlands?
Photography: Robin Stubbert