House Tours
An Alberta couple transforms a neglected farmhouse into their dream home
House Tours
An Alberta couple transforms a neglected farmhouse into their dream home
A DIY-inclined couple turns an 800-square-foot two-bedroom bungalow into the perfect home for their young family.
When Amanda Robinson christened her blog Natural Mommie eight years ago, the name was a perfect weaving of her environment and a life-changing event. "My husband, Jason, and I were living in Grimshaw, a sleepy farming town in northern Alberta, and we'd just had our first son, Aidan [now eight years old]," she says. "His birth, along with our rural setting, inspired my blog on natural living and design." As Amanda's blog grew, so did her family (son Ethan, 6, was born exactly two years later), but their rural roots were soon supplanted by city life. "In 2012, Jason's work took us to West Edmonton, where we moved into a new build. We thought we'd love the convenience of the suburbs, but our hearts were in the country," she explains. They decided to leave the city behind the following year and found a listing for a tiny farmhouse in the tiny town of Spruce Grove on a not-so-tiny property. Amanda says, "We put in an offer and got it the same day!"

The 800-square-foot two-bedroom bungalow was located on a wildly overgrown 20-acre lot with a barn; it hadn't been cared for since it was built in the '40s. "To be honest, it was a little shocking," says Amanda. "But we knew that going in, so we rolled up our sleeves and got started." Over the course of three months, the DIY-inclined couple ripped the house back to the studs, living on the property in their RV. "It was a bit cramped," says Amanda, "but the boys loved it, and luckily the weather was warm." They replaced everything from top to bottom, converted a laundry room into a bedroom (for Ethan), created an open-concept layout and added 400 square feet in the process. With their young sons and pets (Weimaraner Tessie and cat Nimble) in mind, Amanda chose tongue-and-groove pine planks for the floors, ceilings and walls. "I didn't want new drywall with two little boys and pets running around," she says. "It was the best design decision I ever made."
Amanda knew she wanted a light and bright space and conceived the decor with colour in mind. "This is still a really small house, so I stuck to a neutral palette for the base: white and cream with natural wood tones throughout," she says. She livened up the scheme with pops of blue, but readily admits that while she loves the colour, she can't take credit for the watery shade. "Ethan wanted everything in his room swimming pool turquoise." They settled on a seafoam blue that's more soothing for a bedroom and then incorporated coordinating accents in every room – even on the front door. "If you keep the big things neutral and then add accents in a single shade, it makes everything seem effortlessly connected," says Amanda. That thread of connectivity can also be seen in Amanda's latest venture: a line of oversized knit throws. "I knit them all myself, and the latest hue is inspired by our place – it's robin's egg blue."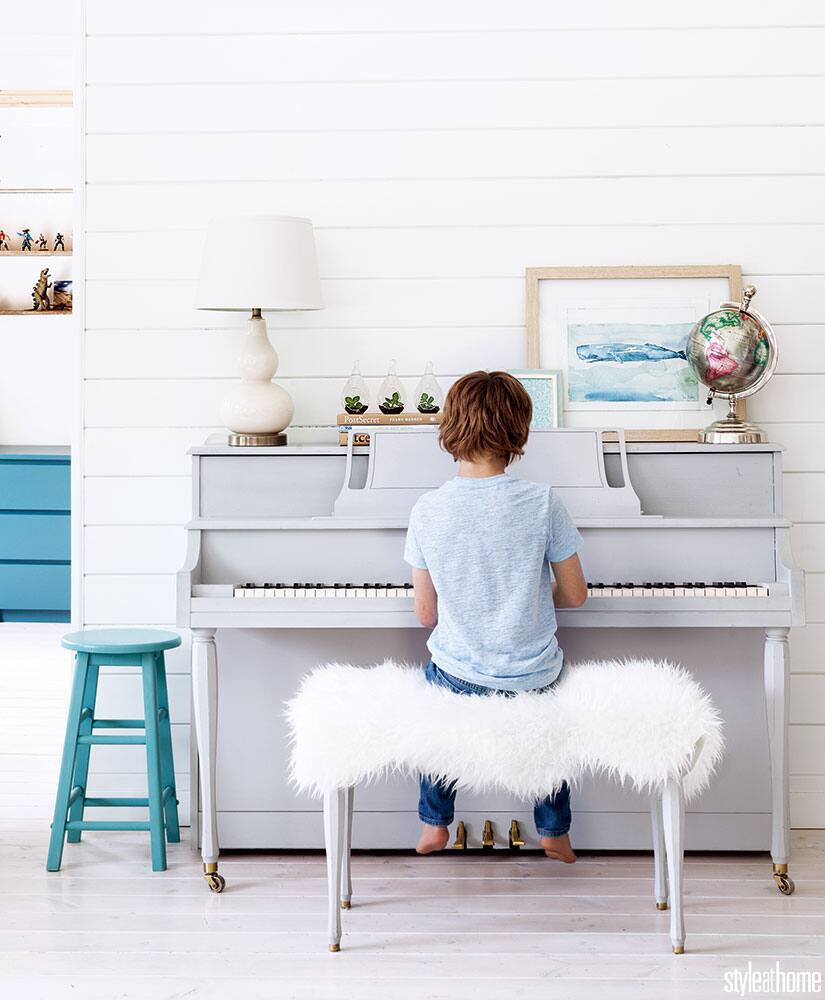 Homeowner Amanda Robinson transformed the second-hand piano by covering it in grey paint, casually accessorizing it like the rest of the living room and softening its bench with a faux-sheepskin throw.

The whitewashed living room features a charming mix of furniture styles. "I brought softness into the space with the upholstered pieces, while keeping a farmhouse vibe with the antique rocking chairs," says Amanda.

While blue hues rock this farmhouse, Amanda also popped in some green plants and pink flowers as a contrast.

Durable slate tiles define the entryway in this open-concept space. Practical items in natural tones like the bench, mirror and coat rack are artfully arranged so everything looks pulled together.

The kitchen epitomizes Amanda's love of pale back-drops punctuated with colour and natural tones. "I made the shelves out of wooden boards from our barn and left them unpainted to contrast all the white and to complement the butcher block counters," she says.

In the kitchen, mismatched hardware picks up on the hits of blue throughout the home.

Amanda and Jason knocked down walls to create an eat-in area that features a free-standing stove surrounded by stone-veneered walls and a thrift-store dining table and chairs proudly bearing a mismatched paint job. "I painted everything grey and then decided to paint all the chairs blue but got sidetracked after one," says Amanda. "It's fun and quirky as is, and the boys take turns sitting in the blue chair at dinnertime."

"The walls in Aidan's bedroom were in good shape, so we painted them and added pine planks to the ceiling," says Amanda. "I like the masculine look of the unpainted wood." The new blue dressers share the space with a thrift-store wicker chair, a yellow-painted hand-me-down stool and rope-hung shelves Amanda crafted from barnboard.

A bright screen door frame hints at the pops of blue to be found inside the house.

Amanda refinished a hand-me-down pine table in grey paint and repurposed it as an easy-to-access storage unit for firewood. Antique Canadian Pacific Railway lanterns found in the barn and on Kijiji layer in more colour and reference the surrounding rustic landscape.
Homeowner Amanda Robinson used blue paint throughout her home to liven up the soothing neutral palette and provide a link from room to room. Here are her three favourite shades (above).