House Tours
Color, Wood and Vintage Accessories for this Cottage
Photography, Donna Griffith
House Tours
Color, Wood and Vintage Accessories for this Cottage
How adding colour, subtracting "so-so" and keeping the soulful elements yielded a cottage that's more than the sum of its parts.
When you start with a wonderful Georgian Bay cottage like this one – we're talking original wood walls, vaulted ceilings and fir floors – you want to hold on to as much of that as you can," says designer Cynthia Ferguson. But life being what it is, the client and her family and friends have changed over the years. The time had come for the cottage to grow and change, too. So Cynthia held fast to all that was timeless, sentimental and just darn comfortable: the awesome vintage pieces and, of course, the wood walls and ceilings. But for a renewed dash of getaway magic and vacation fun, she animated the spaces with pillows, patterns and happy-go-lucky hues. "People often struggle with the idea of using colour when a home has wood walls and ceilings, but why does the palette have to blend with the wood?" asks Cynthia. "It can tie to whatever's happening just outside the windows!" In this case, that means the moody waters of Ontario's Georgian Bay and its rugged companion, the forest. Says Cynthia, "Suddenly those rich wood walls are a gift, surrounding the outdoors like a frame."
Going Green
Design, vintage landscape PAINTing, Cynthia Ferguson Designs. CABINETRY PAINT, Seedling Green AF-450, Benjamin Moore. Verde Avocatus Quartzite COUNTERTOP in Avocado, Olympia Tile Slab Division. Shaker-style CABINETRY, Michael's Kitchen Cabinets. HARDWARE, Top Knobs. Balboa BAR STOOLS, Serena & Lily.
"These oversized chandeliers are brilliant! They're handmade boxes covered in craft paper with lights inside," says designer Cynthia Ferguson. They had long hung in the cottage and she didn't want to remove them, but she did want to add a new kitchen. Referring to the countertop, Cynthia says, "Sometimes, you fall in love with something random, and suddenly it's the impetus for a room. The quartzite was just that. It has the most amazing avocado green veining. That's what inspired us to create a kitchen with green cabinets."
Good Vintage
Photography, Donna Griffith
"Vintage crocks add soul to a space and no two are ever the same. They're great for holding cottagey floral displays or for corralling wooden spoons," says Cynthia. The small painting is vintage. "I love using art where art is not expected."
Photography, Donna Griffith
Finders Keepers
"When doing a refresh, it's important to keep what's still working," says Cynthia. "The 20-year-old dining set fits a million people, so why replace it?" What did get added was a cushy rug. But the real stars here are the beamed ceiling and banks of windows.
Red Light
Ming II Grasscloth CONSOLE in custom colour, Society Social. Montara MIRROR in Navy, Petaluma BASKET, Serena & Lily.
An eye-catching red (green's complementary colour) custom console stops you in the entry, while the original stone floors stand up to heavy traffic. "You can pretty much tell how many kids are over by the number of flip-flops piled here. It can seem like hundreds!" says Cynthia. "If you care to see what you look like, there's this mirror, but its true role is to play light games with the skylight above."
Games We Play
Photography, Donna Griffith
Nothing says summer like a game of Monopoly. The client's family has been playing it here for decades. The original games table has water views. "And the mismatched vintage chairs make amazing personality pieces," says the designer. "To brighten them, we added striped cushions in summery outdoor fabric."
Room to Relax
Photography, Donna Griffith
"It's pillow-palooza in there!" says Cynthia about the living area. The woven chairs nestled up to the stone fireplace make tranquil spots to read. On rainy days, the floor lamps can provide light – no need for the chandelier. The wool rug is a symphony of blues. Says Cynthia: "It's genius for hiding stains because its blues are mottled with no discernible pattern."
Feeling Gladiola!
Photography, Donna Griffith
There's something so enchanting about freshly cut flowers in a vintage crock. To turn a floral display into a vignette, consider doing what Cynthia does: add in a framed piece of art and a few gathered treasures. The bowl of limes is a witty life-imitates-art moment and also unites the green stems, artwork and fruit.
Photography, Donna Griffith
Bright Spot
Custom SOFAS, Cynthia Ferguson Designs; with Carnival indoor/outdoor FABRIC, Thibaut Design. Swedish Tier END TABLE (with shelves, by sofa), Woodbridge Furniture. Hunt RUG in Sea Breeze, Y&CO. FABRIC, Stone Harbor Linen in Cornflower (solid blue pillows on sofa and armchair), Kravet; Tulum (blue cushions on wicker chairs), Peter Fasano; Piper indoor/outdoor in Kelly Green (wicker chair upholstery), Thibaut Design. Rattan TRAYS, CANDLESTICKS, Cynthia Ferguson Designs.
This coffee table has been known to host up to 16 people for games night, so Cynthia kept it and turned her attention to refreshing the furnishings. Her goal? "Ample floppy seating with plenty of places to nap. And new upholstery in durable fabrics," she says. The twin sofas are covered in a multicolour print that she layered with bold blue pillows.
Blue Prints
Blue CHAISE, LAMPS, Cynthia Ferguson Designs. FABRIC, Linara in Muscari (blue chaise), Romo; Sister Parish's Chou Chou in Blue (throw pillow), Memo Showroom. Pharmacy FLOOR LAMP, Visual Comfort. RUG, Y&CO. Matelassé COVERLET, Annie Selke.
The primary bedroom (above and right) has a view of the water, which inspired the chaise fabric. "The client is a voracious reader and this is her escape zone," says Cynthia. The original wood walls are "cottagey perfect, but we wanted to pretty things up a little." Layers of blue patterns adorn the upholstered bed, drapes and pillows.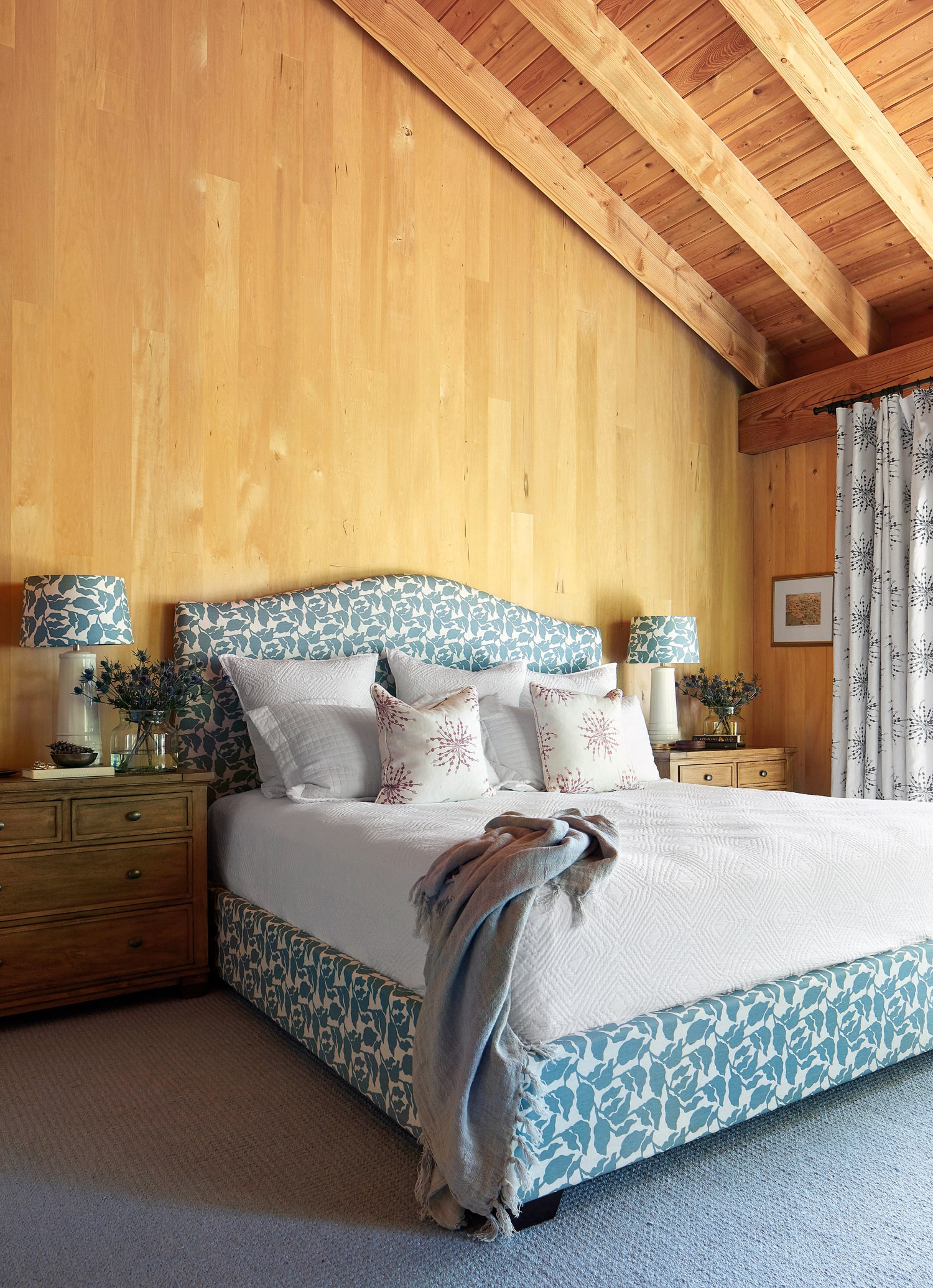 Photography, Donna Griffith
Good Nature
REUPHOLSTERY (striped chair and ottoman), Cynthia Ferguson Designs. FABRIC, Linara in Thyme (drapery), Romo; Sheridan Stripe (striped chair and ottoman), Thibaut Design. Finesse RUG in colour 17, Y&CO.
"This chair is ridiculously comfortable," says Cynthia. Re-covered in a rugby-stripe outdoor fabric, it's tucked into the corner windows of the client's daughter's room (top right and opposite). "The woods outside the windows is a win-win match for these green drapes." Regarding the rug, Cynthia asks: "Is it me, or does this rug look like rippling water?"
Get in Shape
Blue BEDDING, John Robshaw. DRESSER, Naked Furniture. dresser PAINT, Hale Navy HC-154, Benjamin Moore. Dresser HARDWARE, Upper Canada Hardware.
With its origami-style frame, the mirror's shape echoes the block-print motifs of the bedding in the client's daughter's room. The dresser was painted rich navy before adding half-moon hardware. The medium-scale throw pillows mix with the small-scale prints. "It's an easy way to make a bedscape more visually interesting without overwhelming the eye," says Cynthia.
Seeing Double
Cabinetry paint, Sporty Blue SW 6522, Sherwin-Williams.
Damp towels, sandy swimsuits and ice-cream-stained T-shirts are part of summer fun. In response, Cynthia outfitted the cottage with a high-capacity laundry room. The antique wood table is a soulful counterpoint to the high-tech machines. Sleek blue cabinetry is a mess-hiding hero. Baskets and canvas bags make it easy to separate and sort, and keep the textural contrasts going strong.
"The antique table is a fantastic landing spot for detergent and for folding laundry fresh from the dryer."
Hats Off!
Photography, Donna Griffith
Or more accurately, hats on! "That's me in one of the hats that hang on almost every wall at the cottage," says Cynthia. "The client is known for declaring to guests, 'Let's grab a hat and go have some fun!'"
Bold Strokes
Custom BENCH, Cynthia Ferguson Designs. Crater Lake Park FABRIC in Surf (bench), Pindler. Douglas SCONCES, Arteriors.
Before the refresh, there was no lighting in the foyer. Cynthia fixed that with twin sconces. Not only do they punctuate the modern wall art, but their rope-wrapped stems also resemble the knobby legs on the bench. Of the bench seat, she says: "The client loves stripes, and this fabric isn't just fun – it's sturdy, wear resistant and strong."