House Tours
Designer and Style at Home columnist Arren Williams used confident colour and fuel-injected pattern to refresh a family home
Photography, Stacey Brandford
House Tours
Designer and Style at Home columnist Arren Williams used confident colour and fuel-injected pattern to refresh a family home
Designer and Style at Home columnist Arren Williams used confident colour and fuel-injected pattern to refresh a family's new home.
Elbow room – a serious lack of it – instigated a move that led to the revamp of this now-gorgeous abode. Georgina Terzis and her husband, Scott Thistleton, parents to Oliver, 9, and Penelope, 6, wanted more space than their Toronto-area home could offer, so they left the city behind for a 4,300-square-foot house near Uxbridge, Ont. It had the space they craved and a full-throttle leafy view, but the 30-year-old home felt somber and heavy. To lift it from ho-hum to "Hello!" the couple hired Arren Williams. "The house was terribly old-fashioned and not suitable for this stylish young family," says Arren. He channelled their love of open-concept looks, bold patterns and sun-washed colours to mastermind a renovation that gave the space a bright, contemporary countenance.
Photography, Stacey Brandford
"I worked hard to ensure the finishes are as durable as they are stylish," he says. "It feels polished, but still warm, and definitely family friendly."
Clear Picture
"The faux-mullion vinyl windows with the overwrought moulding just had to go," says designer Arren Williams. Now black frames and flat trim give the windows, including this large-scale picture window, presence. The original hemlock floors were sanded to impart a brighter look, and the vintage chairs, sourced online, were updated with upholstery.
Photography, Stacey Brandford
Bright Ideas
Homeowners Georgina Terzis and Scott Thistleton (shown here) love to take family vacations in Palm Springs, Calif., and that played into Arren's vision. "I wanted to give them something bright and contemporary, kind of a mix between Californian and Scandinavian," he says. The fireplace boasted natural stone, but it felt heavy and dominant, and so Arren refreshed it with white paint.
BEFORE
Photography, Stacey Brandford
AFTER
Oncoming Graphic
Photography, Stacey Brandford | DESIGN, Arren Williams. Wall and fireplace PAINT, Chantilly Lace OC-65, Benjamin Moore. Neolith Calacatta Luxe Ultrasoft COUNTERTOPS and BACKSPLASH, Ciot. Swell dining tABLE, Johnstone Béton Architectural. STOOL, Hay. Lov PENDANT, Krema SCONCE, Luminaire Authentik. windows, Fieldstone Windows. vases (on mantel), Hollace Cluny.
"We wanted a heavily veined stone that really pushed the envelope with visual strength and personality," says Arren. With practicality in mind, he sourced an engineered material that looks like the real thing but is a breeze to clean and maintain – perfect for a young family. "It's a magic material, and I loved its dramatic veining so much I extended it to wrap around the island and the walls." The Aga range, a nod to Scott's British roots, feels both vintage and modern.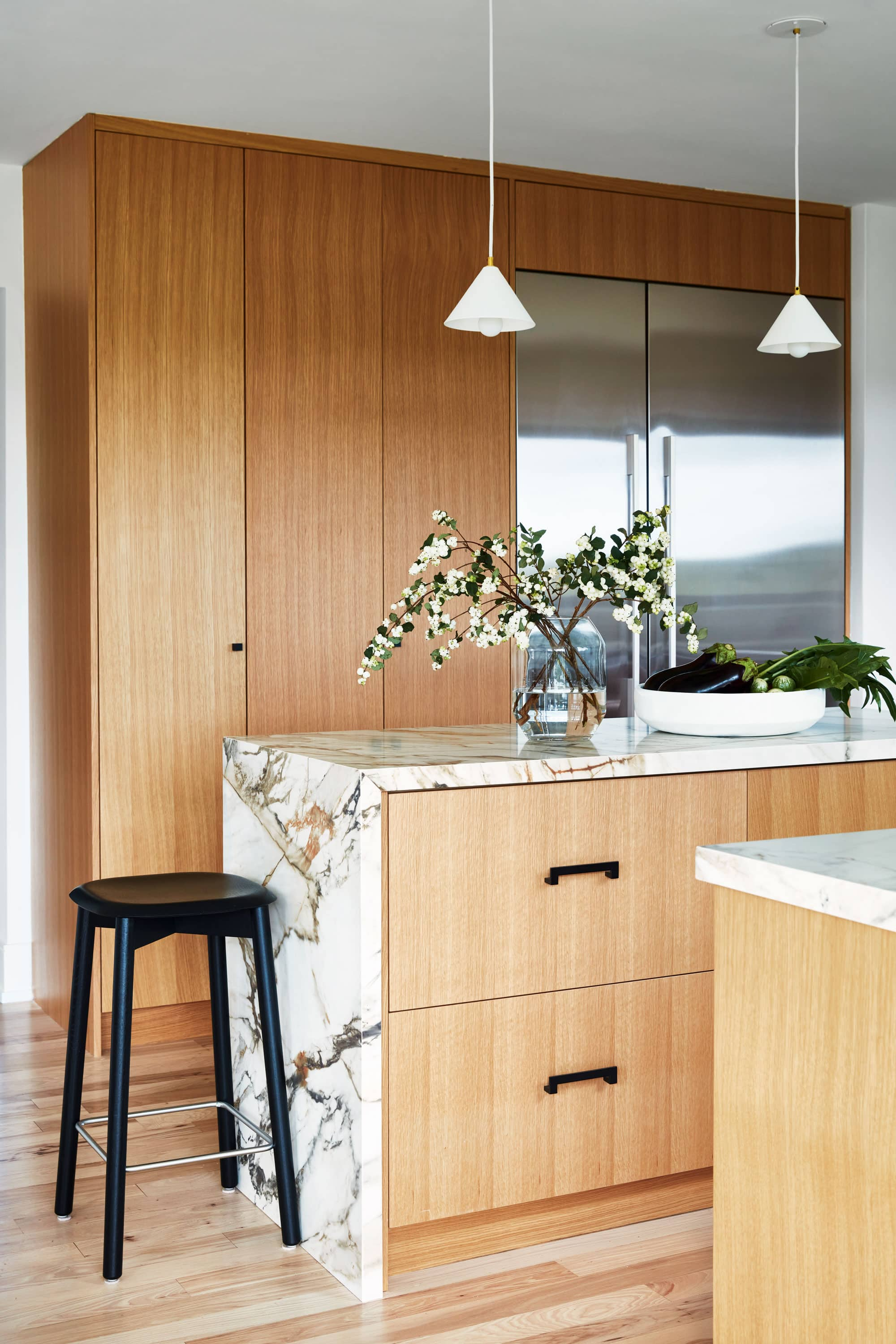 Photography, Stacey Brandford
Photography, Stacey Brandford | RANGE HOOD TILES, Ciot. Aga RANGE, Bosch DISHWASHER, Fisher & Paykel FRIDGE, Goemans. Rohl Forze SINK, Riobel FAUCET, House of Rohl. Linea HARDWARE, Elte. Nomad PENDANT LIGHTS, Luminaire Authentik.
Up Above
Forgoing traditional upper cabinets keeps the blockbuster veining the star of the show, while island drawers and floor-to-ceiling cabinetry provide the storage uppers would have. Warm oak is a quiet foil to the pattern, and the range hood layers in even more aesthetic verve. "It's clad in matchstick tiles and was a bit of a gamble, but I added curves to soften the look," says Arren. "It's a large element, but it doesn't dominate." The sleek sconces and island pendant lights are subtle and modern.
BEFORE
Photography, Stacey Brandford
Coffee Time
Photography, Stacey Brandford
"This end of the kitchen was an entire area that was unused, so I wanted to give it some purpose," says Arren. He added an L-shaped bank of cabinetry to maximize storage and create a coffee bar, complete with an Italian espresso maker (the owners are serious coffee aficionados). A black rug helps define the space and ties in with the window frames.
Photography, Stacey Brandford
Tile File
The coffee bar's backsplash is both subtle and striking. "The tile is a scaled-up version of the matchstick ones I used on the range hood," says Arren. The surface offers interest, continuity and texture while being in step with the simple palette. The artwork is by one of Georgina's favourite artists. Arren says the strong graphics were an easy fit here.
Photography, Stacey Brandford | PENDANT LIGHT, EQ3. Wall and floor TILES, Ciot. PAINT, October Mist 1495 (wall), Chantilly Lace OC-65 (trim), Benjamin Moore. ART, Hannah Peterson, The Poster Club. CUSHIONS, Zara Home.
Space Management
Arren defined the once-empty mudroom with custom built-ins that deliver ample storage and a handy place to sit. The patterned bench cushion has a vintage vibe that's echoed in the terrazzo floor tiles – they're genius at hiding what the kids track in after soccer in the back garden. Wall tiles continue here, too, and a sweet plant, cool pendant light and framed artwork give the practical spot decorative oomph.
BEFORE
Photography, Stacey Brandford
Photography, Stacey Brandford
Photography, Stacey Brandford
Boldly Go
Arren's take on the odd angles in the kids' bathroom? "Ignore them!" he says. "I played with strong elements, such as terrazzo tiles, bold colours and colour blocking to detract from the angles and make the room come alive." The base of the old vanity was ditched in favour of one with a sleeker profile, but Arren repurposed its quartz countertop. Artwork helps soften the graphic elements of the space.
Photography, Stacey Brandford
Golden Style
The powder room boasts some jewel-box moments worth copying. "Since this is a contained space, I took a chance and went for a hit of juicy colour and gold accents," says Arren. The ceiling light is vintage (he had it in storage awaiting the perfect place), and the carefree-colour sink is made in Canada from cast concrete. The sconce cleverly plays against the sink's curves and the two-tone mirror.
WALL TILES, VANITY COUNTER, Ciot. Parro SINK, Mudd Concrete. Riobel FAUCET, House of Rohl. Declan WALL LIGHT, Elte. POSTER, Posterist.
BEFORE
Photography, Stacey Brandford
Wall and floor TILES, Ciot. PAINT, Tofino Sunset CC-156 (wall), Avon Green (vanity), Benjamin Moore. Hub MIRROR, Umbra. FAUCET, SHOWERHEAD, Aquabrass. ART, Old Faithful Shop. STOOL, EQ3. CEILING LIGHT, CB2.
Photography, Stacey Brandford
Photography, Stacey Brandford
Grey Matter
"I decided to give the primary bathroom some drama with floor-to-ceiling wall tiles that look handmade," says Arren. "The palette is wrought in tones of grey, and the ebb and flow of the colour helps make the space feel special." Terrazzo floor tiles add a bit of irreverence and whimsy. The shower is generously scaled to be roomy without taking up too much floor space. Sconces were nixed in favour of LED-lit mirrors.
Photography, Stacey Brandford
Vanity Fair
Arren designed the vanity to incorporate two sinks and lots of storage. "Its floating silhouette feels contemporary and makes the space seem bigger than it is," he says. The sculptural tub is original to the home. "Scott lobbied for it to stay – he's definitely a Brit who likes his baths." A new tub filler in warm brass gives it a reboot, and a colourful stool lends bohemian intrigue. Says Arren, "This hand-painted piece plays into the framed artwork found throughout the home."
WALL TILES, COUNTERTOP, FLOORING, Ciot. Kato LED MIRRORS, Renwil. SINK FAUCETS, TUB FILLER, SHOWER FIXTURES, Gingers. DeerValley SINKS, Wayfair. Brass PULLS, TOILET ROLL HOLDER, Rejuvenation. Reinaldo Sanguino STOOL, Hollace Cluny. Hanging TOWELS, LinenMe.
BEFORE
Photography, Stacey Brandford
Photography, Stacey Brandford