House Tours
Decorations with softness and a quiet elegance for holidays
Photography: Tracey Ayton
House Tours
Decorations with softness and a quiet elegance for holidays
There's a feeling of Christmas in this airy home, where elegant holiday decor harmonizes with a recent refresh that brings comfort and joy all year round.
Airy, tone-on-tone interiors have an innate simplicity. They exude serenity and flow, rarely challenging the eye with a stark shift in colour or a moody corner. That said, the best ones are never simple. And the best designers carefully consider every detail and finish.
That was certainly the approach when designer Rashell Gouwenberg redid her charming Langley, B.C., home last year with her business partner Gregory Funk (the pair owns Peridot Shoppe + Interiors). "You have to consider all of the layers to make a neutral space truly cozy," she says. Something as mundane as the drapes can make a world of difference. "Gregory always says to our clients: 'Once you have beautiful drapes, it feels like your house is hugging you.' And it's true: you don't realize how much you need them until you have them." Indeed, the floor-length, oatmeal-toned linen drapes that dress all the windows in the 3,600-square-foot four-bedroom home that Rashell shares with her husband and their two pooches are a soft contrast to the crisp white walls and furnishings.
Injecting a softness and quiet elegance was what this "refresh," as Rashell calls it, was all about. The couple completed a larger renovation when they moved in nine years ago. "Initially, we did a cooler palette, with greys and laminate flooring," Rashell says. "This time around, we wanted to warm up the space – add more character and more layers."
To elevate the look, Rashell and Gregory swapped in luxe materials, like Calacatta Gold marble and pale natural oak floors, and introduced sophisticated detail with new panelling and doors, unlacquered brass hardware, textural wallpaper and those cozy drapes. The designers took inspiration from homes they've visited in the Southern U.S. "Gregory and I always go to High Point Market in North Carolina to find furniture for clients, and then we'll do South Carolina, Kentucky, Tennessee or Georgia. You can definitely see the Southern states in our designs; we love the warmth of the houses, with their beautiful windows, and all their layers."
The hug analogy is a sentiment that resonates with Rashell's approach to holiday decorating, as well. Her festive palette is muted but cheerful: parcels wrapped in Kraft paper and tied with velvety peach bows, a frosted tree laden with sparkly glass and gold baubles, and just a few splashes of bright, pure greens plucked from nature. "My Christmas decor is very much the same as my house. I don't do any sort of colour or theme," Rashell says. Fresh flowers and greenery are the key ingredients. For eye-catching arrangements, she calls on local florist Alice de Crom. "Alice from Floralista is amazing!" she says. But Rashell also loves to tinker with arrangements. "I always go out in the backyard and forage greenery to make tablescapes and wreaths. I feel like that can go a long way," says Rashell, who also brings in clippings from her backyard cedars for their heavenly scent. Layering in this simple fragrant pleasure, similar to the designer's deftly applied layers of cozy elegance in her home, elevates Rashell's holiday decorating to another level.
Photography: Tracey Ayton | DAYBED, Peridot. RUG, vintage. CHANDELIER, Oly Studio. DRAPES, Concord. WREATH, Floralista.
The home's serenity is evident as soon as you step into the foyer where a picture window frames views of a nearby nature preserve and white walls are a clean, quiet backdrop for furniture and rugs in soft cream and greige tones. "We love the warmth of this palette," Rashell says. "It's bright and airy, and allows the textures and layers to show through." Magnolia leaves studding the simple evergreen wreath allude to Rashell's passion for the Carolinas. "It reminds me of winter in the South!" The Flowerfall chandelier by Oly Studio is equally enchanting.
Photography: Tracey Ayton
"We made sure to incorporate champagne buckets, glass storage and a tray," Rashell says, of the elements she used to press the hutch into service as a bar.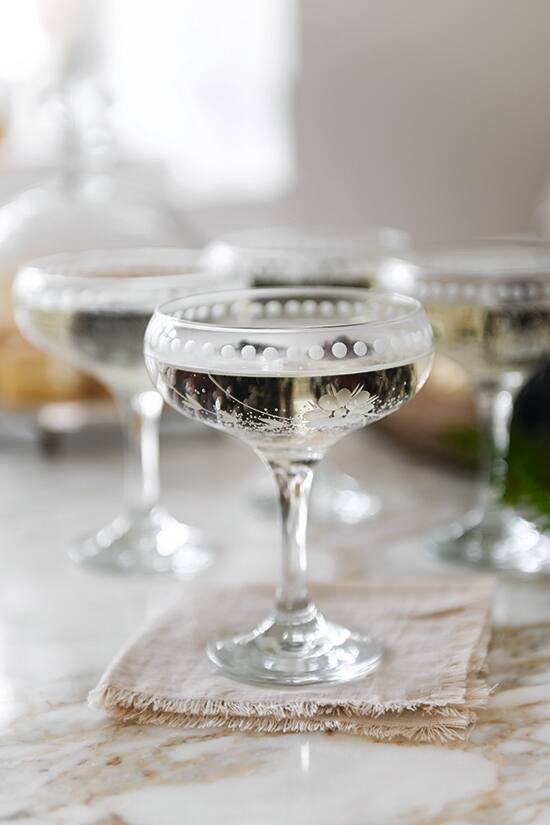 Photography: Tracey Ayton | GLASSES, Williams Sonoma.
Champagne coupes etched with polka-dot details introduce a touch of history and decoration to the clean-lined room.
Photography: Tracey Ayton | CABINETRY, Manhattan Kitchen. COUNTERTOPS, Black Pearl Granite. WREATHS, Floralista. Fruit BOWL, giant PITCHER, large VASE, Ralph Lauren. PENDANT LIGHTS, small white VASE, wooden TRAY, Peridot. SINK, Kohler. FAUCET, Waterworks. KNOBS, Armac Martin.
With its modified Shaker cabinetry and white stone counters, the kitchen is crisp and timeless. Rashell injected warmth with a few details. "I used unlacquered brass and a rich marble with lots of depth to give the kitchen some weight with the all-white cabinets," she says. She kept the holiday decor simple because the open-concept layout means the glorious Christmas tree and mantel garland are visible from the kitchen. "We always add a beautiful floral arrangement on the island."
Photography: Tracey Ayton
The island is topped in luxe Calacatta Gold marble. Pendant lights with gently pleated shades and gold detailing help soften the look. Rashell has a few favourite whites, but her current go-to is Classic Grey by Benjamin Moore. "It's creamy and has lots of depth," she says. "We balance it with Benjamin Moore's Simply White on the trim and woodwork."
Photography: Tracey Ayton | White DINNER PLATES, woven CHARGERS, NAPKINS, CANDLESTICKS, lettuce BOWLS, framed floral botanical ARTWORK, Peridot. Champagne FLUTES, Williams Sonoma. Floral CENTREPIECE, Floralista.
One wall of the dining room is all doors with transom windows above, flooding the space with natural light. Quietly dramatic drapes add polish here, and in all the other rooms. "Drapes are so important. They really frame the windows and give a space warmth, especially in a neutral-toned home with so much white," Rashell says. "We chose an oatmeal linen with a tiny sheen to it." Rashell created a gallery wall at the head of the table with French botanicals from the late 1800s.
Photography: Tracey Ayton | TABLE, WING CHAIRS, cane-back DINING CHAIRS, Ralph Lauren. CHANDELIER, Peridot. Chair UPHOLSTERY FABRIC, Romo.
While the dining room is layered with a charming mix of accessories and tableware, many of the materials are transparent or translucent, so the end result is light and airy. The room is also a master class in balancing classic and contemporary elements. "It's important to layer," Rashell says. "We chose an oak pedestal table with the beautiful grain showing, but with contemporary lines, then paired it with traditional art, cane-back chairs and the Ralph Lauren chandelier. It's a good mix. I never want traditional to feel stuffy, especially for a young family – I want it to feel current and fresh."
Photography: Tracey Ayton | SOFAS, CLUB CHAIRS, COFFEE TABLE, ART (on mantel), FLOOR LAMP by Barbara Barry, Peridot, MANTEL, Masana Stone.
Generous doses of cream and greige, plus textures as diverse as shaggy faux fur and patina-heavy mercury glass, fill the white living room with layers of interest. While the palette is demure, the Christmas decorations are anything but! A frosted Christmas tree fills one corner, and the glossy magnolia garland positively teems with blooms and fragrant ever-greens clippings. "I wanted the space to feel super cozy," says Rashell, who used warm colours, lots of textures and tone-on-tone materials. A higher-than-average coffee table suits the large space and is a handy spot for fireside drinks and appetizers.
Photography: Tracey Ayton | MANTEL, Masana Stone, FLORAL ARRANGEMENTS, GARLAND, Floralista. VASE, WOVEN TRAY, RUG, BENCH, Peridot. URN, RH. STOCKINGS, Pottery Barn.
"Alice from Floralista is amazing!" says Rashell, of the florist who crafted the picture-perfect arrangements that fill the house with greenery, blooms and scent for the season. Rashell's curated collections of accents are equally eye-catching. She and her husband have two dogs, including Jackson, a golden doodle. "We used durable, natural products like a wool rug and family-friendly fabrics." It helps that Jackson coordinates so handsomely with the existing decor.
Photography: Tracey Ayton | CHRISTMAS TREE, Art Knapp. GIFTWRAP, RIBBONS, Etsy. Black COCKTAIL TABLE, Peridot, MANTEL, Masana Stone.
Rashell dressed her dreamy Christmas tree (found at the iconic B.C. garden retailer Art Knapp) in charming trinkets like beaded tassels, velvet bows and glass balls for a glittery, whimsical look. The more-is-more approach is balanced by the room's otherwise fairly understated decor.
Photography: Tracey Ayton | HEADBOARD, BEDDING, PENDANT LIGHT, Peridot. SIDE TABLES, Peridot Eloquence.
While the master bedroom looks quite clean-lined at first glance, tactile finishes like the grasscloth wallpaper and silky velvet on the headboard, which Rashell chose for its "grand" look, dial up the room's sybaritic nature. Snowy white bedding feels serene and restful. "I love to layer crisp white sheets with a cream coverlet and pillows," she says. Bleached white oak engineered hardwood newly installed throughout the house feels understated and slightly Scandi. Here, Rashell topped it with a vintage rug that echoes the tone of the new headboard.
Photography: Tracey Ayton | CANDY DISH, Hermès. VASE, Floralista. WHISKEY GLASS, Ralph Lauren. TRAY, BEDSIDE LAMP, Peridot. WALLPAPER, Crown Surface Solutions.
A nosegay of rosebuds and variegated carnations in sunset hues feels luxe and cheery; a sprig of evergreens makes it merry. Quartz horse-head bookends are a vintage find.