House Tours
Fresh, fun colour and a warm Scandi kitchen add custom flair to a builder-grade condo
Photography, Lauren Miller
House Tours
Fresh, fun colour and a warm Scandi kitchen add custom flair to a builder-grade condo
Scant storage and a serious lack of style were the downfall of this condo in Toronto's Distillery District neighbourhood. On the bright side, the couple who owned it were gaga over the views – the southwest facing corner unit captures spectacular sunsets over the city. To give the interior a style lift, they enlisted designers Nicci Harrison and Meagan Prot of Studio Cajole to renovate, alongside QGC Construction Company. "Builder-grade condos can be flat with their finishes," says Nicci. "I wanted to lean into warmth by bringing in organic elements. Think light, bright and fun with tons of texture." To achieve their goal, the designers gutted the two-bedroom unit over eight weeks, then installed a pale Scandi kitchen with an island, so the couple can cook side by side (impossible before), and revamped the bathrooms. The new white oak floors, meanwhile, are a soothing upgrade to the damaged, dark laminate ones. Today, the condo is an elevated version of its former self. And those stunning views? They don't upstage the decor anymore.
Photography, Lauren Miller
Colour it in
A curated mix of modern furnishings creates a youthful verve. "They really wanted a plush comfy sofa to watch movies, play video games and chill out," says designer Nicci Harrison (shown, opposite, on sofa, with designer Meagan Prot). "We wanted to keep it super neutral but throw in pops of wine and pink and yellow to reflect the clients' vitality." Twin pleated pendants hung at staggered heights are fun garnishes.
DESIGN, Nicci Harrison, Meagan Prot, Studio Cajole. construction, QGC Construction Company. SOFA, Sundays. CHAIR, Elte Mkt. Checkered PILLOW, ombré CANDLES, Urban Outfitters. Cream PILLOWS, Article. PENDANTS, Huey Light Shop. GLASS DISH, CB2. CANDLEHOLDERS, HomeSense. SIDE TABLE, West Elm. PLANT, Sienna Flora Plant Shop. DRAPERY, Genny Miller Designs.
Photography, Lauren Miller
Rest easy
The bespoke slatted white oak wall – uplit behind the bed – is especially romantic at night when it glows, and it also adds textural interest. "We matched the night stands from Article to the wall, so everything felt custom," says Nicci. The room, which closes off with a sliding glass door, is swathed in creamy-coloured floor-to-ceiling blackout drapes that wrap the room for a cocooning sleep at night and to keep it cool during the day. "The room gets blasted with sun," says Nicci.
BED, West Elm. BEDDING, Urban Outfitters. Pink PILLOWS, HomeSense. LUMBAR PILLOW, RUG, Etsy. LIGHT, Style Garage.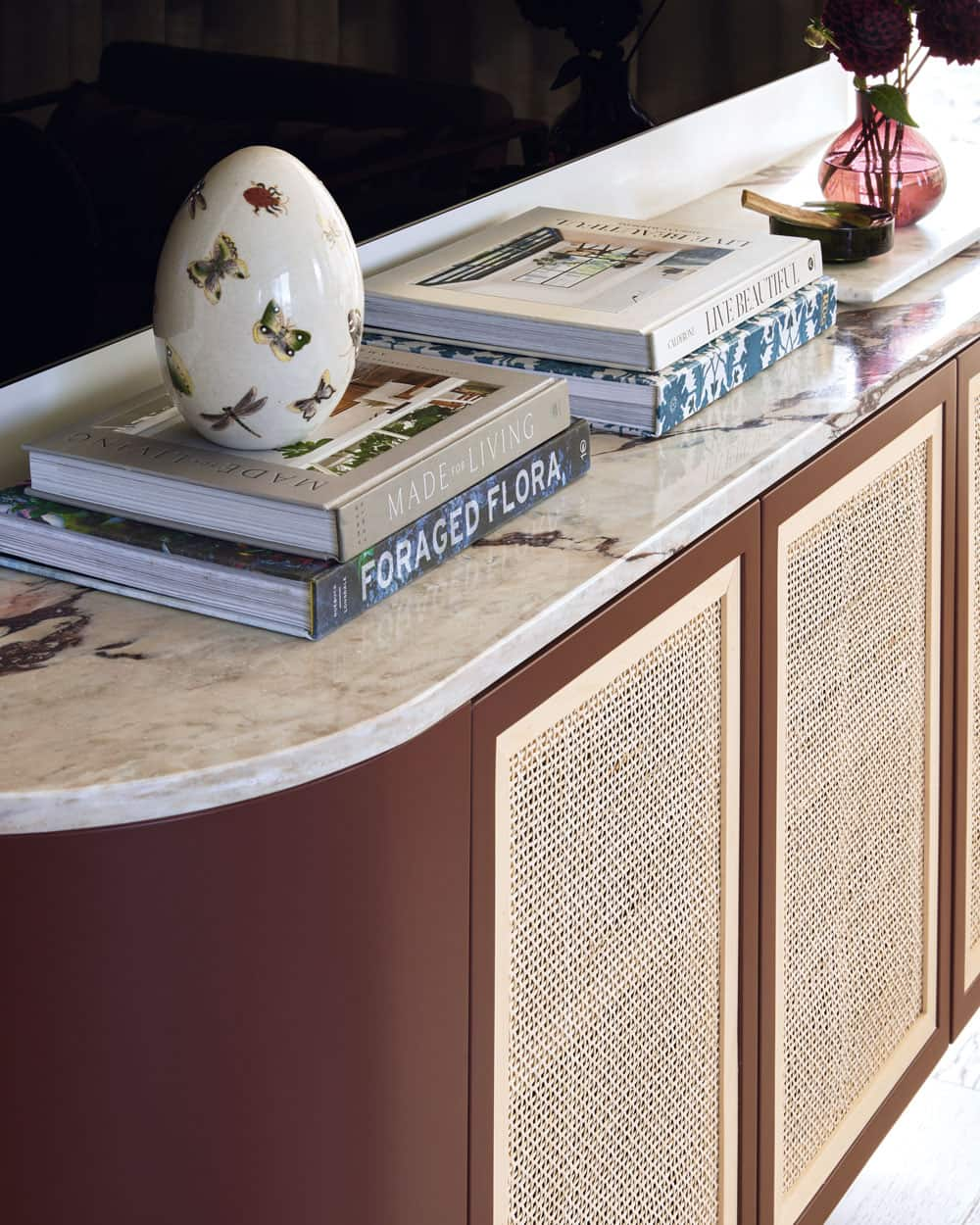 Photography, Lauren Miller
IN THE FLOW
The media unit gets its good looks from the full-bodied wine tone and on-trend caned doors. In a space-saving move, the designers mounted it, so it's tucked away, nice and tidy. "Also, having curved edges, you feel like you can slip and slide and flow around in the space, versus a lot of hard angles you see in many condos," notes Nicci, regarding both the media unit and the coffee table.
Photography, Lauren Miller
Terrific topper
An offcut slab of Calacatta Viola marble elegantly tops the floating console. The stone's perky mauve veining picks up on the plum accents throughout the living area, and the console itself doubles as a media unit, providing critical storage space. "The egg is a random vintage find that adds eclectic character," says Nicci. "I'm a huge thrifter. I'm always on the hunt for interesting items."
MEDIA UNIT, Greystone Custom Cabinets. MEDIA UNIT PAINT, Nicolson Red CW-270, Benjamin Moore. OTTOMAN, LD Shoppe. COFFEE TABLE, CB2.
Photography, Lauren Miller
Sleek scandi
Flat-front white oak cabinetry, a two-tone scheme and slender brass pulls are a captivating blend in the kitchen. Floating shelves offer an artful display opportunity. "I wanted an organic feel for the backsplash tile," says Nicci (shown, standing, with designer Meagan Prot, seated). "These tiles come in a million colours. They're so beautiful with their sheen, and they're affordable, too. It's a different look from builder-grade finishes." A microwave drawer in the island keeps the look uncluttered.
CABINETRY, Greystone Custom Cabinets. BACKSPLASH Tile, Stone Tile. countertop, Caesarstone. PENDANT, Casa di Luce. STOOLS, Elte Mkt. Light blue BOWLS (on shelf), Studio Fundamentals.
Photography, Lauren Miller
Photography, Lauren Miller
Raising the bar
"I love using pieces of furniture for storage," says Nicci of her decision to tuck the bar cart along the window. "Millwork can be expensive, and this is a way to add storage and character inexpensively." A pretty vignette of flower-filled vases, neatly grouped spirits and a hunky lamp spark joy on its surface.
BAR CART, Style Garage. LAMP, West Elm.
Photography, Lauren Miller
Darkly dramatic
For the ensuite bathroom (opposite), Nicci convinced the homeowners that a rich teal tile in the shower was the best move. "It's moody and romantic; everything else in the condo is light and airy," she says. To optimize storage, the designer reconfigured the bathroom to fit a large vanity with drawers.
MIRROR, West Elm. SCONCES, Cedar & Moss. FAUCET, Wayfair. SQUARE WALL TILE, Stone Tile. DARK TEAL TILE, Ciot. Black VASE, HomeSense.
Photography, Lauren Miller
Shower power
"I'm obsessed with that tile. I love its muted green colour and unusual 2-by-20-inch size," says Nicci, referring to the main bathroom's shower tile (this page). "I wanted something special because this is the bathroom guests use." Fixtures and accents in warm brushed brass and gold add a luxe touch.
PLUMBING FIXTURES, Wayfair. TILE, Stone Tile. MIRROR, CB2. SCONCES, Etsy. LAMP, IKEA.
Photography, Lauren Miller