House Tours
Interior: Chic modern condo
A modern living room with warm wood accents.
House Tours
Interior: Chic modern condo
Toronto realtor Kara Reed has seen a lot of homes during her 21-year career. Find out what made her choose this 1980s condo for her very own.
Picture it: You spend your days walking through homes of every possible size, shape and style. Basically, you've seen every type of dwelling there is. Then comes the time to downsize your own home. How do you, a realtor, decide what to buy?

"You have to know your nonnegotiables," says Kara Reed, a familiar favourite on HGTV's Sarah's House series. "For me, that meant having enough room for Brier, my lovable chocolate Lab, and having access to green space." So even though Kara's initial condo search focused on trendy lofts and slick, modern living spaces in the city, she opted out.

"I just didn't want to give up seeing trees outside for stylish details inside," she says. That's when Carol Reed, her then sister-in-law and current design guru, stepped in.

"She said to me, 'Why don't you quit looking for an interior you love and start looking for an ideal location. After all, you can create a dream interior anywhere."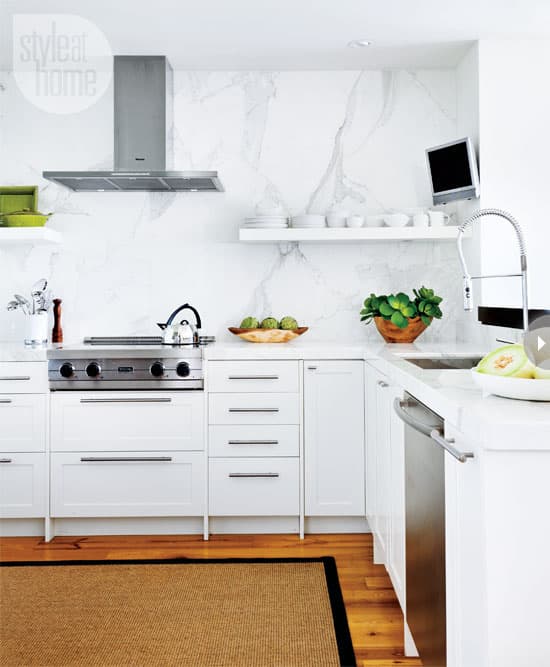 White kitchen
A muted colour palette lends the kitchen a soothing look. The standout marble backsplash acts as a feature wall, visible from the main living area.
Modern living room
Although neutrals are everywhere, greens and golds give the living room a modern, warm feeling. Curves in the form of a 100-year-old table (set in the corner), a wavy cowhide and a contemporary mirror-and-iron side table keep the room from feeling rigid.
Kitchen details
The dark breakfast bar provides bold distinction between the kitchen and dining room in the lightfilled, open-concept condo. Designer Carol Reed ensured that the ceiling in the kitchen remained lower than the one in the living and dining areas to distinguish one space from the other.
Kitchen cabinetry
Right Carol had the IKEA cabinetry customized with gables. The cabinets were also painted the colour of the walls for a built-in look. Kara and Carol have long worked well together. "She completely gets my style," says Kara.

Dining room design
Mirrors and floor-to-ceiling sliding glass doors (that lead to one balcony) make the dining area airy and bright, ensuring that light and reflections are always at play.
Stylish stairwell
A barely-there pendant light by Moooi makes a big but subtle statement in the stairwell.
Spacious balcony
Even on the balcony, the look is clean and modern. A marble-topped table keeps the space feeling indoorsy and makes a lovely outdoor living space. As is the case inside, fresh flowers are always in view. Here, it's peonies that add a little burst of spring colour.

Fancy furniture
A high-end Mid-Century Modern Mies van der Rohe chair serves as both art and comfort in the living room. Kara's family photos are framed and leaned here and there for a look that's both casual and graphic.