House Tours
Interior: Dramatic modern home
House Tours
Interior: Dramatic modern home
Mix neutral colours, sleek silhouettes and edgy glamour for a knockout home.
Sarah Blakely has never been one to commit to colour, even when it comes to her clothes. Interested in fashion long before she became interested in interior design and home decor, Sarah notes that her house, which she shares with her husband, Matt, and their two small boys, Knox, 3, and Romeo, 2, is an accurate representation of what she likes to wear.
When the couple purchased this 3,700-square-foot Ottawa home preconstruction three years ago, the builder allowed Sarah and Matt significant input. For them, that included moving walls, designing the kitchen, choosing finishes like the red oak flooring and, of course, painting everything warm white.
The space now showcases an eclectic mix of old and new. Vintage furnishings feature unique silhouettes, modern sculptural and metallic light fixtures add interest, and graphic artwork reflects Sarah's love of fashion. And, far from monochromatic, the cream, white and black palette is high contrast and dynamic.
All this results in a home that's fresh and young and at once pared back and richly layered.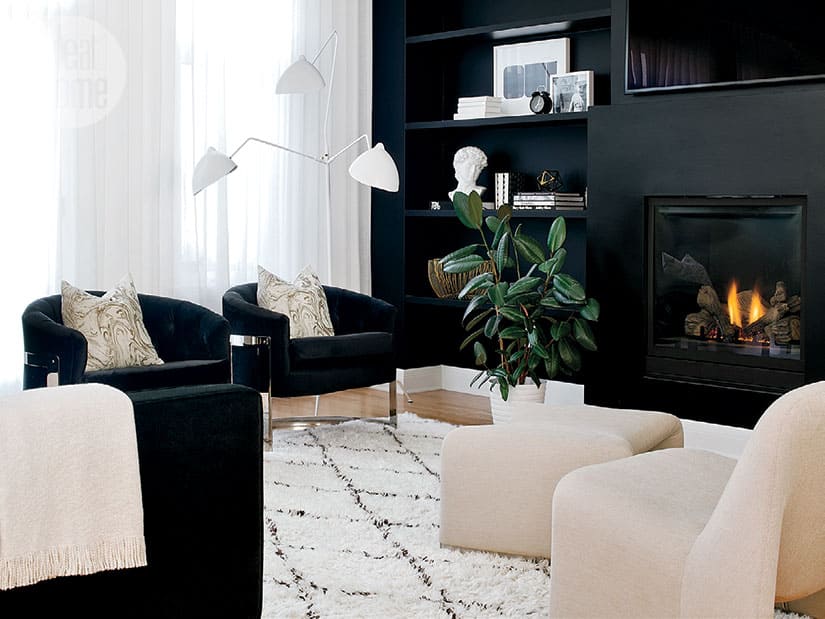 High-contrast family room
The high-contrast black, white and cream palette is both dramatic and practical in the family room, where a black-painted wall camouflages the TV.
Distinctive accents
With their unique curvaceous lines, the vintage Giancarlo Piretti sidechairs are statement-making pieces. So is the Prada art print, which depicts a roadside sign pointing the way to a fake Prada store (actually an art installation) in Marfa, Texas.
Sarah likes clean, airy spaces for their calming vibe but isn't afraid to throw in hits of drama and glamour.
Draped on the chaise longue a faux fur throw lends interest, while the toss cushions and striped rug offer texture and pattern.
"I have a couple of faux fur throws around the house," says Sarah. "I love the added texture. In a neutral space, it provides a little something for the eye."
A verdigris-finished bust of Zeus adds hits of colour.
Warm neutral space
A framed Hermès scarf, a vibrant green fiddle-leaf fig tree and verdigris-finished bust of Zeus add hits of colour in the black and cream living room. A wall of sheer drapery, also used throughout the house for continuity, lends softness to the space.
Black, white and cream palette
The high-contrast black, white and cream palette is both dramatic and practical in the family room, where a black painted wall camouflages the TV. "Obviously a TV hanging on the wall isn't always the nicest look, but at least here you don't see it as much," explains Sarah.
The rich black walls offer a moody, masculine look and also camouflage the dark cabinetry. While the moulding gives the office added character, intriguing elements like the vintage Karl Springer-like waterfall desk and the geometric pendant light create a dramatic setting.
The couple designed the kitchen, which features sleek flat-panelled cherry cabinetry stained a slate colour and white quartz countertops. The gold-coloured pendant lights complement the metallic elements used in the rest of the house, creating visual flow.
Eat-in kitchen
The kitchen's eat-in area features a classic Saarinen Tulip dining table and Mid-Century Modern-style chairs. A glass-topped console with a high-gloss Y-shaped base serves as a spot for display.
Dining area
A large wooden dining table and a set of vintage chairs -- which Sarah found on Kijiji for $200 and had reupholstered -- define the dining area. Sarah made the floating sideboard out of high-gloss IKEA cabinets and a painted-wood top.