House Tours
Interior: Eclectic exotic home
House Tours
Interior: Eclectic exotic home
Snowy white walls paired with lively exotic accents are the perfect elixir for this busy Toronto bar owner's home.
Most nights, Toufik Sarwa consorts with the fashionable crowd at Amber, his lively restaurant/lounge in Toronto's upscale Yorkville neighbourhood. But at home, the vibe is much different. His Victorian semi in the historic Summerhill neighbourhood exudes tranquility, thanks to a monochromatic scheme that gets its cheerful punch from colourful decor accessories and a dynamic mix of furnishings.
"I cherish my time at home," says Toufik of the two-bedroom 1,600-square-foot house decorated by designer Montana Burnett. "I'm always surrounded by people at work, so if I entertain here, it's only one-on-one with a glass of wine."
Black and white entrance
Homeowner Toufik Sarwa's love affair with Paris is evident in the spiffy black and white entrance to his Toronto home. The low-maintenance boxwood faux shrub, so the green stays vivid throughout the winter.
Matchy-matchy furniture can be so mundane. Instead, designer Montana Burnett's mix of furnishings sporting eclectic details - from the patterned fabrics to the ottoman's turned-wood legs to the intricate inlays on the exotic side tables - makes the living room feel dynamic.
The home - boasting a resplendent white backdrop inspired by Toufik's love of coastal Miami interiors - is invigorated by contrasting dark floors, exotic flourishes and organic textures that add warmth and dimension to the cool whites. The subtly eccentric entryway speaks to Montana's penchant for contrast: sleek, chunky legs on the console are a quirky pairing to the ornate mother-of-pearl mirror from Damascus (a nod to Toufik's Syrian heritage).
Using art in unexpected places - like a kitchen - is visually arresting. "I love this photograph's scale," says Montana. "It's a glacier, so it doesn't add warmth per se, but it has a lot of depth." Pots of lavender and rosemary are a fresh foil to the stainless steel countertops and sleek white cabinetry.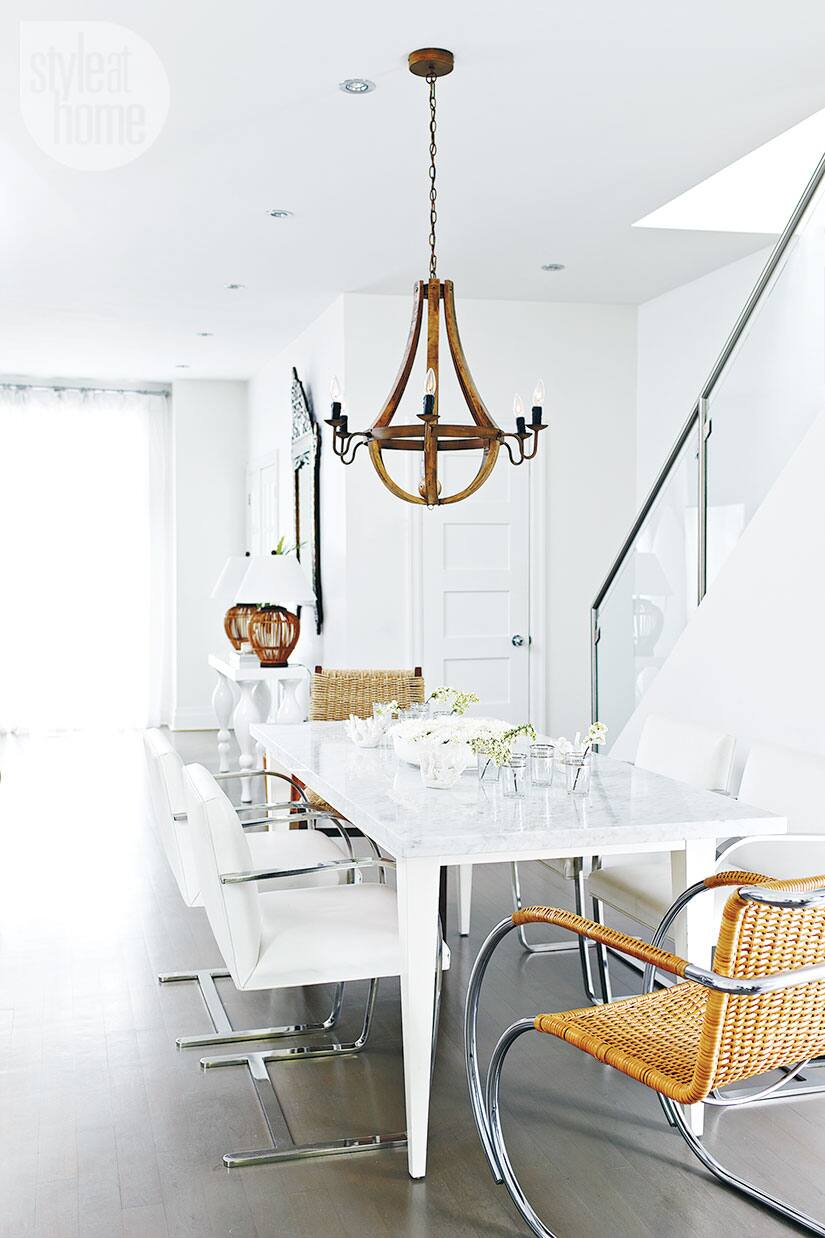 Dining area
Too much white can look flat, but not when there's a marriage of materials. The custom marble-topped dining table was inspired by a Philippe Starck one that Toufik has had his eye on for years, and it's where he does everything, from eating breakfast to finishing paperwork. Classic white Brno chairs by Mies van der Rohe contrast nicely with the woven end chairs and the rustic wooden chandelier.
"I love the all-white guest bathroom," says Toufik. "I wanted to create the feel of a modern Moroccan riad [a traditional house with a courtyard]." This was achieved by cleverly using a few sparse elements, including a chic marble sink, a space-saving wall faucet and a Venetian-style mirror.
Zen feel
When Toufik bought the home a few years ago, it was clinically white, or "flat," as Toufik puts it. Still, he confesses: "I am naturally drawn to white interiors for their Zen feel - I see warmth in them." Adds Montana: "But the space was too neutral, so we started injecting life into it. Natural elements like flower arrangements soften the look, as do the doses of pattern and colour, but those flourishes are sparse, so it still reads as clean."
Master bedroom
"The master bedroom typifies the house's pared-back exotic theme," says Montana. "The bed frame is modern and masculine but is softened by the kilim rug." The nude above the bed is by Montana's mother, Martha Solomon (Toufik has been a friend of hers for years). "The parchment paper that it's on looks aged, like something from the country," says Montana.