House Tours
Interior: Pacific coast chic
House Tours
Interior: Pacific coast chic
Designer Michelle Morelan's 3,500-square-foot open-concept house in Nanaimo, B.C. has a natural essence that complements its breathtaking view of Long Lake.
Nature is designer Michelle Morelan's muse, a fact she attributes to growing up in Ucluelet, B.C., on Canada's Pacific Coast, amid driftwood-strewn beaches, mist-clad mountains and an uninterrupted horizon. The designer's 3,500-square-foot Nanaimo, B.C., home pays homage to her muse in its palette, furnishings and fabrics. Even the open-concept layout echoes the expansiveness of nature, and the walls of windows connect the interior to its cliffside perch above Long Lake.
Airy living room
The living room is grounded by large furnishings like the comfortable deep sofas and by highly textural items, such as the rug, which play off the airy quality of the glass nesting coffee tables and cloches.
Soft grey window sheers add a dynamic element when the breeze blows. The abstract landscape artwork is painted by Michelle.
"I envisioned a palette of light, medium and dark greys with blues and greens because that's what you see out the window," she says. "That way, your eye just goes straight outside." The colours never overwhelm - they're subdued, like the coastal landscape draped in fog, and tempered by an abundance of white.
Distressed armoire
The asian armoire stores platters, candles and many of Michelle's entertaining pieces.
Relaxing womb-style chair
The Womb-style chair in the living room is Michelle's favourite spot to relax. "When I make myself a latte, turn on classical music and sit there facing the view with my feet up, I'm happy. It's just beautiful," she says.
Beach-style decor
A glass cloche set over a pair of wooden birds brings in a breezy beach-house vibe.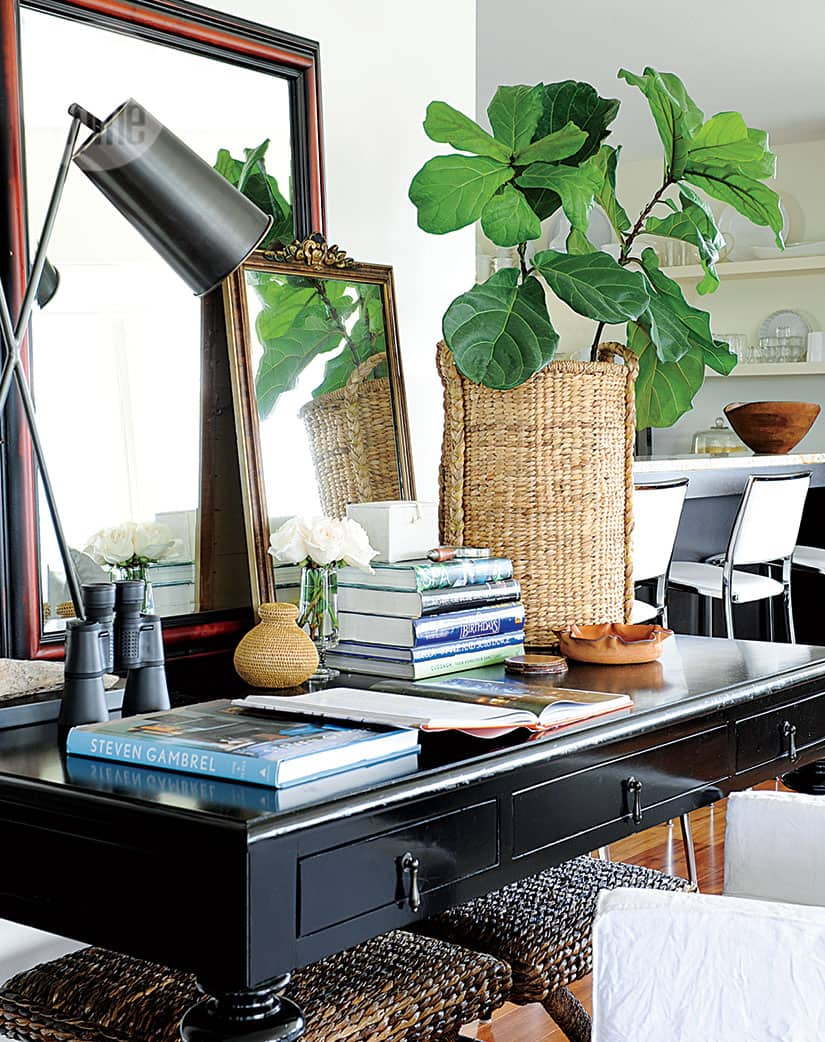 Desk
The organized desk offers a place for Michelle to display her things. "I like stuff, but pieces have to be pretty or have a purpose," she says.
Conversation books
A prized 800-year-old chinese vase was topped with glass and turned into a side table, where Michelle and her husband, Brian, display their favourite coffee table books - including one by Betty Lowman carey, Brian's aunt, who canoed along the entire B.C. coast solo in the 1930s.
Basement office
Downstairs, in Michelle's office, a chalkboard wall provides a place for note taking, planning and brainstorming, and acts as an artistic wall treatment. Mid-Century Modern-inspired pieces are a great foil to the whimsical items, such as the butterfly toss cushions, in the space.
Whimsical trinkets
The soft white accessories add a feminine, whimsical and beachy feel.
Gallery wall
A mini framed artwork gallery wall in Michelle's office sits above a rotating collage of magazine clippings, photos and more that inspire her designs.
Wraparound banquette
Michelle custom designed the wraparound banquette for the breakfast nook so that it would serve multiple functions: It disguises the short windows; acts as an informal eating spot and lounge area; and turns into beds! With only two bedrooms, Michelle needed more bunk space, so she made the banquette wide enough to accommodate two people.
Platner table
The Platner dining table in the light-filled breakfast nook is an original. "I have a high-low rule," admits Michelle, who opted for sofas from IKEA and then splurged on the kitchen and dining tables.
Maple dining table
The stunning dining table is a testament to Michelle's reverence for the environment: It was made from salvaged maple from the nearby town of Port Alberni.
Tabletop decor
The net covered ornaments bring the lakeside feel into the house by adding decorative charm to the breakfast nook.
Kitchen
A huge pantry and bank of drawers were added to match the existing kitchen cabinetry. "The kitchen was too small for a 3,500-square-foot house," says Michelle. She created the blinds from ready-made linen drapery panels; they soften the hard surfaces in the room.
Open shelves
Michelle loves the bank of drawers for its convenience and organization. Shelves the same colour as the white wall paint keep the space visually uncluttered, as does the white china and glassware.