House Tours
Making History
Photography: Janet Kimber | Design: Philip Mitchell Design
House Tours
Making History
In Chester, N.S., a Georgian-style home celebrates the art of life lived beautifully.
Although it appears to have been here for centuries, this four-bedroom cedar shake- and-shingle home was built in 2016. "It's on the harbour right in the village, so we designed it with sensitivity to the surrounding vernacular architecture," says designer Philip Mitchell. "Then we really pushed the boundaries with the interiors."
Among its features are a light fixture that suggests a lily pad, an Italian mid-century chair fashioned from wire and wood, and an oxidized metal coffee table that looks like it belongs in a sculpture garden. The home's unifying element, however, is its art. "The homeowners are longtime collectors, so it was really important to me to curate and create a cohesive presentation for their pieces." With this in mind, Philip reinterpreted conventional spaces, such as staircase landings and bedroom dressers, as gallery spaces. Corners of rooms became opportunities to display sculpture. And items, such as vases that one might typically set on a table, were elevated to shelves and presented as artifacts for viewing. The outcome is a show-stopping dwelling that can truly be described as both a gallery and an escape.
Photography: Janet Kimber | Design: Philip Mitchell Design | BUILDER, Luke Kaizer Construction and Renovation. LANDSCAPE DESIGN, Mark Narsansky.
Designer Philip Mitchell ensured the home blends into its setting in a historic Maritime village. Similarly, Mark Narsansky, Philip's husband, designed the landscaping to give the impression of established gardens. Birch trees, and mounds of hydrangeas and native plants fill the sloping lot.
Photography: Janet Kimber | Design: Philip Mitchell Design | Nendo CONSOLE TABLE, Avenue Road. VASES, 1st Dibbs. CEILING PENDANT, 507 Antiques.
Photography: Janet Kimber | Design: Philip Mitchell Design | ARTWORK Large blue abstract (halfway up stairs), by Brian Coleman, Anne Irwin Fine Art; large concentric circles in gold frame, by Heidi Leverty, Bau-Xi Gallery; blue photograph (above console), by Max Wright, Renann Isaacs Contemporary Art.
Flooded with natural light, the entry hall and stairway double as an art exhibit where three-dimensional objects, such as a trio of mid-century vases, mingle with flat canvases. The console table in blue-grey nods to the home's harbour views. "In any new project, we take our cue from the geographical location," says Philip. The antique alabaster pendant imparts a sense of history.
Photography: Janet Kimber | Design: Philip Mitchell Design | Beacon Hill Road SECTIONAL, Avenue Road. Lee Jofa SECTIONAL FABRIC, Luvern RUG, Kravet. Monolithic SIDE TABLE, Dennis Miller. Vintage ARM CHAIR, 507 Antiques. Smithberg ROUND COFFEE TABLE, Holly Hunt. Cantante WALL SCONCES, Avenue Road. Mies van der Rohe OTTOMAN/DAYBED, Of Things Past. Branching Disc CEILING FIXTURE, Hollace Cluney. TOSS CUSHIONS (on sofa), Kravet, and Samuel and Sons. Adela LARGE GLASS LAMP, Circa Lighting.
An expressive lily-pad ceiling fixture catapults the living room out of tradition and into artistic expression, as do the metal coffee table and Italian mid-century wire chair that double as sculpture. Philip took advantage of the room's generous footprint. "Rather than orient the furnishings around the fireplace, we created two separate seating areas – one with a sectional and one with a sofa," he says. "This makes it easy to host large numbers of guests."
Photography: Janet Kimber | Design: Philip Mitchell Design | Custom CHAISES, Philip Mitchell Design. CHAISE FABRIC, Lee Jofa, Kravet. Light Ring CEILING PENDANT, Avenue Road. Travers SCONCE, The Urban Electric Co. Peter Sandback DRUM TABLE, Hudson FLOOR LAMP, Dennis Miller. DRAPES, Brunschwig & Fils; Jonathan Adler CHEVRON RUG; Kravet. ART (above fireplace), by Andrew Plum.
In the den, two channel-tufted chaises invite the homeowners to settle in for reading or to watch a movie. As they do, a shared drum table is within reach for drinks. Above it hovers a triple-circle pendant light. "Typically, this would hang in the centre of a room, but placed here it surprises the eye and brings a wonderful ambiance," says Philip. And for more practical purposes, each chaise was assigned an adjustable metal side table with built-in reading light. The bust belongs to the homeowner's family. Although not particularly old, it assumes a classical look when singled out for presentation on a pedestal.
Photography: Janet Kimber | Design: Philip Mitchell Design | TABLE, Dennis Miller. Lorae ARMCHAIR, Bright Chair. Vintage DINING CHAIRS, 1st Dibbs. Robert Marinelli BUFFET, Profiles. Ironies CHANDELIER, South Hill Home. ARMCHAIR FABRIC, Lee Jofa chenille and Lee Jofa Balboa, Kravet. Lotte & Gunnar Bostlund TABLE LAMP, 1st Dibbs. VASES, Vintage Fine Objects. ART, Vlad Grospic (large abstract landscape over buffet), Oeno Gallery; Brendan George Ko (text with white matte; left of doorway, top) Gallery Page & Strange.
Mid-century cane chairs and a custom table are illuminated by a textural chandelier. "It reminds me of a lobster trap dipped in white," says Philip. Plush armchairs in chenille and embroidered fabrics pair with the lustrous wall art above a walnut sideboard. The simpler lines of a mid-century lamp bring balance.
Photography: Janet Kimber | Design: Philip Mitchell Design
Floor sculpture in half-donut shapes, an Art Deco pedestal and framed landscapes live in harmony.
Photography: Janet Kimber
Designer Philip Mitchell, who also lives in Chester, approaches all projects with geographical location in mind.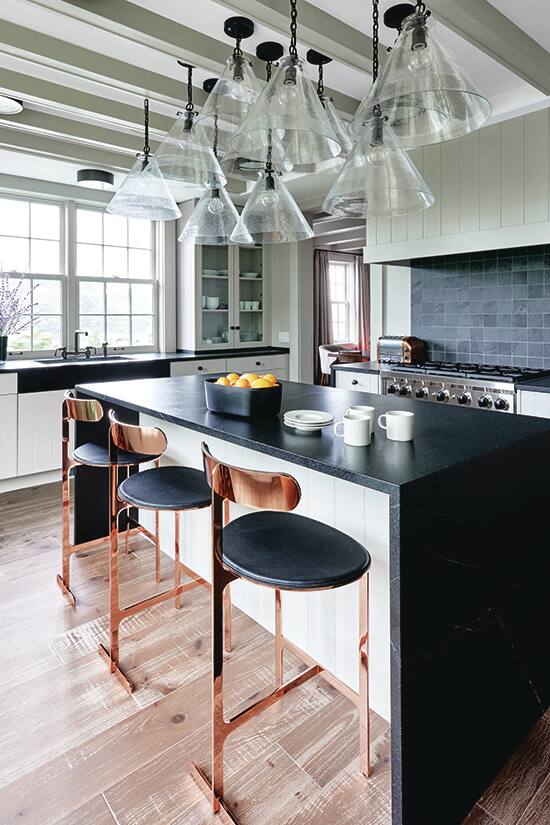 Photography: Janet Kimber | Design: Philip Mitchell Design | CABINETRY, Bellini Custom Cabinetry. Katie Conical Pendant CEILING FIXTURES, Circa Lighting. FLUSH-MOUNTS, RH. Park Place COUNTER STOOLS, Avenue Road. RANGE, Wolf. BACKSPLASH, CIOT. Etal Carmona WOOD VASE, Avenue Road.
"For a wow factor, we hung a multitude of blown-glass ceiling fixtures. There are about 11 of them," says Philip. The rose-gold counter stools were a splurge. Bronze finishes, including hardware, are subtle, as are the soapstone backsplash and waterfall island.
Photography: Janet Kimber | Design: Philip Mitchell Design
The cabinetry is simple and, though modern, features beadboard doors. "The slats tie in with the shiplap walls elsewhere in the home," says Philip. The colour of the cabinets isn't strictly historical, but its sophisticated quietude blends seamlessly with the home's traditional architecture, including the coffered ceilings. The live-edge Cumaru wood vase features a split that's stitched together with hemp.
Photography: Janet Kimber | Design: Philip Mitchell Design | Flannel Northport HEADBOARD, Kravet. Tulu TWIN THROW PILLOWS, Zak + Fox. BRAIDED SHAM TRIM, Samuel and Sons. CEILING FAN, Wilcorp Ceiling Fans. Nias ROMAN SHADE, Kravet. DRESSER, Bunny Williams Home. Spanish Glass LAMPS, RomEla. BENCH, KWH Furniture. BED LINENS, Deborah Sharpe Fine Linens. JUTE RUG, Dash & Albert. Leather ARMCHAIR, Cocoon. Copper Armour ROUND END TABLE, Studio A Home. ART (above dresser), Hanna Ruminski, Art Interiors.
Two guest suites offer plenty of accommodation for friends and family. The off-white suite pairs a leather headboard with a leather bench. Texture is the focus in this room, but blown-glass lamps hint at colour. The charming chest of drawers with carved rosette detail is topped with a row of hair picks that doubles as sculpture. Stripes in the roman shades and patterns in the shams enliven the space.
Photography: Janet Kimber | Design: Philip Mitchell Design | Thibaut WALLCOVERING, Lee Jofa Groundsworks Ojai STRIPED SHAMS, Kravet. BED LINENS, Deborah Sharpe Fine Linens. END TABLE, 1st Dibbs. Swing LAMP, Circa Lighting. Diamond RUG, Dash & Albert.
The second guest suite features striated wall coverings and a luxurious channelled headboard covered in a graphic print. Black and white bedding is warmed by the Art Deco wood side table and gold accents in the frame and lamp.
Photography: Janet Kimber | Design: Philip Mitchell Design | Laredo BED FRAMES, The American Iron Bed Company. Wilcorp CEILING FAN, Kendall Lighting. Lee Jofa Ground Works ROMAN SHADE, Kravet. END TABLES, Philip Mitchell Design. Westbury TASK LAMPS, Circa Lighting. Bennington THROWS, One Kings Lane. Danish CHEST/TABLE, Patina Antiques Inc. Samson striped RUG, Dash & Albert. Gaios large LAMP, Circa Lighting.
Lucky visiting grandkids get to snuggle into this attic room after dark. The twin iron beds are cooled by a vintage-style ceiling fan on warm summer nights. Philip used the beds as a jumping-off spot for a series of visual repeats, including matching reading lamps, throws and bedding. Even the stripes in the indoor/outdoor rug are a type of repeat. The Danish chest-table and large lamp between the beds provide a focal point and a place for sleepy kids to set bedtime story books and small toys.
Photography: Janet Kimber | Design: Philip Mitchell Design | TUB, Gingers. MEDICINE CABINET (over sink), RH. Maxine WALL SCONCE, Urban Electric. Vintage Murano CEILING PENDANT, Decorum. BASKET, Gingers. Antique MIRROR (on wall), Forma Framing.
The classic bathroom features white shiplap walls. "To give it some edge, we did black frames for the windows and used a black tub," says Philip. The basket and round mirror soften the space.