House Tours
On the Light Side
House Tours
On the Light Side
An uplifting yet soothing palette and textures drawn from nature unite modern and traditional elements in a busy family home.
There is a special thread running through the serene redesign of this Oakville, Ont., home. It's not just the breezy textiles or the pearly grasscloth wallcovering. It's the friendship woven deeply into the fabric of the project. "I babysat for the Weirs when I was in high school," says designer Rhiannon Hageman. "Our daughter was the flower girl in Rhiannon's wedding," adds homeowner Erica Hollingdrake Weir, who lives in the graceful five-bedroom with husband Rob Weir and their teens, Lauren, Lucas and Russ.
That level of comfort was no doubt at play when Erica reached out to Rhiannon back in 2019. "When my husband, Travis, and I opened our design firm, Erica came to me for help with a kitchen renovation," explains Rhiannon. Quickly, a more intensive redesign was in the works. "We realized there was a lot we could do to help them fall back in love with their gorgeous home," says the designer about the Cape Cod-style home Erica and Rob had bought from a builder in 2006.
Photography: Will Reid | Designer Rhiannon Hageman and husband, Travis.
To balance Erica's passion for clean-lined modern design with Rob's more traditional tastes, Rhiannon developed a pared-back transitional look inspired by the casual minimalist styles characteristic of Vancouver and L.A. "Erica showed me photos of beautiful glass homes in British Columbia," says Rhiannon. "While it would have been impossible to recreate those, I looked for ways to modernize this house while still complementing its traditional architecture."
By repeating a palette of pale neutral fabrics and beachy materials like abaca, white oak and rattan, she imbued a soothing sense of flow between rooms. Stripping the dark stain from the white oak floors lightened the look dramatically, as did overhauling two heavy stone fireplaces. To liven up the quiet spaces, Rhiannon brought in sunny hits of brass and healthy doses of black. "Painting the windows black helps to frame the rooms and adds visual interest," she says. Playing up the windows also addressed another of Erica's goals: embracing nature. "I'm not really an art person, so I wanted the outdoors to be our art. I grew up on a farm and we just lived outdoors."
The timing of the redesign, which finished in April 2020, couldn't have been better considering the onset of the pandemic. "It's provided little sanctuaries for each of us," Erica says. "The living room is my escape. I spend mornings in there meditating and reading before everybody's up."
Rhiannon relishes Erica's joy. "She gave us a huge opportunity. We'd never done a project this large," she recalls. Erica says she just relied on her instincts: "I knew there was a risk, but deep in my heart, I knew they'd give us their best. And that's exactly what happened." And so the thread – woven tight from the start – holds fast.
Photography: Will Reid | Design: Rhiannon Hageman, Hageman Homes & Interiors | DINING TABLE, CHAIRS, GREY CABINETS, Hickory Chair. FLOWERS, Hofland. WHITE VASE, Barbara Barry. Grasscloth WALLPAPER, Schumacher.
When they first bought the house, Erica and Rob invested in a graceful dining set from Hickory Chair. These timeless pieces were easy to integrate into the new design. Designer Rhiannon Hageman relaxed the look by removing heavy silk drapery, wrapping the room in grasscloth the colour of morning mist, and bringing in a breezy chandelier. "Sometimes, when you change everything else in the space, it allows you to see your pieces as new again," she says. "This entire renovation was about repurposing and giving this incredible home new life."
Photography: Will Reid | Design: Rhiannon Hageman, Hageman Homes & Interiors | Wood-framed CHAIRS, glass-topped SIDE TABLE, Cocoon Furnishings. FIREPLACE INSERT, Napoleon. MANTEL, Top Notch Cabinetry. ART over fireplace, Palecek. QUARTZ on fireplace, Caesarstone. RUG, Pottery Barn. White TABLE LAMP, Circa Lighting. WALL COLOUR, Seapearl OC-19, TRIM COLOUR, White Dove OC-17, WINDOW TRIM COLOUR, Black Jack 2133-20, Benjamin Moore.
Rhiannon transformed the underused formal living room into a peaceful sitting room where Erica meditates every morning. "I do a lot of creative work in here – planning and thinking about how to accomplish things for the non-profit and setting my goals for the day and the week," says Erica, who co-founded the non-profit Mentoring Moms. Rhiannon swapped out the heavy cast-cement mantel for a simple white treatment and filled the room with like-minded tones – ivory, cream, greige, sand. "Neutrals are neutral for a reason: they can be layered quite effortlessly for a visual variation," Rhiannon says. The whimsical Dandelion artwork (made from hand-cut coconut shells) over the fireplace is more than just decorative: "I wanted the eye to be drawn up to the beautiful vaulted ceiling, where we hung the gorgeous natural fixture from Made Goods," she says.
Photography: Will Reid | Design: Rhiannon Hageman, Hageman Homes & Interiors | BENCH by Lee Industries, Cocoon Furnishings. Storage BASKET, Pottery Barn. White VASE, Accents for Living.
A chic cocktail bench that seems to float on its ethereal acrylic supports sets a luxe, contemporary tone in the front hall. To update the architecture, Rhiannon stripped the dark-stained white oak floors, instantly lightening the entire main floor. Likewise, she swapped out traditional wooden spindles for wrought-iron ones on the railing and painted the existing handrail white. The spindles were some of only a handful of things that made it into a dumpster on this project. "It was really important to me that we minimize waste," says Erica. "I'm a member of the Green Party and I volunteer with them. So the old kitchen went to Habitat for Humanity. The floors were refinished not replaced. And we just painted all the old windows to match the new ones."
Photography: Will Reid | Design: Rhiannon Hageman, Hageman Homes & Interiors | LAMP, Circa Lighting.
Double doors into the home office, off the main foyer, frame a view of the artful and airy custom-made desk. "We wanted the view of the beautiful gardens to be the focal point," Rhiannon says. Throughout the main floor, Rhiannon painted window frames to give the traditional architecture an edgier feel. "A hint of black is always a good thing, even in traditional design," she says. "It brings a depth and maturity to the space. All-white rooms can feel sterile." Hageman Homes & Interiors is truly a family affair: Rhiannon's husband, Travis Hageman, runs the construction side, and her sister, Shaunna Thomas, is the project coordinator.
Photography: Will Reid | Design: Rhiannon Hageman, Hageman Homes & Interiors | CABINET DESIGN, Hageman Homes & Interiors. CABINET CONSTRUCTION, Top Notch Cabinets.
The white oak cabinet in the kitchen – Rhiannon and Erica loved the idea of a furniture-style piece to display collections – takes a page from mid-century Scandi design. "Originally, we were going to paint it black, but I realized we needed something softer," says Rhiannon. It works with the lightened white oak floors that transformed the space, as if a door had opened and the home was filled with fresh air. "I love the look of the white wood," Erica raves.
Photography: Will Reid | Design: Rhiannon Hageman, Hageman Homes & Interiors | CABINET DESIGN, Hageman Homes & Interiors. CABINET CONSTRUCTION, Top Notch Cabinets. CABINET COLOUR, Classic Gray OC-23, Benjamin Moore. HARDWARE, Emtek. CHANDELIERS, Arteriors. BACKSPLASH, Caesarstone. STOOLS, RH. RANGE, FRIDGE, KitchenAid. FAUCET, Rohl.
Because the kitchen is somewhat tucked away, Rhiannon felt it was the best place to realize Erica's desire to go really contemporary. Out went the old Cape Cod look with white Shaker cabinets, and in came flat-panel cabinetry in an ethereal pale grey, a clean-lined island with quartz waterfall counter and matching range hood. "We layered natural colours, wood and stone to bring the room together, and added warmth with the brass in the hardware and light fixtures," says the designer. "Even though we went darker for the cabinetry colour, the room somehow feels brighter. I think the floors were a big part of that." Erica's requisite dose of glam comes in the form of two striking golden pendants over the island. "They feel like pieces of jewellery atop a relatively neutral space."
Photography: Will Reid | Design: Rhiannon Hageman, Hageman Homes & Interiors | Bernhardt DINING TABLE, Cocoon Furnishings. DRAPES, Schumacher. CHANDELIER, Made Goods.
To make the breakfast area more fetching and functional, Rhiannon brought in a knockout dining table, paired it with shapely chairs clad in wipe-able leather-like vinyl and shifted the table into the centre of the room to anchor the space. A chandelier of wired cocoa beads and simple linen drapes introduce natural texture. "This back wall of the family room spans at least 30 feet. It's a really large space and it needed some softness," says Rhiannon. "It would have felt unfinished without the drapery, which also frames out the space and gives it some dimension."
Photography: Will Reid | Design: Rhiannon Hageman, Hageman Homes & Interiors | SOFA, ARMCHAIRS, Lee Industries. BASKET, Pottery Barn. FLOOR LAMP, Circa Lighting.
The transformation of the family room was dramatic. "We replaced dark walnut cabinetry and a floor-to-ceiling stone fireplace that looked like it should have been in a chalet with a sleek porcelain-slab fireplace flanked by new black-framed windows, and now the natural light is incredible!" raves the designer. "Part of the beauty of this space is all the greenery outside. We wanted to let that shine without overpowering anything in the room." The room's size required sensitivity to scale when choosing and arranging new pieces. "The huge sectional grounds the space and adds plenty of seating for the family to spend time together," says Rhiannon. "Now it's this welcoming, cozy family room." The bold black iron coffee table balances the light colour furnishings.
Photography: Will Reid | Design: Rhiannon Hageman, Hageman Homes & Interiors | WALLPAPER, Schumacher. SCONCE by Aerin, Circa Lighting. FAUCET, RH.
"Erica loves a bit of glam, and the powder room was a great place to use Schumacher's wonderfully chic Queen of Spain wallpaper," Rhiannon says. Likewise, the brass-lined sconces feel like dressy cuff bracelets. "I've always loved fashion," Erica says. "Growing up, I collected stacks of Seventeen magazines. Later, I even worked for Sunny Choi's fashion house." Simpler elements like the existing quartz sink, crisp mirror and polished-nickel faucet balance the luxurious finishes.
Photography: Will Reid | Design: Rhiannon Hageman, Hageman Homes & Interiors | BUILT-IN DESIGN, Hageman Homes & Interiors. BUILT-IN CONSTRUCTION, Top Notch Cabinetry. BENCH FABRIC, Kravet. RUG, Annie Selke.
With the existing hardwearing slate floor as a starting point, Rhiannon overhauled the mudroom, designing roomier built-ins finished in a velvety grey that looks great in every light. "The family participates in every and all sport, so each person has their own cubby, and now that the children are teenagers, they need more space for all of their stuff," Rhiannon says. "We also included drawers for all of Erica's needs, and as much additional storage as possible. It's polished, clean and a nice contrast to the light cabinetry in the kitchen, which is just off this room through double doors." The brass tone of the hardware coordinates with the hardware in the kitchen next door for consistency.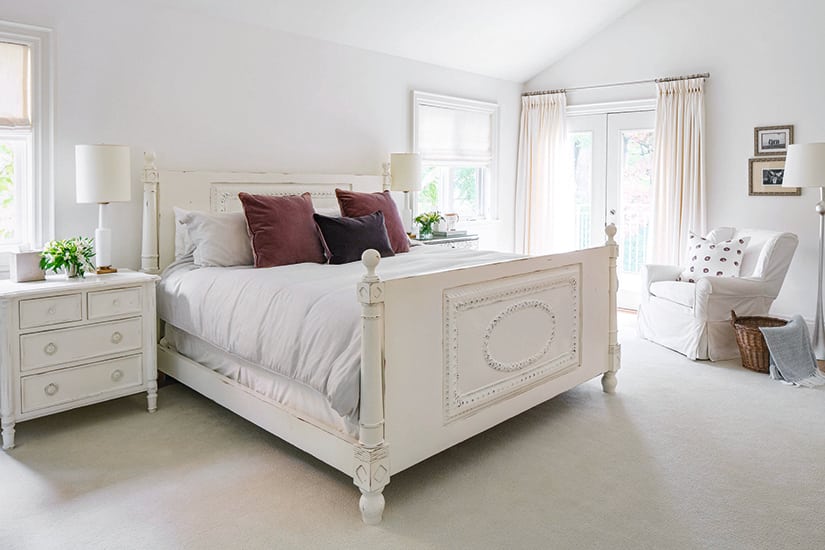 Photography: Will Reid | Design: Rhiannon Hageman, Hageman Homes & Interiors | Bedside LAMPS, Circa Lighting. White BEDDING, Cocoon Furnishing. DRAPES, BLINDS, Q Design Linen. Wing CHAIR, Lee Industries. BED, Hickory Chair.
When the home was built, Erica created a breezy primary bedroom suite – with its enviable natural light amped up by a serene palette of warm whites – that she's still in love with to this day. "Layering different whites in the same tones creates a beautiful and peaceful setting," Rhiannon says. To refresh the look, she brought in ivory drapes and roman shades, new lamps and textural accessories like the dusty rose and purple velvet pillows. "The aubergine felt like a lovely colour to complement all of the ivory and white," Rhiannon says. A bedside table finished in antiqued mirror adds a hint of sparkle.
BENCH, GLASS GINGER JARS, Cocoon Furnishings. SCONCES, Pottery Barn. TRAY, Aerin. PULLS, KNOBS, RH.
The primary ensuite's handsome vanity, with its timeless quartz countertop and traditional raised-panel doors, stood the test of time, and so Rhiannon simply updated details like the sconces and cabinetry hardware. She played up the classic black and white palette by introducing simple black-frame mirrors and a delicate metal bench that echo the dark marble flooring.