House Tours
Saturated colours and a jaw-dropping art collection give vibrancy to a contemporary new-build
Photography, Virginia MacDonald

The dining area's heirloom rug, from the owners' previous home, informed much of the colour palette, including the chairs and the sophisticated hand-dipped drapery. "The rug's pale-brick colour is a nod to the room's stronger reds and a transition to the softer corals and persimmons found in the living room," says Beth Lowenfeld. The kitchen's energetic blue cabinetry picks up on the rug's pattern and references Lake Ontario, which can be seen from the window.

DESIGN, custom CABINETRY, DINING TABLE, Leah Shannon, Beth Lowenfeld, Four Blocks South. BUILDER, Walden Homes. ARCHITECT, Andrea Kordos, Black Lab Architects. CUSTOM FURNITURE BUILDER, Nick Day Design. Custom DINING CHAIRS, KITCHEN STOOLS, Gresham House Furniture. KITCHEN CABINETRY PAINT, Van Deusen Blue HC-156, Benjamin Moore. DRAPERY, WINDOW COVERINGS, Care of Windows.
House Tours
Saturated colours and a jaw-dropping art collection give vibrancy to a contemporary new-build
It should come as no surprise that dramatic colour was the jumping-off point for this vibrant Toronto residence. "The homeowners had seen an article featuring one of our designs, an intensely deep-teal bathroom, and were attracted to our bold use of colour," says Beth Lowenfeld, founder and principal of Four Blocks South, who, in tandem with design director Leah Shannon, charged this clean-lined, 3,000-square-foot space with vivid warmth. The owners, a retired couple downsizing from a traditional home, wanted a place where they could showcase their extensive art collection, welcome their kids and grandkids, and where they could age with ease (the home features an elevator and wheelchair-wide doorways). Not only does the pragmatic design account for aging, it also sings with eclecticism, thanks, in part, to the designers' focus on transitional style – one that spins modern in a soft way. Leah says: "We melded the home's contemporary architectural features with the couple's love of traditional elements, and the result is a cool aesthetic that doesn't relinquish comfort or colour."
"The open, airy feeling of the main spaces gave us lots of opportunity to play with light and colour in unexpected ways." – Beth Lowenfeld
Photography, Virginia MacDonald
Designers Beth Lowenfeld and Leah Shannon designed an ingenious installation of staggered glass panels that are suspended from the
ceiling. They obscure the view from the street into the home, affording a bit of privacy while acting like a colourful art installation. "It's our contemporary take on traditional stained glass," says Beth. "On sunny days, different colours cascade across the expansive ceilings and walls, which we intentionally kept bright and white to showcase the changing hues."
Photography, Virginia MacDonald
Photography, Virginia MacDonald
Photography, Virginia MacDonald
The 12-foot-long kitchen island caters to the owners' casual lifestyle, with ample space for sharing meals or using a laptop. Shelves of white oak lend natural warmth and keep glassware within easy reach when entertaining. The porcelain backsplash has optical intrigue. "We wanted something with movement that was evocative of the stone cliffs off the nearby lake," says Beth. "This slab offered the perfect mix of smoky blues, stony neutrals and rusty reds."
Glass ENDANTS, PENDANT LIGHT, Four Blocks South. PENDANT FABRICATOR, Viso. BACKSPLASH, Euro Tile & Stone. STOOLS, Gresham House Furniture.
"The owners are avid readers, so we ensured there were lots of comfy spots to curl up with a book." – Beth Lowenfeld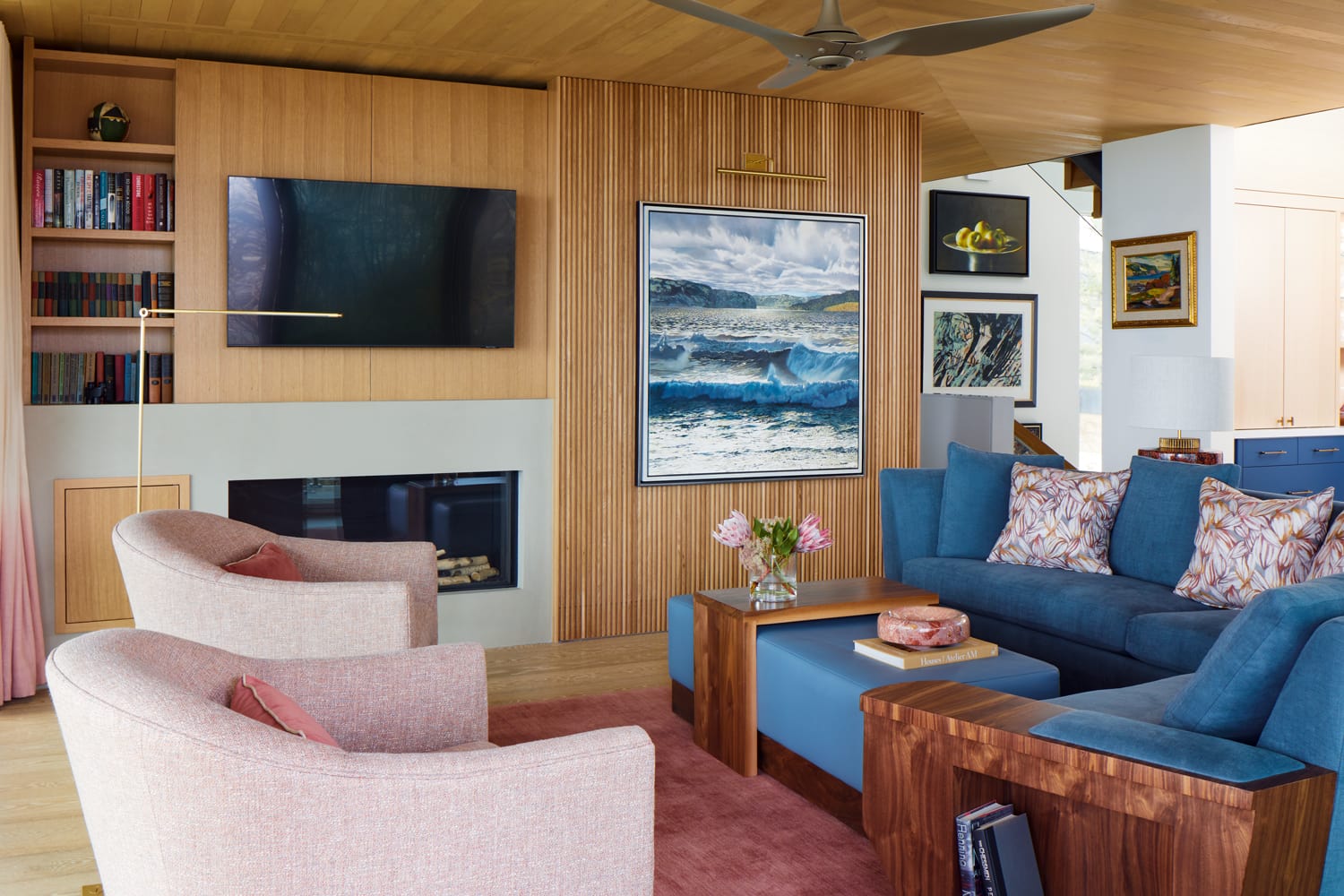 Photography, Virginia MacDonald
The architect's chevron wood ceiling in the living room inspired Leah and Beth to incorporate wall treatments of white oak veneer and mini slats. The custom-made furniture is clean-lined but not über-contemporary. "The pieces have a softer, rounded shape that is in keeping with the owners' love of transitional style," says Beth. The space is a favourite spot for both family and friends.
Photography, Virginia MacDonald
"Our sectional creates lots of room for entertaining guests or just watching a baseball game on TV with the kids," says Leah. "We designed its loose-back cushions to be perfect for nestling in and providing back support for reading. All the fabrics are durable for easy care and maintenance."
Custom SECTIONAL, Four Blocks South. SECTIONAL FABRICATOR, CCI Custom Furnishings. SWIVEL CHAIRS, Gresham House Furniture. RUG, Allan Rug. FLOOR LAMP, Hollace Cluny.
Photography, Virginia MacDonald
The custom-designed walnut veneer and white oak console offers easy access to books, a surface for charging devices, and a perch for beautiful Porta Romana lamps. "We wanted an area to feature these," says Leah. "We love how they provide mood lighting and illumination for reading but don't obstruct the view into the room."
LAMPS, South Hill Home. SIDE TABLE, Casalife.
"It's an open-concept home but there are still little cozy spaces where you can secret yourself away." – Leah Shannon
Photography, Virginia MacDonald
Photography, Virginia MacDonald
Beth (left) and Leah in the home's front-entrance atrium, which features integrated bookshelves. They staggered the artwork salon-style throughout all three levels of the space, adding colour and interest that's picked up in the patterned indoor/outdoor rug. The white oak bench is a modern take on a traditional silhouette.
RUG, Missoni. BENCH, Ethnicraft.
Photography, Virginia MacDonald
The lower-level home office/library has a punchy tomato-red sofa from the owners' previous home. The designers contrasted it with another intense shade of blue that makes the colourful art even more lively. The custom cushions are a fresh contrast and were inspired by the palettes of the artwork.
WALL PAINT, Porch Swing CSP-750, Benjamin Moore. CUSHIONS, Tonic Living.
Photography, Virginia MacDonald
The guest bathroom delights with bespoke details, including a custom linen cupboard that's finished with a variation of the slat-design wood seen throughout the home. The soft-green tiles work well with the neutral wood, while the pendant light adds some whimsy. "This design provides space for a guest to make themselves at home," says Beth. "And if, in future, a live-in caregiver is required, this would be their bathroom."
PENDANT LIGHTS, Cedar and Moss. wALL TILES, Ciot. FAUCETS, Roman Bath Centre.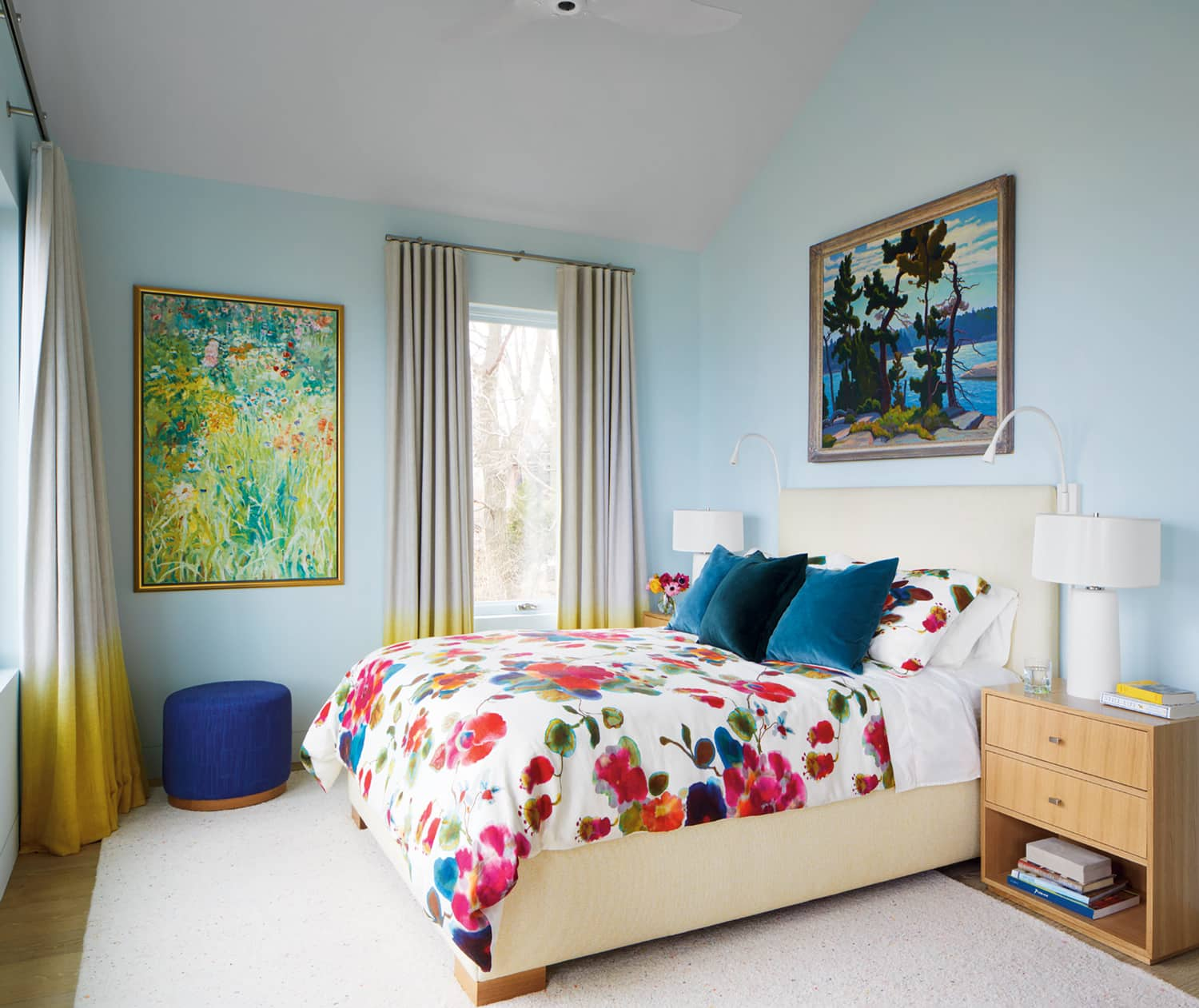 Photography, Virginia MacDonald
The designers had found a showstopper floral fabric years ago and were waiting for the right place to use it. "We just knew it would be perfect in the primary bedroom, so we used it for a quilt and pillows," says Beth. The hand-dipped drapes recall those in the dining area but in a different shade. "They're canary yellow like the sunrise that's visible from the bed."
Photography, Virginia MacDonald
A fresh but subdued wall colour keeps the interesting fabrics and artwork the stars. "This paint colour is a favourite of ours," says Leah. "It's the perfect blue-green, but also quite neutral and very watery, which seemed appropriate for the home's lake setting." The designers chose art from the owners' collection that would particularly complement the room's scheme. Custom-made bedside tables provide closed and open storage.
Custom BED, Rick's Custom Upholstery. Rubelli BEDDING FABRIC, Theo Decor. READING LIGHTS, WAC Lighting. WALL PAINT, Topsail SW 6217, Sherwin-Williams. Custom BEDSIDE TABLES, Four Blocks South; CONSTRUCTION, Nick Day Design.
"Handmade Fogo Island quilts layer in the owners' love of the East Coast." – Leah Shannon
Photography, Virginia MacDonald
From its bespoke apple-red side table to its zingy custom-made drapes, the guest bedroom pours on colourful charm. "This fun fabric was another find from long ago that was waiting for the right client," says Beth. "It's very colourful and bold, and the perfect counterpoint to the lively quilt."
Casal Drapery FABRIC, Theo Decor. Custom BED, Rick's Custom Upholstery. Custom BEDSIDE TABLE, Four Blocks South.
Photography, Virginia MacDonald
Known as the home's "multi-purpose" room, this blue beauty acts as a meditation space and home office for one of the owners, as well as a guest room and play area for the grandchildren. The built-in daybed is flanked by more bookshelves. A wall dressed in dreamy cloud-print wallpaper fulfills the owner's desire for a serene feel.
Sanderson WALLPAPER, Theo Decor. Cabinetry and bed PAINT, Labrador Blue CC-740, Benjamin Moore. Kids' TABLE, CHAIRS, Oeuf Canada.
Photography, Virginia MacDonald
Photography, Virginia MacDonald
Watery-blue handmade tiles create calm in the primary bathroom, where a freestanding tub sits on soft-blue penny rounds. "The bathtub was a super important decision for this house," says Leah. "The homeowners love to take baths and wanted something deep with a substantial edge to grasp and sit on for easier access in future." The custom-made vanity has an upper ledge that holds everyday items; it's the same white oak used elsewhere in the house for thoughtful flow.
WALL TILES, Fireclay Tile. Mosaic FLOOR TILES, Saltillo Imports. FAUCETS, Victoria & Albert TUB, Roman Bath Centre.