House Tours
Sky-High Style
Photography: Lauren Miller
House Tours
Sky-High Style
One designer brought glamour and gumption to a dull condo with sleek finishes and lively pink tile.
Some things just don't mesh: a good plate of pasta and fake cheese, say. Or someone with innate style living in a basic – and boring – condo.
The latter describes Aliya Somani, (who, as it happens, also makes a mean tagliatelle). Somani had purchased a 1,500-square-foot condo in Toronto's upscale Yorkville neighbourhood. While the one-bedroom unit in the 1920s building was airy, a dated interior left it feeling drab, and some elements positively clashed, like the cherry-red floors and honey-toned kitchen cabinetry.
Priya Mitrovic | Photography: Lauren Miller
"It was a mismatched mess," says designer Priya Mitrovic (pictured above) of Studio P Interiors, who was tapped to revamp the place. And because Aliya loves to cook, host friends and is writing her own cookbook, the unsightly kitchen had to go. So, over a six-month period in 2019, Priya did a gut renovation to the home. She injected a youthful, modern vibe through a pastel palette, statement tiles and custom solutions. In the process, she even carved out a cool little flex space off Aliya's bedroom that acts as both yoga studio and guest room.
But Priya's first order of business: miles of tiles. "I love tiles. They add drama and texture," she says. A spectacular moment is just off the entryway where flamingo-pink tiles engulf the powder room; the motif continues on the kitchen backsplash where blush-pink tiles beguile. "It's about balance," says Priya, who advises sticking with a neutral backdrop. "I like neutral walls that act as a base, then I layer in the colour through artwork and furniture."
To amp up the builder-basic condo, the designer also deployed a few other tricks. "I painted out the window trim black for an edgy quality," says Priya. "The black is cooler and loftier against the city view." She also dropped the ceiling in the living room to incorporate cove lighting for a moodier, layered ambience. As for the bedroom, Priya gave the prefab closets the boot, opting for a slick bank of custom millwork. "It's so much more functional and efficient if you can afford it," she says. "You can design it exactly to your specification, so everything fits perfectly."
And if you're the exacting type, like Aliya, why wouldn't you indulge in getting it just right the first time?
Living Room
Photography: Lauren Miller | DESIGN, Priya Mitrovic, Studio P Interiors; SOFA, Elte; GREY VELVET CUSHIONS, BLACK BOWL on coffee table, West Elm; THROW on sofa, WHITE VASES and RUG, HomeSense; ARTWORK, Etsy; COFFEE TABLES, Structube.
Designer Priya Mitrovic opted for a plush velvet sofa and armchairs for a sumptuous feel. Soft greys and whites predominate and make the vivid jewel-toned chairs pop even brighter. The coffee tables can be moved easily when Aliya Somani entertains.
Dining Room
Photography: Lauren Miller | CHAIRS, Zuo Modern; WHITE VASE on table, Crate and Barrel; PINK BRANCHES, Michaels; ARTWORK on sideboard, Etsy; WHITE VASE on sideboard, Structube; WHITE BOWL in centre of sideboard, West Elm.
The magic is in the mix! Velvet chairs and a marble-look table with a gold base are a sleek foil to the textured sideboard, which is painted in a gold finish.
Kitchen
Photography: Lauren Miller | KITCHEN, Kattlus Cabinetry; TILE, Centura; COUNTERTOP, Caesarstone; RANGE HOOD, Falmec.
Luminous pink tiles steal the show in the kitchen. "We played up the backsplash to add texture and colour," says designer Priya Mitrovic, who kept everything else muted to avoid any competition. The countertops are a warm concrete grey; matte cabinets are flat-front and have gold-edge pulls for a subtle uplift.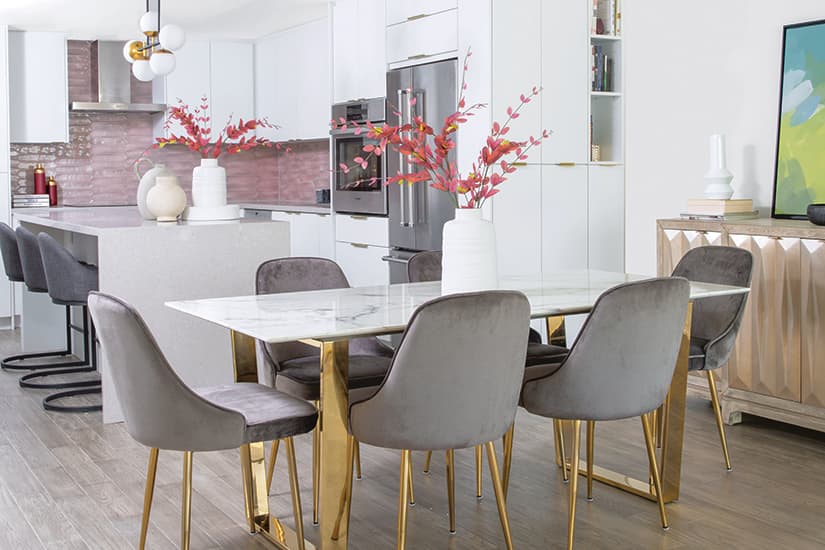 Photography: Lauren Miller | KITCHEN, Kattlus Cabinetry; TILE, Centura; COUNTERTOP, Caesarstone; RANGE HOOD, Falmec.
Powder Room
Photography: Lauren Miller | PINK TILE, Centura; BASKET, Crate and Barrel.
"It's a small space, so you can get creative," says Priya of the powder room, where floor-to-ceiling pink tile has eye-grabbing personality. "They're irregular so they look handmade, which makes them interesting," she says.
Bedroom
Photography: Lauren Miller | BLACK BOWL, BEDDING, SIDE TABLE, West Elm; MILLWORK, Kattlus Cabinetry; BASKET, Crate and Barrel.
Previously a den, a new sliding door separates the master bedroom (foreground) from a combo guest room and yoga space. A sofa bed lets Aliya keep up her practice and enjoy the city view.
Photography: Lauren Miller
Floor-to-ceiling custom millwork offers tons of storage in Aliya's bedroom and has streamlined style. "There are drawers, and hanging and jewellery storage," says Priya. The inset handles are painted two-toned for a layered effect.