House Tours
The Beachfront cottage That you Dream Off for Vacation
House Tours
The Beachfront cottage That you Dream Off for Vacation
Sand, sun and fun took priority in the breezy redesign of this beachfront cottage.
According to designer Michelle Berwick, her client's family had owned this cottage on Ontario's Georgian Bay his whole life, but over time its enviable beachfront site had taken its toll on the structure. "When they visited and fell through the floorboards, they knew it was time to rebuild!" Michelle laughs.
The redesign was driven by two factors. First was the ever-present view of the bay, which serves up myriad shades of blue, sometimes all at once. Second was the owners' easygoing lifestyle: they love hosting crowds of friends – being able to accommodate as many as five couples was a necessity – and the house had to be pooch friendly for their three beloved Golden Retrievers.
The result is a bright and breezy cottage, designed for barefoot living in bathing suits all summer long, and where tracking in a little sand here and there is completely acceptable.
A Fine Day
DESIGN, BLANKET, Michelle Berwick Design. CONSTRUCTION, Quality Contracting. Muskoka CHAIRS, Wayfair. RUG, West Elm. SIDE TABLE, PILLOWS, Gray House & Co.
Sliding doors from the primary bedroom lead directly onto the west-facing porch, where the couple can watch the setting sun as the waves lap endlessly on the shore. What could be a more soothing end to a day?
Locally, Naturally
NIGHTSTAND, Gray House & Co. ARTWORK (on nightstand), Maria Castillo. RUG, PENDANT LIGHTS, Wayfair. BED LINENS, L.L.Bean. Blue-and-white PRINTS, HomeSense.
"We tried to use local sources as much as possible," says Michelle of the furnishings used throughout. The side table was made by a local artisan from salvaged wood; a rustic console table in the front hall is by the same person.
Photography, Larry Arnal
"The entire back of the cottage has windows facing the water, so wherever you go in the house, it feels like you're floating."
Landing Lights
MILLWORK, Hartley Built. PILLOWS, Gray House & Co. CLOCK, ACCESSORIES (on shelf), Michelle Berwick Design. PAINT, Polo Blue 2062-10 (cabinet and bench), Benjamin Moore. PURSE, Holt Renfrew.
The mud room, which is where family and friends first enter on arrival, is outfitted with cubbies for exchanging city shoes for sandals or slippers. Says Michelle: "It's good to have a surface to put down groceries, cooler bags or luggage when you come in from the car." Extra storage above holds out-of-season gear.
Shipshape Shaker
MILLWORK, Hartley Built. COUNTERS, Cambria. FAUCETS, Riobel. BLIND, Michelle Berwick Design. COUNTER STOOLS, Niche Decor.
In the kitchen, the navy Shaker-style cabinets impart a nautical feel, in keeping with the watery theme, but there are subtler references, too: the quartz countertop has a wave-like undulating pattern, and the range hood is finished in shiplap.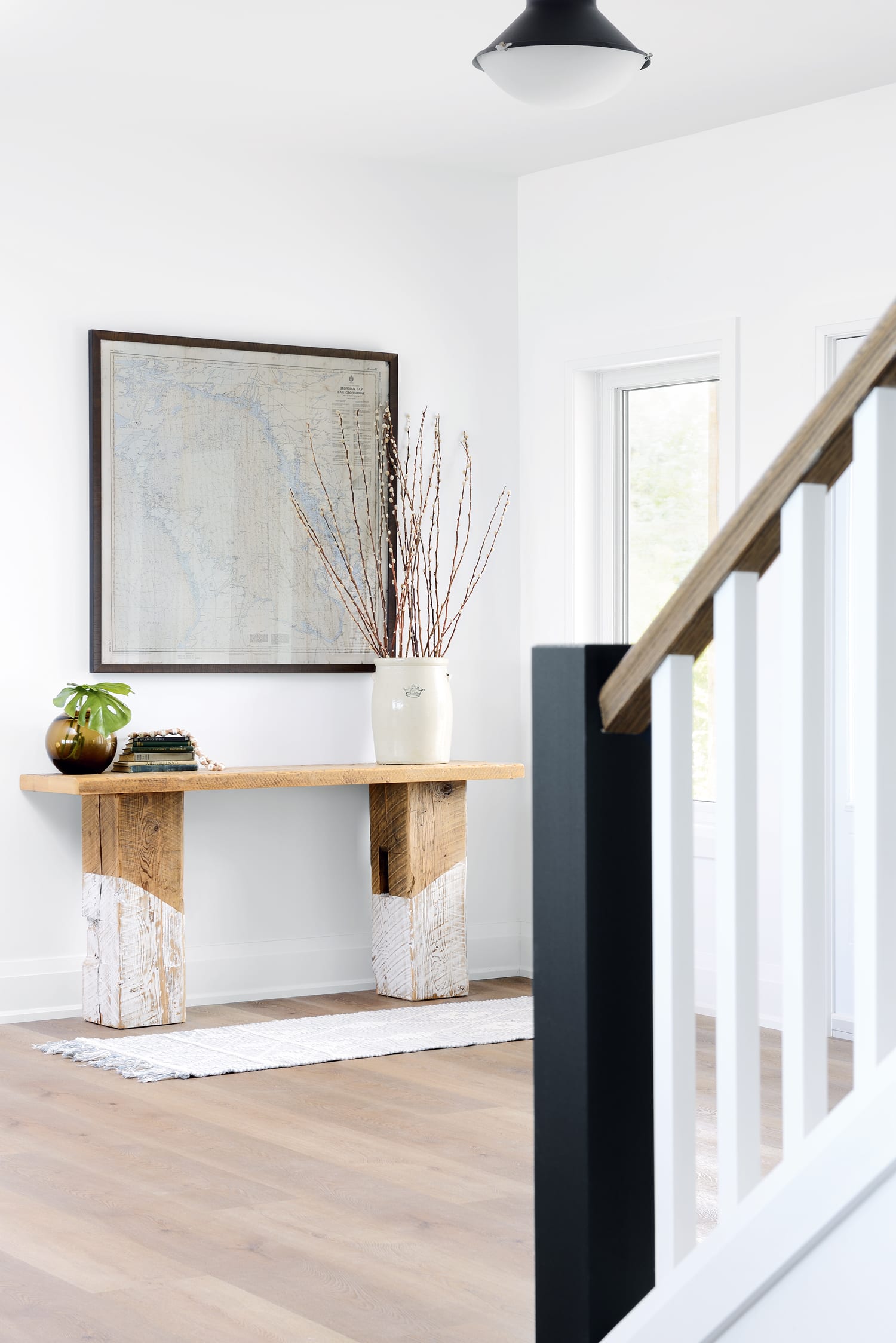 CONSOLE TABLE, Gray House & Co.
In the front foyer, a map of Georgian Bay is a cottage classic.
Room for More
Tan ArmCHAIR, SHEEP, Niche Decor. PILLOWS, BEADs, Gray House & Co. COWHIDE RUGS, Michelle Berwick Design. COFFEE TABLES, Structube.
The big blue sectional was one of the few pieces saved from the old house, and it works perfectly here, not only because it fits with the other blues in the decor but also because its leather upholstery is durable enough to stand up to dogs, spills and sand.
Cozy Cabin
Wicker PENDANT LIGHTS, Wayfair. SIDE TABLES, Bouclair.
The guest bedroom came together more or less organically, says Michelle, with artwork gathered from around the house that all works together – maybe because each piece has its own story, like the Renaissance-style portrait that was painted by her client's uncle.
BATHROOM MIRROR, Serena & Lily. FAUCET, Riobel.
Island Vibe
Photography, Larry Arnal
Balmy Breezes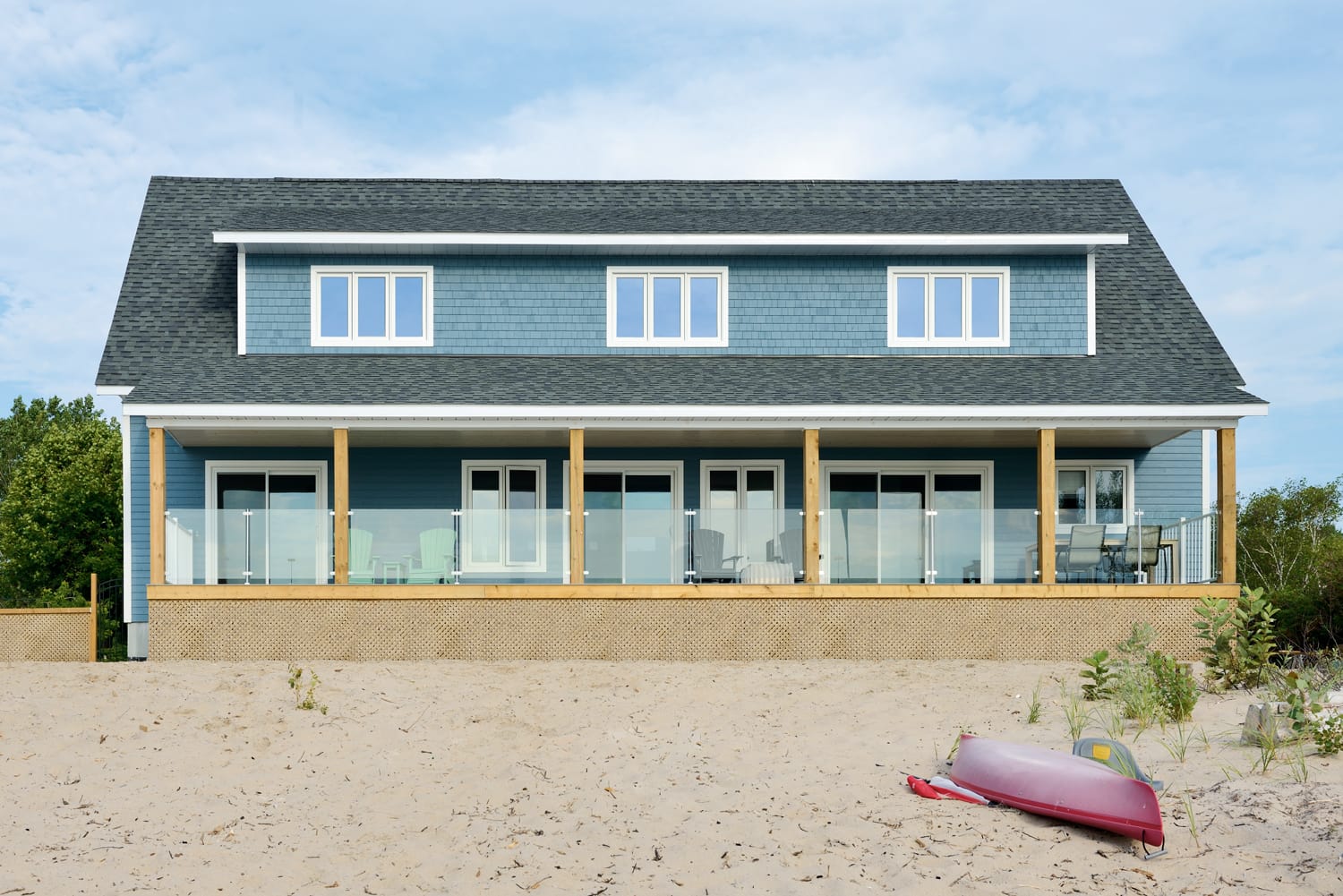 Photography, Larry Arnal
Everything about the cottage exterior is relaxed – from the pared-back palette of blue, white and wood to the clean, open design of the porch, with its glass railing that reveals the entire view. "It just seems to fit naturally into the landscape," says Michelle.
What's a beach without a tiki hut? This one is perfectly located for dispensing drinks and snacks to parched and hungry guests without anyone having to walk back to the house. In winter, it has a more practical purpose: storing surfboards and other summer gear until next year.
The powder room, like the house in general, is finished in pretty but durable materials to stand up to sand that might get tracked in.