House Tours
This Church-Inspired Home Has A Captivating Decor Borrows From The Splendour Of The Victorian Era.
Photography, Janis Nicolay
House Tours
This Church-Inspired Home Has A Captivating Decor Borrows From The Splendour Of The Victorian Era.
Given the Gothic windows and immense carved front doors, you'd be forgiven if you thought this pitched-roof building was a church. The quaint 2,500-square-foot home belongs to Danielle Lagah, the designer behind the fashion brand Market of Stars, her husband, Oakley Thompson, and their nine-year-old daughter, Smith. The trio lives in the tiny rural community of beautiful Nanoose Bay on Vancouver Island. "A couple of summers ago, I watched from my window as a family pulled up and picnicked on the lawn," says Danielle. Too polite to school the interlopers about their honest mistake, she let them be. It's a testament to how successful the new-build turned out. "We were inspired by modest 19th-century New England church architecture," says Danielle. Her dad, Piara, a self-taught builder, crafted the church over two years, alongside Oakley, who works in construction. Danielle and her mom, Diana, paired up to design the interior. The home's especially otherworldly come Christmas, when Danielle layers her beloved nest in festive Victoriana. She piles on pottery and patinaed glassware, but it's never over the top. "I describe the look as muted Victorian," she says. "I like neutrals with pops of natural green, and airiness between vignettes to let them breathe." The result is a warm and
welcoming interior, at Christmas and all year round.
Photography, Janis Nicolay
Vancouver-based landscape designer Damen Djos, Danielle's high school friend, is behind the house's splendid curb appeal. Formal boxwood hedges frame the building, which is accessed by a long pea gravel path flanked by fountain grass.
DESIGN, Danielle Lagah, Market of Stars. URNS, Southlands Nursery. SCONCEs, Scott Landon Antiques.
Photography, Janis Nicolay
We always do holiday greenery to match the indoors," says Danielle Lagah, pictured with her husband, Oakley Thompson, and their daughter, Smith. Symmetrical wreaths pinned up with green ribbon embellish the stunning doors. Fresh evergreen garlands draped over the doors and windows are casual and natural seasonal accents. Tucked into urns, burnt-orange magnolia, spiky cedar and wispy twigs add height
and hue.
Photography, Janis Nicolay
"I love a neutral colour palette," says Danielle. "The stark black and cream of historical New England churches speaks to me." With its rolled arms and button tufting, the light-coloured linen sofa reinforces Danielle's love of yesteryear styling. The hue pops against dark concrete floors, while radiant heating keeps things cozy underfoot.
Photography, Janis Nicolay
Photography, Janis Nicolay
SOFA, cream PILLOWs, THROW, The Cross Decor & Design. Green PILLOWs, Etsy.
A transfixing array of antique portraits trails up the staircase leading to the principle bedroom and ensuite, as well as to Danielle's studio. "I always choose paintings that have good energy," says Danielle, who scours thrift shops for treasures. "I love it when the subject's personality shines through. I often wonder about who the people might have been." Ferdie the duck makes for a quirky family mascot on the landing. A casual swag of cedar woven along the banister charms.
Photography, Janis Nicolay
Select PORTRAITS, Objekts. BENCH, Honest Goods Vintage. Green PILLOW, Etsy. Cream PILLOW, The Cross Decor & Design.
Photography, Janis Nicolay
"It's very Victorian!" says Danielle, referring to how she dresses the Christmas tree. Vintage glass baubles and garlands lend subtle glitz. "I've been collecting glass glitter ornaments for a long time. Glass glitter oxidizes – it gets this rich, gorgeous patina," she says. "I love that."
Photography, Janis Nicolay
Danielle embellished store-bought eyelet stockings with tassels so they'd be extra special. The cream colour works beautifully against the natural greenery and black mantel. Figures of antique French saints, collected on travels, are a unique holiday spin on quintessential nutcrackers.
Photography, Janis Nicolay
The lovely little rocking chair belonged to Danielle's sister-in-law when she was a child, but which she now gifted to Smith. Danielle likes wrapping gifts in simple, pretty packages. "That's ticking-stripe wrapping paper. We made the pompoms and added green sprigs and ribbon," she says.
"Part of the magic of Christmas is when we decorate the tree. We unwrap all of the ornaments and it's like seeing old friends."
Wicker wing chairs and a matching coffee table bring textural richness to the cozy, Christmas-ready spot. Danielle switches up the fireplace mantel seasonally – save for the cast-iron antique memorial plaques. They're from flea markets in France, and Danielle is drawn to their patina and uniqueness.
Photography, Janis Nicolay
Wicker CHAIRS, Facebook Marketplace. Lumbar PILLOWS, The Cross Decor & Design. COFFEE TABLE, Everything Old Canada. URNS (on fireplace), 1st Dibs. SCONCES, Honest Goods Vintage.
Every Christmas, Danielle pins up the Figgy Pudding banner that she fashioned out of glass letters. Meanwhile, instead of standard built-in kitchen cabinetry, her cooking area is made up of vintage furniture, including the sideboard and island. The latter is fitted with a sink and a dishwasher. She likes that the pieces are laden in corbels and knobs to match the house's Victorian vibe. The antique sideboard holds her prized pottery collection, which includes white-glazed terracotta dishware. "Oakley makes delicious steamed English puddings like chocolate chestnut and cranberry ginger," says Danielle. "And he always uses our vintage ironstone bowls as pudding basins."
Photography, Janis Nicolay
BANNER LETTERS, Wendy Addison. White terracotta DISHWARE (in sideboard), Astier de Villatte.
Photography, Janis Nicolay
Photography, Janis Nicolay
To create an elegant and formal Victorian Christmas table, Danielle makes sure every detail is authentic to the period, starting with an embroidered tablecloth. The stunning botanical Royal Stafford transferware is paired with a natural linen napkin decorated in fresh rosemary and sage. Antique ivory-handled flatware completes the look.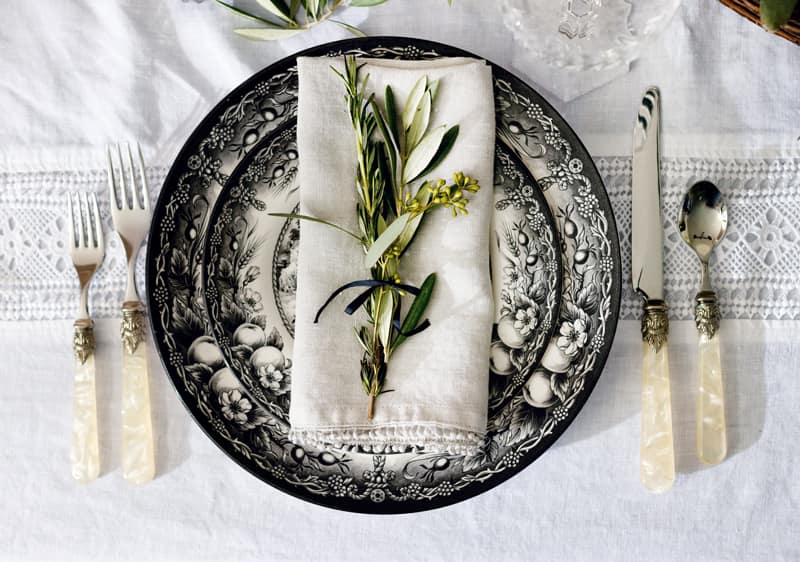 Photography, Janis Nicolay
PLATES, Replacements.
"I get such a thrill from finding vintage treasures, and from the idea that something had a life before it came into mine."
Festooned in finery, the Christmas table includes a centrepiece of mini gingerbread houses. It sets the mood for the holidays, which are a particularly significant time of year for the family. "My daughter was born on Christmas Eve, so that makes it extra special for us," says Danielle. The wall-mounted plate rack is actually a Victorian plant stand filled with pretty dishware and holiday greenery.
Photography, Janis Nicolay
"Because children's rooms are prone to messiness, we put in a lot of storage to hide the clutter."
Danielle's dad made the four-poster canopy bed in Smith's bedroom. Twinkly fairy lights above it and a silver Christmas tree on her bedside table are elegantly festive. Layers and textures – including a blanket fringed in pompoms, a soft Turkish rug and a wicker chair – add sumptuous warmth to the chic monochromatic scheme.
Photography, Janis Nicolay
"We wrapped the presents to be harmonious with the house," says Danielle. "Usually, it's black and white and mossy green, but I do like to do a fresh take each year. That's part of the joy of decorating." Pompoms, raw-edge velvet ribbon and checked patterns made the cut this year.
Photography, Janis Nicolay
BLANKET with pompoms, Anthropologie. RUG, Etsy. Wicker CHAIR, Bella Vintage Nanaimo.