House Tours
Winter whites & gorgeous greenery add holiday cheer to this family-friendly home
Take a tour of this classic yet modern holiday home. Image by: Janis Nicolay
House Tours
Winter whites & gorgeous greenery add holiday cheer to this family-friendly home
This B.C. home welcomes the festive season with glitzy gestures, natural accents and a perfectly pared-down palette that feels as fresh as a winter snowfall.
Sure, you can make like Will Ferrell in the comedy film Elf and deploy enough doodads to turn your home into a believable Santa's workshop. Or you can do the opposite and take a restrained approach to Christmas, just like designer Stephanie Giesbrecht does. "I personally like it when holiday decorations go with your home," says Stephanie, who runs Stephanie Jean Design in Langley, B.C., and insists seasonal styling "should flow with everyday living."
That's certainly the case in Danielle Hardy's home. Even the gingerbread house, where there's nary a flashy gumdrop in sight, and the glistening plate of glazed sour cream donuts match the monochromatic decor. The 3,000-square-foot Surrey, B.C., abode Danielle shares with her husband, Paul, and their kids, Mattias, 9, Maxim, 7, and Isla, 3, is a stunningly muted yet spirited space year-round.
No strangers to the decor world themselves (the couple owns and operates the online decal shop UrbanWalls), Danielle and Paul knew exactly which style they were looking for when they moved into the house two years ago, and they enlisted Stephanie to execute it. "We love Stephanie's aesthetic," says Danielle. "That light Scandinavian look is so easy to live with."
The decade-old house boasted a nice open-concept layout but desperately needed a cosmetic overhaul. So Stephanie revived the dated brown walls and cherrywood-stained kitchen cabinetry with paint – soothing white for the walls and a splash of light grey for the cabinets – and amplified the luxe look with a hexagonal marble backsplash, white quartz countertops, gleaming hardware and brass light fixtures.
She also revamped the living room, customizing the unfinished fireplace with a shelving unit to stash bits and bobs and keep things clutter-free. The result is a house composed of chic, kick-up-your-feet rooms in white with small doses of grey, glammy gold and, that grounding staple, black. "The look is classic yet modern, but not trendy," says Stephanie. "So the Hardys won't tire of it."
"Danielle and I didn't want the tree to look too pristine and perfectly thought out," says designer Stephanie Giesbrecht, who happily confesses that she's not an over-decorator. Mini lights and larger frosted vintage-style globe bulbs add layers, interest and sparkle. Wreath by Floralista Flower studio.
Presents? you shouldn't have! These gifts look almost too pretty to open. a sprig of pine adorning one package reinforces the home's natural scheme. "Colourful wrapping would have felt out of place in this setting," says homeowner Danielle Hardy.
This delightful kitchen is the family's favourite hangout. Can you blame them? The wooden table is warm and welcoming (a slick white version would have made the room feel too cold). A door to the right leads to the pantry and is covered with a chalkboard decal for family reminders and holiday greetings.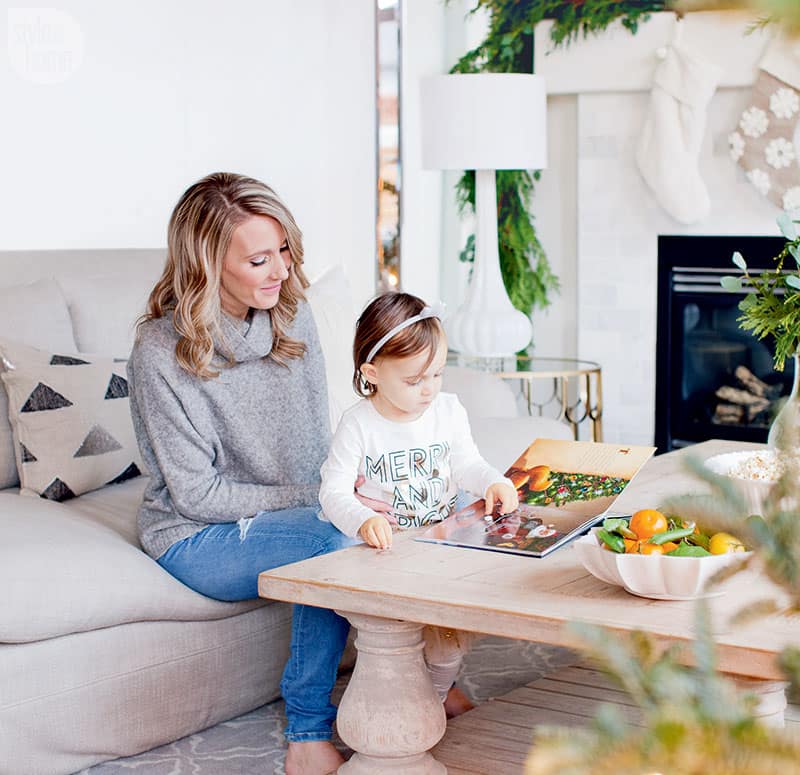 Danielle and her three-year-old daughter, Isla, enjoy a sweet moment on the feather-filled sofa, which is extra deep for max coziness. "It's upholstered in outdoor-friendly fabric so it's easy to clean, which is great for a young family," says Danielle.
Tangerines in a flower-shaped bowl deliver a small dose of colour that doesn't overwhelm.
An array of irresistible sweets displayed on milk glass cake stands and white dishware matches the house's monochromic motif.
Danielle is drawn to gift wrap with minimal modern prints because it speaks to her background in graphic design.
Mattias (left) and maxim play a round of Jenga, a game that the whole family, young and old, can enjoy!
Sometimes the nicest countertop displays are the simplest. here, treats set on staggered cake stands offer edible eye candy next to a tray of refreshments.
Isla's white play kitchen is as chic as her parents' (even without the quartz countertops and marble-tiled backsplash). the removable noel decal can be switched out when the season is over. The wee charlie Brown-esque tree is adorned with whimsical ornaments that represent the treats that a little girl's daydreams are made of: donuts, ice cream and cake.
The niche above the living room's fireplace mantel serves as a spot for leaning lighthearted artwork, which shows off Stephanie's relaxed design approach.
With a palette that recalls marshmallows, meringue and pristine snowy fields, this interior is the ideal backdrop for Stephanie's holiday decor style. "We didn't want it to look stereotypical, so we banished the bright reds," says Danielle, who loved Stephanie's original design so much she hired her for the seasonal decorating.
Stephanie layered in earthy seasonal elements with subtle festive spirit. Rather than weighing down the Christmas tree with a glut of ornaments, for instance, she employed two styles of string lights (one bearing big bulbs and the other bearing small ones) for spare but brightly lit branches that quietly dazzle. Elsewhere, snippets of nature – like the grand garland draped over a mantel – look like they've been foraged from the forest. Danielle is thrilled with the subtle seasonal makeover, which serves as proof that over-the-top Christmas decor (à la Buddy the elf) doesn't define holiday style, and that opting for a pared-back approach certainly doesn't make you a grinch.
Stephanie Giesbrecht's Serene Christmas must-haves
1 Natural greenery I love using wreaths, garlands and vases of greenery like cedar and eucalyptus throughout the home. They look great and offer amazing scents.
2 Lots of Candles Whether lined up along your dining and coffee tables, placed in lanterns by the fireplace or even tucked into small votives beside the kitchen sink, candles always add a welcoming cozy glow.
3 Ample ribbon Stock up on a variety of ribbons to finish gifts, embellish wreaths, tie onto garlands and incorporate into your Christmas tree decor.
4 White lights Whether used on the interior or exterior, white lights are my favourite. I especially love all the classic vintage-looking bulbs available.
5 Exterior planters Carry your Christmas decor outside by filling empty urns with pine and cedar boughs.
6 Glass cloches Highlight a special ornament or even a sweet gingerbread house by placing it in a bell jar.
7 Planted paperwhites I love fresh flowers, and having a bowl of potted paperwhites is an inexpensive way to keep live blooms around throughout the season.
8 Pretty platters Have trays on hand so you're ready to entertain at a moment's notice.