Kitchen
10 items for a healthy kitchen
10 items for a healthy kitchen
Kitchen
10 items for a healthy kitchen
1 Mini chopper
You may have easily resisted the irksome infomercial selling a similar product, but you'll find it harder to resist this super-affordable
kitchen
gizmo from President's Choice. Dicing fresh herbs and veg for a healthy dish is a chore made easy and -- dare we say it -- fun with this push-chopper.
PC Mini Chopper, $6, Loblaws.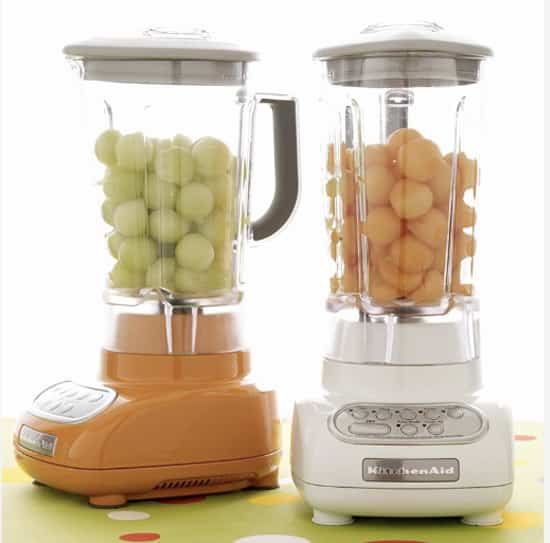 2 Blender
Not only are store-bought smoothies expensive, they often contain an excess amount of calories. Make your own healthy concoctions using all-natural ingredients, whipped up just to your liking. KitchenAid's Polycarbonate blender comes in a variety of juicy
colours
and are powerful and pretty, yet quiet.
KitchenAid Polycarbonate Blender, $200, Sears.




3 Pretty measuring cups
Who would ever want to go back to doling out portions using a humdrum plastic set of cups when you can measure, eat and even serve out of these gorgeous stoneware versions from Anthropologie? Keeping serving sizes on target is easier if you have something pretty to do it with.
Florist measuring cups, $40, Anthropologie.
4 Reusable shopping and produce bags
Ban plastic bags from your
kitchen
and fridge with these reusable, Canadian-made versions made by Montreal company Credo. The line includes clever food-purchasing solutions like a baguette bag, mesh produce sacks and a
shopping
bag. They're washable, lightweight, and a good reminder to opt for fresh produce as a snack.
Reusable bags, from $5, Credo.
5 Citrus press
Whether you want to squeeze every last drop of juice from a lemon or make your own fresh OJ, a citrus press will make the job a cinch. This diecast press from PC Home is so pretty that it needn't be stashed away in a
cupboard
either.
PC Citrus juicer, $25, Loblaws.
6 Slow cooker
Eating better means curbing last-minute takeout trips. A slow cooker will encourage you to cook at home using wholesome ingredients, especially when it's as fetching as this one. Set it to cook as you leave for work in the morning, and come home to a steaming hot dinner with this stainless-steel DeLonghi model.
Delonghi Slow Cooker, $100 USD, Crate and Barrel.
7 Cast iron pan
It's easy to overlook old-fashioned, inexpensive cast-iron pans in favour of newfangled non-stick cookware and
bakeware
. However, a properly seasoned cast-iron pan offers a natural non-stick surface, and is even said to impart extra iron into the food cooked in it.
Lodge cast iron pan, $28 USD, Crate and Barrel.
8 Steam oven
They're still a luxurious rarity in North American kitchens, but built-in
steam ovens
are popular in homes overseas and in restaurant kitchens. With this Miele appliance, the avid home chef can steam fish and veggies in a flash.
Miele 24-inch Masterchef Steam Oven, $3,399.
9 Food scale
Many a conscientious eater swears by using a food scale to control portion size. It's also a must-have
gadget
if you're making any
recipes
from European cookbooks, which usually denote ingredients in metric form instead of cups and spoons. This Breville scale has a pleasing shape and an easy-clean glass bowl.
Breville Arcosteel Duo Styli Analog kitchen scale, $25.
10 Dual-use fruit and salad bowls
Sexy form meets superb function in this Joseph Joseph bowl and
salad
servers. Use it as an eye-catching bowl to hold fresh fruit or as a salad bowl complete with carry handle to dish up your favourite healthy salad.
Joseph Joseph salad bowl, $63 each.