Kitchen
10 terrific kitchen gadgets
10 terrific kitchen gadgets
Kitchen
10 terrific kitchen gadgets
Handy and helpful kitchen gadgets can make whipping up any meal a breeze. We've searched far and wide to find the 10 chicest and most essential kitchen gadgets that are guaranteed to make food prep fun and easy.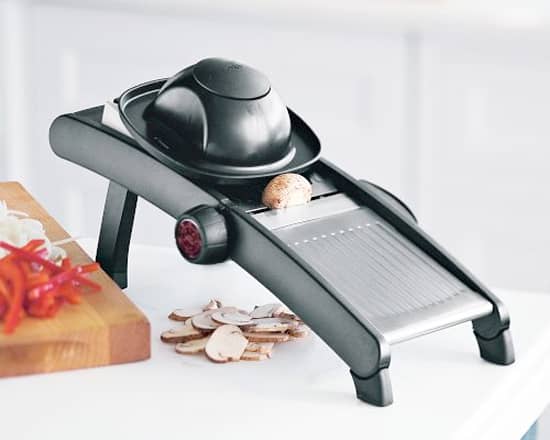 This sharp slicer will have you slicing, dicing and julienning like a pro in a matter of minutes. Make paper-thin cuts and perfect french fries without getting your hands dirty with this easy to use, compact kitchen gadget. $70 US, Williams-Sonoma
Slow cooked goodies like stews, curries and meats are a cold weather staple. This terracotta and white glazed slow cooker by Margriet Foolen for Royal VKB is one of the most functional kitchen gadgets you'll find as both ends can double as serving bowls. $64, aplusrstore.com.
Purposely designed to coordinate with almost any table setting, these hotel salt and pepper shakers are polished by hand and give an elegant touch of simple, modern luxury. $24, Pottery Barn.
With an integrated double hachoir and curved chopping surface that also acts as safe storage, this compact herb chopper offers maximum convenience and minimum hassle. $25, josephjoseph.com
Embrace the modern age with tech-friendly kitchen gadgets. Sticky fingered page turning is a thing of the past with this digital recipe reader. $299.95, mydemy.com
Talk about functional and fast kitchen gadgets; this rabbit ear corkscrew will help you to open a bottle of red, white or rosé in three seconds flat. $44.95, Crate & Barrel
Who doesn't love whipped cream? Top all kinds of desserts and drinks with this restaurant-style mini-whipper that comes with a decorator tip and recipes. $55, Williams-Sonoma
A sleek, touch-activated kitchen faucet is the ultimate in elegant and essential kitchen gadgets. Transform your kitchen into a contemporary culinary oasis with a simple addition to your sink. $547 US, see deltafaucet.com for retailers.
Properly aerated flour is key to creating delightful and delicious baked goods. This stainless steel, squeeze handle-operated flour sifter can hold up to five cups of flour; enough to make quite a few tasty treats. $19.95, Crate & Barrel.
Get organized with helpful, multi-hued kitchen gadgets like these colour-coded chopping boards. The vibrant boards are indexed by food category to help make sure veggies don't get mixed up with raw meats so you can avoid cross-contamination. $79 US, gnr8.biz.