Kitchen
11 smart food storage products
11 smart food storage products
Kitchen
11 smart food storage products
We all dream of the day that our kitchen can accommodate everything we bring home from the market while still remaining as organized as possible. These 11 handy and handsome products will get you well on your way to that dream. Goodbye chaos, hello efficiency!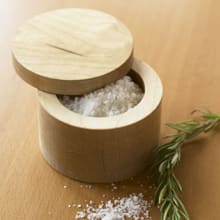 1 Hardwood salt box
This ingenious little box is ideal for storing salt, pepper, or spices, and the magnetic swivel lid provides easy one-handed access while cooking. Looks beautiful on display, but can be easily tucked away into your cupboards or pantry.
$20 US, Williams-Sonoma; williams-sonoma.com.



2 Glass canisters
Give these large recycled glass canisters a second life in your kitchen. Use them to store baking ingredients, pastas, and other dry goods on your countertops for convenience and elegance.
From $41 each, Anthropologie; anthropologie.com.



3 Woven washable baskets
Woven from polypropylene strands, these strong and durable baskets feel just like natural wicker. Perfect for tidily storing pantry items like apples, onions, and potatoes – plus, it's dishwasher safe. Set of two from
$50 US, Williams-Sonoma; wiliams-sonoma.com.



4 Pint-size glass bowls with lids
These heat-resistant, dishwasher and microwave-safe glass bowls are perfect for storing leftovers or toting your lunch. With tight fitting lids they're brilliantly stackable and portable.
$20 per set of 12, Crate and Barrel; crateandbarrel.com.

5 Glass drink dispenser
Time to retire that punchbowl and ladle. This lavish vintage-inspired glass urn is perfect for parties. Fill up the airtight urn with your favourite thirst-quencher and simply set it out for guests to use -- the useful spigot allows them to easily pour their own drinks.
From $59 US, Pottery Barn; potterybarn.com.



6 Curtis Stone olive oil dispenser
This stainless-steel oil carafe combines ease of use with elegant contemporary style, equipped with an elongated, dripless spout that helps control the amount of oil you pour. It can store oil in your pantry as well as serve it at the table.
$60 US, Williams-Sonoma; williams-sonoma.com.

7 Stainless steel third pan
This pan was constructed to amaze, with extra-deep sides to prevent spillovers and flexible plastic lids for convenient storage. Great for everything from breading and marinating to freezing ice creams.
$35 US each, Williams-Sonoma; wiliams-sonoma.com.

8 Herb keeper
Keep fresh herbs and asparagus crisp and green longer by immersing the stems in water. This plastic and silicone herb keeper has a removable insert with a water fill-line, and a perforated cup for easy draining. Bonus: This unique space-saver fits in most refrigerator doors.
$20 US, Crate & Barrel; crateandbarrel.com.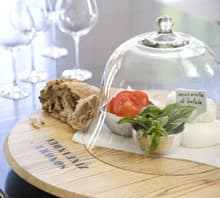 9 Glass dome
This charming hand-blown glass dome keeps baked goods fresh and delicate objects, like seedlings, sheltered. Set it out on your countertop and beautifully showcase desserts, or your soon-to-be summer heirloom tomatoes.
From $19 US, Pottery Barn; potterybarn.com.



10 Stoneware jar
Give your kitchen a little touch of Provénce with this pretty stoneware jar. Show it off on your countertop and fill it with luxury dried goods – it's the perfect place to store treats that are just as delightful as the jar itself!
$24, Anthropologie; anthropologie.com.



11 Glass beverage bottles
These eco-friendly crystal clear glass water bottles mimic plastic disposables. With silicone stoppers to keep water fresh the beautiful bottles make great conversation pieces at the dinner table, or as a night-time reserve by your bedside.
From $9 US each, Crate and Barrel, crateandbarrel.com.