Kitchen
15 kitchens that really work
15 kitchens that really work
Kitchen
15 kitchens that really work
Every month, the pages of Style at Home feature
fabulous kitchens
ranging in size, colour and style. The kitchens aren't chosen just for their aesthetic appeal, however – they're also super-functional and well designed. A
kitchen renovation
is the top investment you can make for your home, and a thoughtful design can go a long way. Check out these 15 stylish kitchens that offer up smart solutions for storage, design and functionality.
Photography by Michael Graydon

1 Slim butcher block
Having a
small space
or galley kitchen doesn't mean you can't have an island. Opt for a slim design that is perfect for food prep and small storage.

Photography by
Donna Griffith


2 More pantry space for less overhead cabinets
If you have an empty wall in your kitchen, install tall pantry-like cupboards for more
storage space
. This frees up room to get rid of overhead
kitchen cabinets
, creating a more open space.

Photography by
Donna Griffith


3 Large drawers
Installing large drawers in lower
kitchen cabinetry
is perfect for big pots and heavy small
appliances
. You can extend the drawer fully instead of reaching to the back of a cupboard.

Photography by
Donna Griffith


4 Opt for low maintenance
Though marble is often the top choice for
countertops
, think about how often you'll be using them. If you're a big cook or baker, consider a quartz countertop, as it's easier to care for and the darker varieties can easily hide stains and imperfections.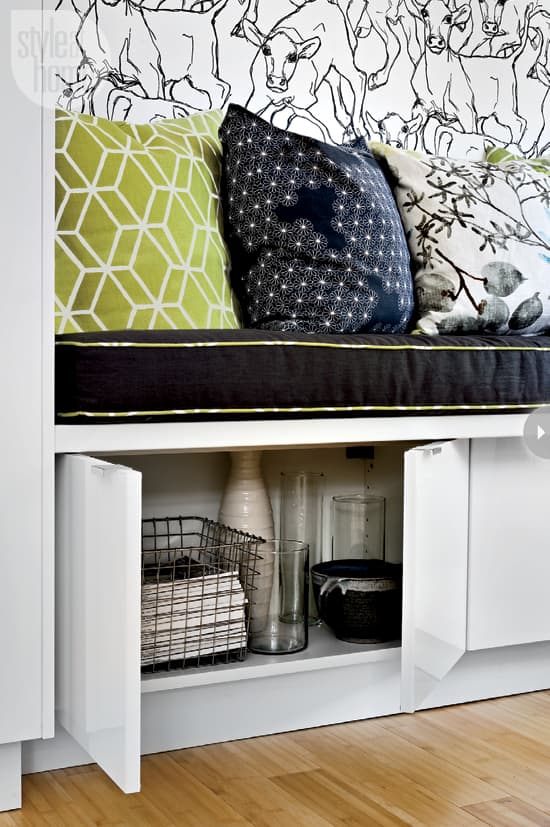 Photography by
Donna Griffith


5 Bench storage
A
breakfast nook
isn't just perfect for drinking your morning coffee. It's also a great way to get creative with your storage solutions. Install banquette benches that have drawers to store
cookbooks
or kitchen linens.

Photography by Stacey Van Berkel-Haines


6 Tuck stools under large islands
If you have a large island, carve out space to tuck
stools
underneath and keep out of the way when not in use.

Photography by Virginia Macdonald


7 Keep the microwave out of sight
Clear up counter space and keep your
microwave
out of sight by creating a nook down below.

Photography by Angus Fergusson


8 Small drawers can be handy
A small cupboard doesn't have to be ignored or used as a junk drawer. Use it to house cutting boards or baking trays.

Photography by Monic Richard


9 Big windows create a seamless indoor/outdoor space
If you don't have doors leading to the yard from the kitchen, there's still a way to enjoy the outdoors. An oversized window blurs the lines between indoor and out and allows natural light to stream in.

Photography by Donna Griffith


10 Sliding shelves
Deep cupboards can make it pretty tough to reach items, especially when they're placed on a shelf overhead. Install sliding shelves that can pull all the way out, especially good for reaching items up top.

Photography by Donna Griffith


11 Turn dining chairs into bar stools
Having a hard time finding the perfect barstool? If you find a pair of dining stools you love, simply extend the legs to reach breakfast bar height.

Photography by Virginia Macdonald


12 Use every nook and cranny
If you've got an awkward nook in your kitchen, don't force a design or function on it that doesn't work. Think outside the box and perhaps turn it into a little working area for a laptop, with
open shelves
to hold magazines and cookbooks.
Photography by Stacey Van Berkel-Haines


13 Glass rack
Save on storage space in the kitchen by hanging glasses on a rack underneath cupboards or shelves, instead of in the cabinets.

Photography by Michael Graydon


14 Keep small spaces streamlined with integrated appliances
A
small kitchen
can seem even tighter with appliances taking up space or jutting out past the counter tops. Integrate appliances into your cabinets for a cleaner, more streamlined look.
Photography by Stacey Van Berkel-Haines


15 Circular breakfast bar
Just because you have a condo-sized kitchen doesn't mean you have to abide by cookie-cutter rules. Instead of the standard breakfast bar, try a circular bar table that saves on space but can fit up to four chairs.
Find more kitchen inspiration with these five kitchens we love.