Kitchen
8 items for the perfect kitchen
8 items for the perfect kitchen
Kitchen
8 items for the perfect kitchen
Photography by Virginia Macdonald
1 Range hood
Although your kitchen may not be as large as this one, you can still get a great range hood to fit your space. Proper ventilation is imperative in the kitchen, and a quality hood will extract cooking smoke and smells without making much noise.
Photography by Mark Burstyn


2 Functional island
For anyone who likes to entertain, a functional island is much needed in the kitchen. Not only does it allow more room for food prep, but it also provides storage underneath.
Photography by Stacey Brandford

3 Fabulous backsplash
A great way to update your kitchen is to put in a showstopper
backsplash
. Whether you go high-end with a marble or glass mosaic or choose to stick to a budget with chic subway tile, a backsplash will elevate your space and also protect the walls from food splatter.
Photography by Stacey Van Berkel-Haines
4 Savvy storage
Dishes, pots, pans, cutlery -- with so many kitchen essentials, it's also important to have storage for all those items. We love this kitchen for all the hidden storage it has; floor-to-ceiling cupboards ensure nothing is left out on the countertops.
Photography by Donna Griffith
5 Wall oven
To maximize space in your kitchen, go for as many built-in appliances as possible. We love the double wall oven in this kitchen, not just for its seamless design, but also for its ease of use.
Photography by Virginia Macdonald
6 Deep sink
A deep sink is more of a necessity than you probably think. It allows for defrosting food or a few dirty dishes to be hidden from guests, and also looks great as a farmer's sink, like above.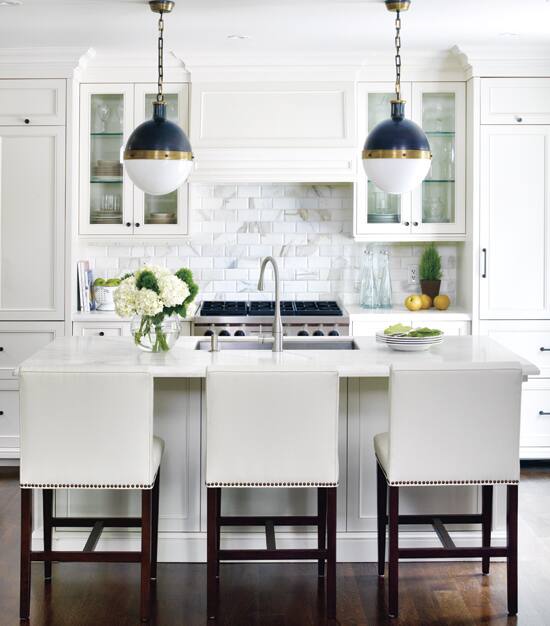 Photography by Donna Griffith


7 Extendable faucet
If you're an avid baker or cook, you'll understand the need for an
extendable faucet
. Filling up pots or spray-rinsing an intricate dish from all angles is made so much easier when you have flexibility with your faucet.
Photography by Michael Graydon


8 Marble countertops
They may be on the high-end of the spectrum, but if you can afford to go the way of marble, you won't regret it. Affordable cabinets from IKEA can be raised to luxe heights simply by mixing it up with marble countertops.