Kitchen
8 wood kitchen accessories
8 wood kitchen accessories
Kitchen
8 wood kitchen accessories
Wood
is a fantastic way to add natural warmth, rich colour, and beautiful texture to your decor. From rustic to refined, there are a myriad of ways to add this fabulous look to your
kitchen decor
, while still being functional. Here are eight gorgeous wood accessories to elevate your kitchen, as well as your cooking!
Wooden wine rack
Whether you cook with it or keep a glass on the side for yourself, wine is a must! Keep your collection organized and within reach with an acacia wood wine rack. They can stand vertically or lay horizontally so no matter how much (or little) space you have you can make it fit!
West Elm, $25.64-$30.98.
Fruit crates
Create your own little farmers' market, right in your
kitchen
! Keep all your fresh produce at hand in these handsome, stackable fir wood crates. Keep note of the purchase date or type of fruit on the handy chalkboard plaques.
Pottery Barn,
$153.84 (set of two).
Measuring spoons
Bake to perfection with these teak measuring spoons! The engraved measurements on each handle keep the natural look of the
wood
.
Merchant No. 4, $20 US.
Bamboo clip canisters
Keep your
kitchen countertops
clean and chic with these delicious caramel-colour bamboo canisters. Available in three different sizes and a view-through window, your
kitchen
will always look fabulous and organized!
Crate and Barrel, $7.42-$10.63.
Egg crates
Whether you use these crates to store or display your eggs they make a beautiful accessory. Made of oak wood with a natual finish, your
Easter
, hard-boiled and
deviled eggs
will always look especially delicious!
West Elm, $20.30.
Olive wood utensils
Made of olive
wood
, the grains and natural colouring make each utensil slightly different and beautifully unique.
Canvas Home, $18 US.
Colourblocked bread board
The gorgeous sycamore wood of this cutting board is enhanced by
colour blocking
in three different shades using food-safe milk paint. Each
colour
brings out the texture of the board and adds that chic design touch.
Anthropologie, $128 US.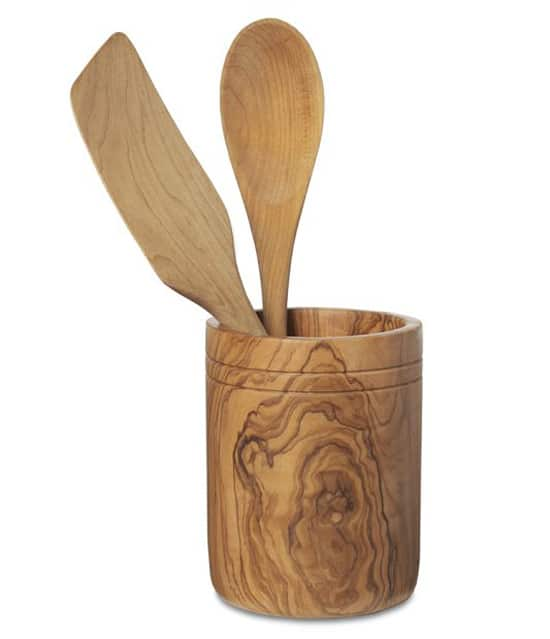 Utensil holder
Each holder is carved to highlight the incredible grain pattern of the
wood
. Each piece is unique as they are handcrafted out of a solid piece of olive wood, allowing the maker to truly take advantage of the natural beauty of the material.
Williams-Sonoma, $59.95.