Kitchen
A New Kitchen With No-Nonsense Storage And A Palette Of Warm Whites And Toasty Taupes
Photography, Patrick Biller
Kitchen
A New Kitchen With No-Nonsense Storage And A Palette Of Warm Whites And Toasty Taupes
It's not that there was anything technically wrong with the old kitchen, says designer and Style at Home columnist Karl Lohnes. The original white and grey space was cutting edge when the owners bought the house in the late 2000s, but 12 years later, an update was overdue. Now that a reno was in the works, Karl's clients had a list of wants and needs, including better integration with the adjacent dining room and patio, and increased storage ("No kitchen ever has enough!" says the designer). As well, their adult daughter, who lives with them, is an enthusiastic home cook, so it was time for an upgrade to fancier appliances. Finally, they were hungry for a new look that would last another decade or more, needing only minor updates as time passed. Karl joined forces with designer Peter Paquette of 1982 Design to mastermind the transition. "It's great to work with someone younger and innovative like Peter," says Karl. "He knows the latest products and helps us stay on top of what's new." A new, softer colour scheme was key. "In design today, we're saying goodbye to cool greys, and going to warmer greys, stone and taupey colours," says Karl. "The great thing about this palette is that it's fresh now but will also stay beautiful for years to come." That's a crucial consideration for anyone contemplating a kitchen reno. "It's is a huge commitment to renovate a kitchen, so you don't want to get tired of it after just a few years," says Karl. "The new palette completely transforms the space – it will take them through the next 10 to 15 years at least."
Photography, Patrick Biller
Storage Story
The skinny Shaker-style cabinetry (like traditional Shaker-style, but with a slim frame instead of a chunky one) has a modern, uncluttered feel. Designers Karl Lohnes and Peter Paquette made sure it not only looks fresh but also conceals a wealth of well-organized storage. In a cabinet beneath the built-in coffee machine (right), a hidden drawer is a "station" for tea bags, beans and cups. "The coffee machine was a bit of a splurge," Karl laughs, "but it was a great investment, and they use it several times a day."
Photography, Patrick Biller
DESIGN, Karl Lohnes, KL Decor; Peter Paquette, 1982 Design. Custom CABINETRY (throughout), RANGE HOOD, Artisan Builders. Edgecliffe pull HARDWARE in Matte Bronze, Schoolhouse. Dekton Shell Liquid BACKSPLASH; Dekton Arga Stonika COUNTERTOP and ISLAND; Latitude Countertops. Built-in Sofia Pro COFFEE MACHINE; Accento RANGE; Fulgor Milano. ISLAND CHAIRS, Ava Counter Stool in Maharam Coach Cloth in Bittersweet, 1982 Design. PAINT, Calm 2111-70 (walls), Balboa Mist OC-27 (cabinetry), Taos Taupe 2111-40 (range hood), Benjamin Moore.
Bird's-Eye View
One of the kitchen's greatest assets is its 20-foot ceiling. The designers added another layer of upper cabinets to increase storage and accentuate the balanced composition of off-white cabinetry flanking the taupe range hood.
Photography, Patrick Biller
Blanco Quatrus undermount SINK, Robinson Lighting & Bath. Newport Brass's East Linear Bridge FAUCET and POT FILLER in English Bronze, Wayfair. VASE (with branches), tall terracotta URN, Elte. Leanne Ford FOOTED BOWL (with artichokes); EvenCook Core MULTI-POT; Crate and Barrel.
Light Dance
Seven bronze and frosted glass pendants over the island are a much lighter alternative to one giant fixture. "They really act like a floating sculpture," says Karl. "They remind me of June bugs."
Photography, Patrick Biller
David SIDECHAIRS; Amelia armcHAIR; 1982 Design. FABRIC (Amelia chair),
St. Frank's Kuba Cloth, Memo. COPAG 05 LA00 PENDANTS (over island), Luminaire Authentik. RUNNER, Ecarpetgallery. Novah PITCHERS, ACACIA BOARD, Elte Mkt.
Mellow Mood
The goal was to give the adjoining dining area its own mood while maintaining a visual link to the kitchen. The built-ins' paint colour matches the range hood, and the reeded glass fronts keep things light and add sophistication.
Photography, Patrick Biller
Cabinetry PAINT, Taos Taupe 2111-40, Benjamin Moore. Craft Fringe NAPKINS in Plum Red; Craft Coupe DINNER PLATE in Linen Cream; Crate and Barrel. Zebra Onyx BOWL, Elte. RUG, Ecarpetgallery.
At Your Service
Side-by-side wine fridges and a well-stocked bar are at the ready in the dining room, which is adjacent to the patio and outdoor entertaining area. A mirrored backsplash is a classic technique for amplifying the light and sparkle of glassware and bottles.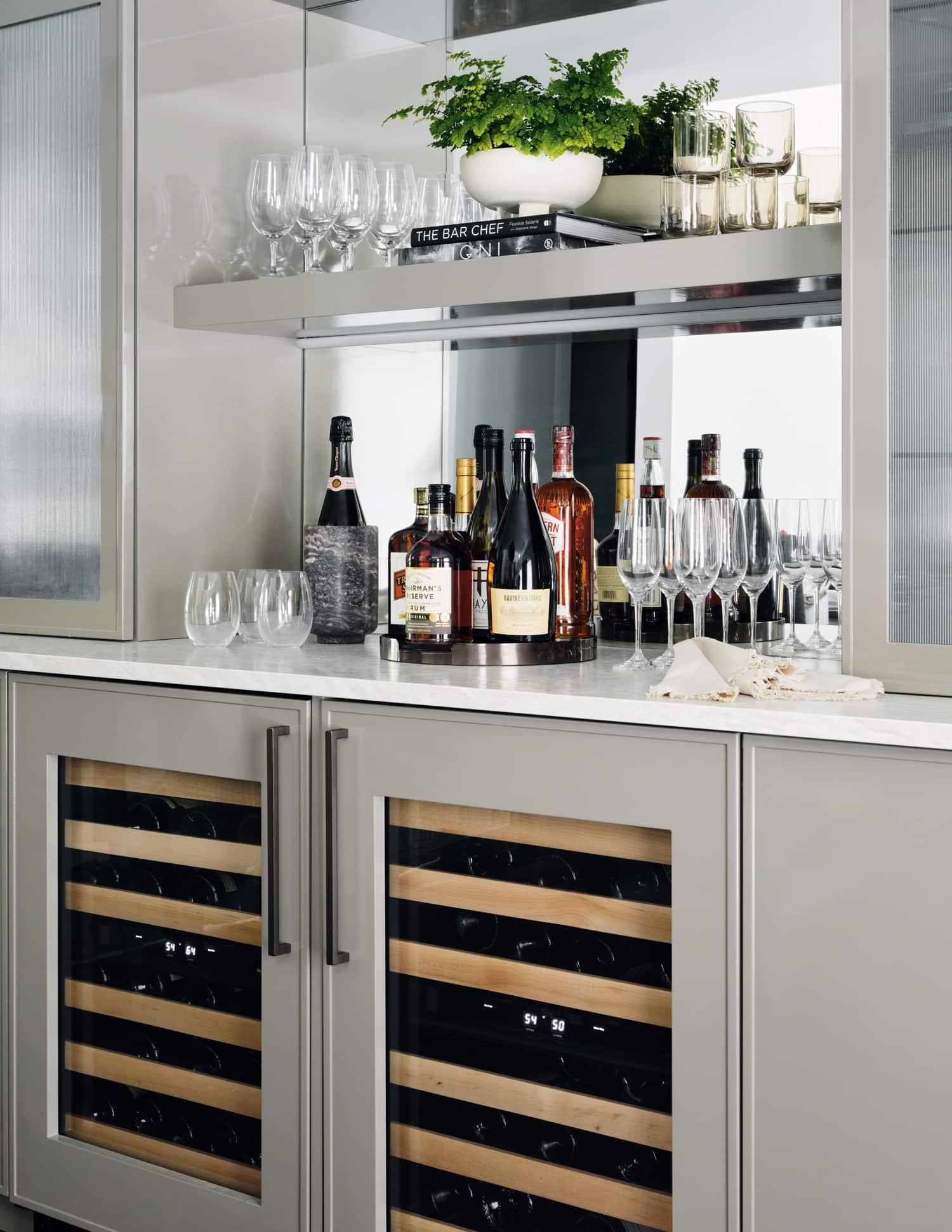 Photography, Patrick Biller
Dekton Shell Liquid COUNTER, Latitude Countertops. Wine Cellar FRIDGES, KitchenAid. Marble WINE COOLER, CB2. Eve round tray (under bottles); marble BOWL; Fiona BOWL (with greenery); Amber GLASSWARE; BAR TRAY, Elte.