Kitchen
A Parisian bistro-inspired kitchen
Kitchen
A Parisian bistro-inspired kitchen
Colour, pattern and texture mingle in this historical Montreal semi's upbeat French bistro-style kitchen.
When his client Dominique Tremblay asked for a white kitchen, designer Philippe Côté went rogue: He handed her a sketch showcasing dark blue cabinetry with brass hardware. Philippe knew full well that the art-loving, dinner-party-throwing empty nester and her husband, Richard Larouche, could handle it. (Their Yorkshire terrier, Romeo, was indifferent.)
"Dominique is an artistic, out-of-the-box thinker who's willing to take design risks, and we wanted to give her something unique," says Philippe, who worked with his then colleague, Valérie Saint-Jacques, on the summer-long project in Montreal's Notre-Dame-de-Grâce neighbourhood .
The French bistro feel was a natural fit for both the heritage home and its owners (he's a physician; she's retired). "When we host, we always start the evening in the kitchen," says Dominique, noting that, as Philippe predicted, she went gaga over the plans for the blue-infused bistro decor. Relaxed and romantic, it conjures up lively scenes of kibitzing over beer and frites .
The existing kitchen, though functional, lacked charm thanks to "oppressive" (as Philippe describes it) full-height cherrywood cabinetry and limited natural light. So the designers overhauled the room, stealing more than a foot from the adjacent dining room and transforming the L-shaped kitchen into a galley layout to widen the narrow space.
The chic mix of patterns and materials creates ample appeal: Hand-printed Moroccan tiles (with underfloor heating to accommodate Montreal winters), rosewood-look open shelving, ravishing jewel-toned blue cabinetry and an elegant herringbone-tiled backsplash that extends to the ceiling keep the eye engaged. Meanwhile, full-height glass doors lead to the backyard garden and let in lots of light, making the 160-square-foot space seem larger. Tucked around the corner along the back wall, a new butler's pantry is both fetching and functional.
But the piece de resistance is the nook holding the gas range. The designers framed it in a luxurious band of faux rosewood that matches the shelves and fridge, and also added a custom hammered-brass vent with slightly rounded edges (similar to what you'd find on a gold bar). "I wanted a modern twist on a classic design," says Philippe.

The play of patterns and finishes with fresh functionality underscores the lively bistro look: layered, informal and packed with personality. Dominique and Richard reinforce the kitchen's bistro style with the way they use it. "We love its casual vibe," says Dominique. "Whether we're entertaining friends, trying out new recipes or simply watching the seasons change through the huge glass doors, we spend a lot of time here."
"Not every kitchen needs a big island," says designer Philippe Côté, who opted to keep the snug space unencumbered, embracing the light flooding in from the newly installed glass-panelled doors. Paired with bistro chairs, the Saarinen-style table is the homeowners' favourite spot to sip their morning coffee.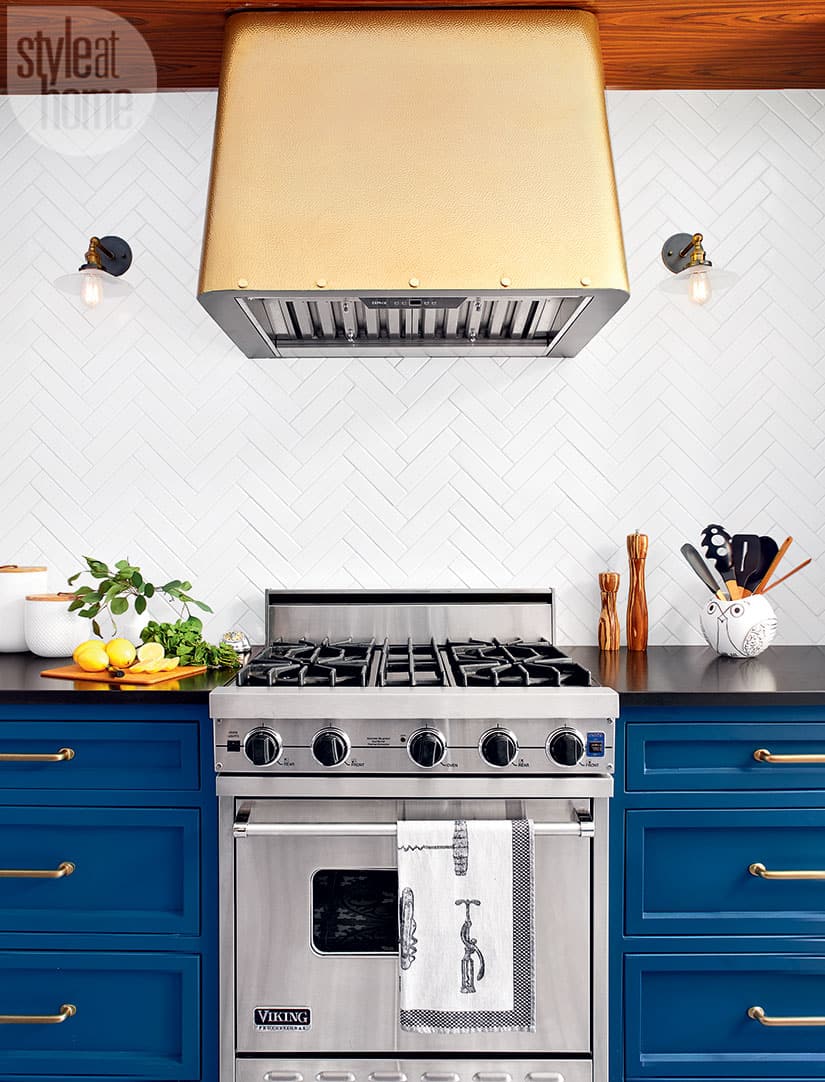 The glamorous vent, fitted with a standard insert, was one of the project's biggest challenges: the unique hammered brass sheet, sourced from a factory in New York state, was nearly too short. "I was so nervous it wouldn't fit," says Philippe with a laugh.
A trio of industrial-style pendant lights and open shelves with iron brackets reflect all the hallmarks of a French bistro. To keep everything neat, homeowner Dominique Tremblay displays only her white dishware.
"I said, 'let's do a non-kitchen – one that looks like an open bistro, where you are not oppressed by upper cabinets but instead are surrounded with beautiful objects and art," says Philippe. "And that's exactly what we did." (Romeo, the couple's Yorkshire terrier, takes a moment to consider the renovation.)
Eschewing the designer habit of extending cabinetry to the ceiling, Philippe left space in order to highlight the plaster mouldings featured throughout the main floor. The Shaker-style cabinet doors (note the depth of the panels, which makes them pop) were lacquered in a hue inspired by Farrow & Ball's Hague Blue, while the fridge was panelled in rosewood-look veneer for a custom appearance.
The butler's pantry, featuring tons of storage space, was deliberately made to mimic furniture for a more custom vintage look. In it, the homeowners stow wineglasses, crystal dishware, over-sized salad bowls and sundry kitchen appliances.