Kitchen
Drab kitchen and outdoor dining space go bold in black and white
Kitchen
Drab kitchen and outdoor dining space go bold in black and white
A Toronto couple with a shared vision cooks up an ambitious renovation plan for their outdated kitchen and backyard.
They say a renovation can lead to a separation, but that couldn't be further from the truth for this Toronto couple. "We agree on absolutely everything design-wise," says Melissa Evans-Lee, marketing director of Bayview Village Shopping Centre, about her media CEO hubby, John Lee. "Sometimes I think we share a brain."

The pair's united vision for the three-bedroom Victorian fixer-upper they purchased in the city's west end in 2006 was clear – and ambitious. Over the course of a decade, every room was redone, but it all began with the kitchen, a priority for these foodies and skilled home chefs.

A total gut job liberated the 135-square-foot pass-through cooking space from its decrepit pale yellow-painted wooden cabinetry, dark green linoleum flooring and outdated basic appliances. The original window and radiator were left intact, lending old-world character to newly installed budget-friendly modern finishes in white (namely glossy prefab lower cabinets and ceramic floor tiles) and stainless steel (including floating shelves, appliances and a range back guard, as well as a custom free-standing wood-topped island).

Oh, and the walls were painted black. When asked about the bold choice, Melissa laughs. "Is it? We didn't get the memo," adding that nearly every wall in the house was painted a dark colour, from charcoal to navy, for a dose of drama. Black also spills out to the backyard, where the pressure-treated pine deck, fence and banquette were all coated with the shade in 2010. Choice furnishings and accessories (in a chic black and white scheme that matches the interior) create an integrated outdoor dining space – "it's oven to patio table in about five steps," says Melissa – that plays host to dinners à deux and mingling guests alike.

When you factor out the quarrelling spouse and factor in a great contractor, it's no surprise that this duo's appetite for change remains, even 10 years later. "Appliance updates will probably be next," says Melissa. "We'd love one of those glass-door fridges." But she does admit there are no major alterations left to make. "In other words, we need a new house to renovate!"

Thanks to a generous helping of black paint and a good dose of stainless steel, Melissa Evans-Lee and John Lee's Toronto kitchen oozes sophistication. Tidy open storage and the large original window mask its modest proportions.

"I'm a very visual person, so I like to have everything on display," says Melissa with regard to the plenitude of open storage. But she does admit that keeping everything orderly requires a certain personality type ("Can you say OCD?" she says with a laugh). Everyday dishes and oft-used ingredients are kept in sight on floating shelves and in the island's open base, while overflow is hidden away in a small pantry. Black and white accessories throughout look fancy and offer function.

"I think saying dark walls make a room feel dim or small is a complete fallacy," says Melissa. "Black adds something really amazing to the mix: drama." Case in point is the group of picture ledges she uses to display her best-loved cookbooks, which rivals some of the most affecting art walls.

Whether dining on buffet-style tacos or a four-course meal, guests enjoy interior-calibre comfort on vintage Bertoia chairs and the newly built-in banquette, which Melissa cleverly cushioned using dog beds and indoor toss cushions. "Everything is movable," she says. "These chairs can easily go in the dining room, the toss cushions in the den."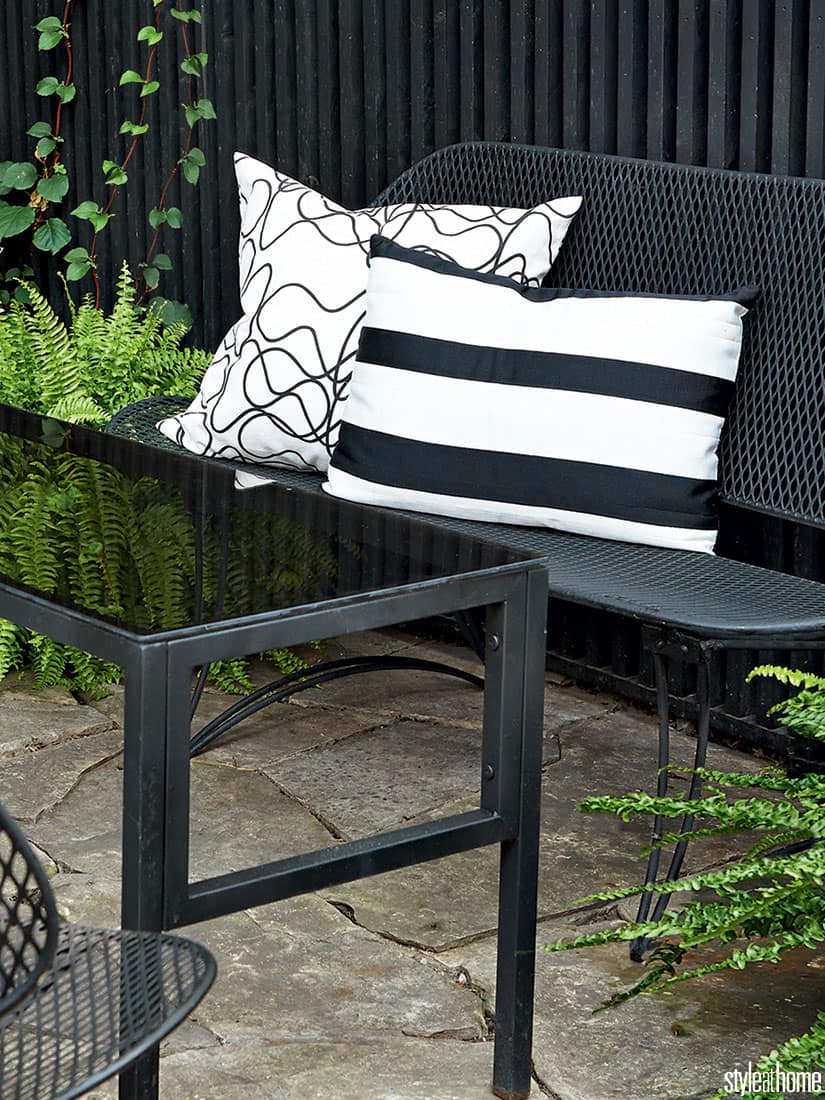 Tucked into a corner of the backyard, this stone patio outfitted with vintage metal seating and a hand-me-down coffee table is a serene spot for lazing around with a book under the pleasant shade of two mature trees. Low-maintenance potted ferns add fluffy texture.