Kitchen
Dream Kitchens – At Long Last
PHOTOGRAPHY, Valerie Wilcox | DESIGN, Orsi Panos Design
Kitchen
Dream Kitchens – At Long Last
Designing a kitchen that works and wows is a true mix of art and science. Precision measurements, efficient layouts, and beautiful, durable materials all need to coalesce to make a reno successful. We turned to the experts – designers who problem-solve in the most stunning ways! – for inspiration, because the first step is finding a style that resonates with you.
AT LONG LAST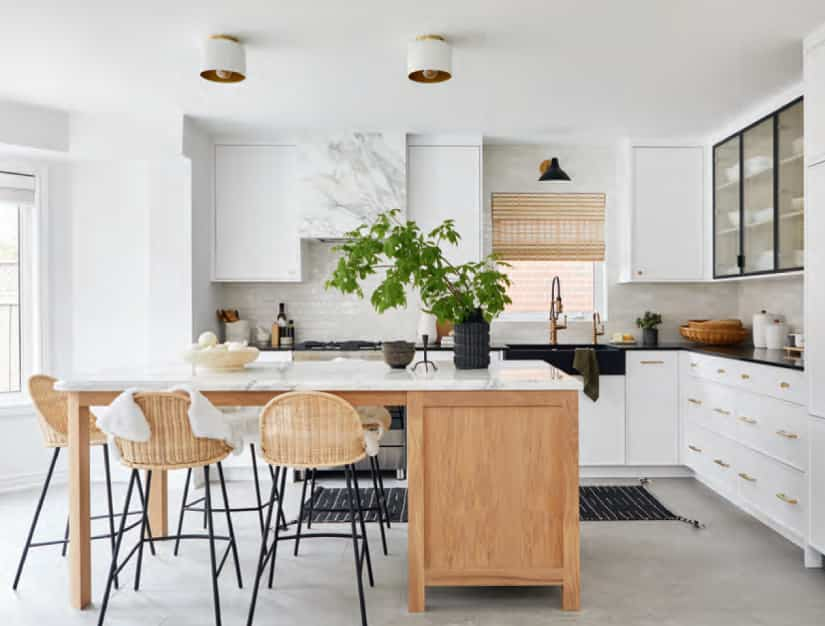 PHOTOGRAPHY, Valerie Wilcox | DESIGN, Orsi Panos Design
Brizo's Artesso FAUCET, Robinson Lighting & Bath. Custom CABINETRY; unfitted white oak KITCHEN ISLAND; Wheelers Studio. Fisher & Paykel panelled FRIDGE, DISHWASHER, GAS RANGE; Sharp MICROWAVE; Caplan's Appliances. Marble island COUNTERTOP, HOOD; quartz perimeter COUNTERTOP; The Stone Solution.
PHOTOGRAPHY, Valerie Wilcox | DESIGN, Orsi Panos Design
The Brief
"I waited 20 years to have the chance to create the kitchen of my dreams," says designer Orsi Panos. Her goal was to erase all signs of a builder-basic kitchen and bring in what she loved: a modern yet warm look, mixed materials, real marble and an unfitted island.
Favourite Features
The oak island with its ogee-edge marble countertop creates an old-world European kitchen feel. Modern thin black quartz on the perimeter countertop contrasts the marble. Metal and reeded glass doors on the upper cabinets give an open feel. Finally: flush-mount fixtures instead of pendants over the island create a cleaner sightline.