Kitchen
Kitchen interior: Bright colourful kitchen
Kitchen interior: Bright colourful kitchen
Kitchen
Kitchen interior: Bright colourful kitchen
Before you can become any sort of contessa of
cuisine
, you need to have
kitchen
confidence, so let this fresh, inviting space be your style guide. After all, how can you master the art of cooking if your workshop is uninspiring?
A kitchen with confidence
Since the art-glass mosaic backsplash is such a standout feature in this
small space
, the other design elements remain subtle: sleek panelled
kitchen cabinetry
, simple white accents (the pendant light, the vases, the dishware) and tiny hits of colour (the artwork, the dishtowel and the blue-painted cabinet interiors).
PAINT
Wall and trim paint.
Para Paints
.
CABINETS
Ramsjö Akurum cabinets.
IKEA
.
CABINET DOORS
HanStone.
IKEA.
COUNTERTOPS
Quartz countertops in Aurora Snow.
IKEA
.
BACKSPLASH
Art-glass Random Moroccan mosaic.
Edgewater Studio
.
WINDOW
-
Home Decor Window & Door Centre
.
LIGHT
Hector pendant light.
Original BTC
.
FAUCET
Elio Faucet.
Dornbracht
.
SINK
Undermount sink.
Franke Kindred Canada.
TILES
Travertine floor tiles.
Walker Zanger.
DISHWASHER, MICROWAVE
Electrolux
.
HEATING
Underfloor heating.
Nuheat
.

Kitchen cabinets
To avoid having two small, awkward cabinet doors, the homeowner opted for a standard-sized one set on an angle to fit seamlessly with the rest. Keep your cookbooks behind closed doors to avoid a display of disparate spines on your kitchen countertops.

REFRIGERATOR French door. Electrolux.
ARTWORK Land Over Lakes by Danielle Hession. Art Interiors.
EGG CRATE West Elm.

Creative design solutions
The kitty's litter is located in the basement, but the homeowner wanted the panelled door to remain closed. The solution? A VIP door that lets kitty come and go as she pleases.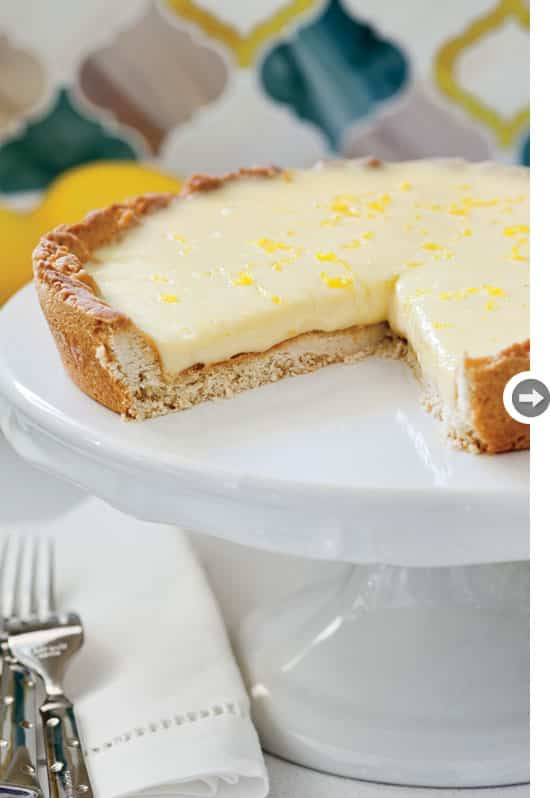 Counter-worthy kitchen accessories
Call it a kitchen staple, but having a chic cake stand on hand is the perfect way to display freshly baked goods - or at least give the guests the impression that you like to bake.


Setting the stage
A sleek stainless steel range with touch-screen controls looks clean and uncluttered while setting the stage for scrumptious meals to come.