Kitchen
Kitchen interior: Industrial bistro
Modern bistro kitchen with double-armed pendant lights.
Kitchen
Kitchen interior: Industrial bistro
A grey on grey kitchen with black and chrome accents deliver warmth and depth across this Victorian house.
There's no design challenge too big for designer Ingrid Oomen. So, when she was approached to renovate this historic Victorian home in Toronto's Beach neighbourhood, she welcomed the project with open arms. Her goal was to create a kitchen, eat-in area and family room that were light and airy as well as family friendly.
Floor plan
The original kitchen was closed off from the rest of the house, which was very dark and very long. By reworking the existing addition, it allowed for a spacious kitchen and an adjoining family room.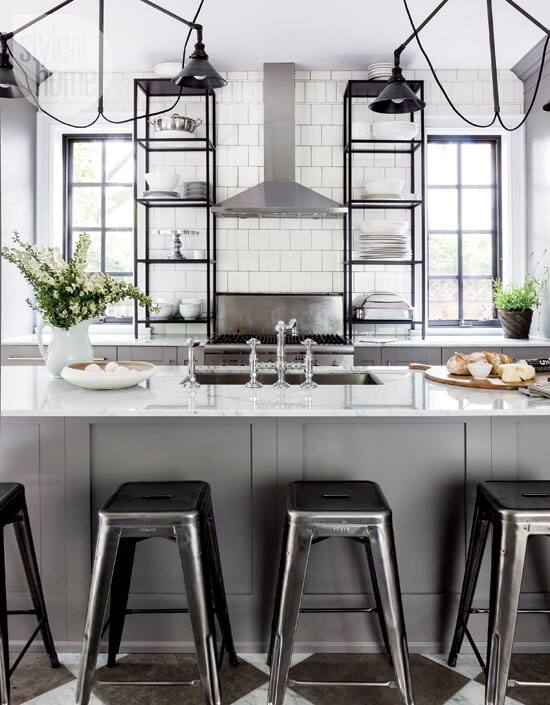 Into the grey
Grey on grey accented with black and chrome gives this kitchen warmth and depth. Ingrid Oomen picked these double-armed pendant lights for their industrial quality. The adjustable arms make them well suited to this Toronto kitchen's large-scale multi-purpose island.
Bistro kitchen
The original kitchen had super-low ceilings and was closed off from the rest of the house, which was very dark and very long. Since each room in this house flows into the next, we strategically placed the kitchen between the dining room and family room (and next to the mudroom) to make it conducive to entertaining and to allow for open-concept spaciousness.
Key kitchen elements:
Polished Bianco Carrara marble and honed limestone flooring
Polished Bianco Carrara marble countertop
Nickle-plated cabinetry handles
High-gloss ceramic tile backsplash
Cabinetry painted in "Escarpment" (CC-518) by Benjamin Moore
Dining nook
"This bay window was meant for a banquette," says Ingrid. "We took an otherwise awkward eating nook and turned it into a functional spot for eating quick meals, doing homework or reading a great book." Slipcovered armchairs and toss cushions make it extra inviting; the table continues the industrial theme.
Mullioned windows
The handsome mullioned windows and doors – the home's most important architectural features – were painted black to make them stand out against the neutral backdrop. The transom windows above the doors in the family room give the illusion of a higher ceiling.
Industrial table accents
The greenery in the table planters bring colour to the kitchen's grey cabinetry and the neutral palette of the dining nook.