Laundry Room
Design lesson: Stylish second floor laundry room
A fresh and clean second floor laundry room
Laundry Room
Design lesson: Stylish second floor laundry room
Designer Jennifer Glover renovates the laundry room on the second floor of her Toronto home with a fresh, clean look in mind.



Since her son's bedroom is next door, Jenifer had the laundry room walls soundproofed to ensure the space could be used any time of day. A flatscreen TV was also a must-have for the busy mom, who wanted to make sure the job got done regularly. "My husband is the one who does the laundry, and he loves to watch football on Sundays," she says.



Jenifer had bottom cabinets installed along one wall to make the most efficient use of the space. she ditched her initial idea of having upper cabinets, since the depth of the washer and dryer would have made reaching up into them difficult. The ready-made cabinetry houses cleaning supplies, while the drawers serve as spots for random odds and ends. "I toyed with choosing those sliding hampers but then worried the laundry would get forgotten," she says.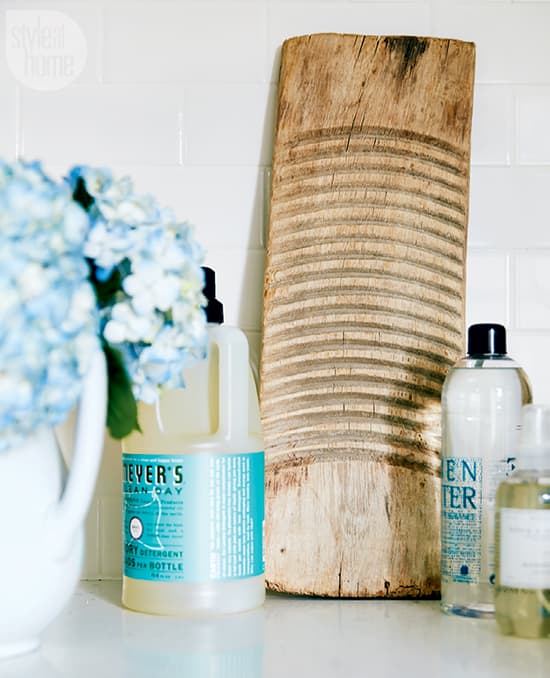 "A laundry room should be, if anything, clean – or at least feel clean," says Jenifer. "That's why there's nothing overly ornate in this space." With that in mind, she chose flat-panelled cabinets, a sleek caesarstone countertop and a white washer and dryer. A classic subway tile backsplash carries on the clean-lined vibe.

Decorating advice from Jenifer
"Don't be afraid to hang a favourite piece of art, wire in a TV or add a fabulous rug - anything to make the sorting and folding more enjoyable."