Living Room & Dining Room
3 Ways to Design Your Living Room
Producer Julie Lapointe

Photography Julien Faugère
Living Room & Dining Room
3 Ways to Design Your Living Room
It's all about the styling! Which of these modern settings – each with the same modular sofa and cabinet – suits you?
IN EACH SETTING
Modular Rubix Nature SOFA, price on request, Jaymar. Suar Wood DRESSER, $2,599, Mobilia.
Natural Beauty
A gentle palette, earthy textures and soft, sink-into comfort is your ideal.
Photography, Julien Faugère
Pro Styling Tips
► If you love nature, a palette of soft earthy tones paired with light-colour wood furniture will set a soothing foundation.
► Layer in textiles that add both pattern and soft-to-the-touch texture. Avoid matchy-matchy toss cushions; source them from a variety of retailers to get a look that appears to have evolved.
► Plants, terracotta pots, wood accents, and ceramics or baskets with a hand-crafted feel finish
the look.
Photography, Julien Faugère
Photography, Julien Faugère
Photography, Julien Faugère
Round wood COFFEE TABLE with lift top, $300, Bouclair. Gani RUG, $700; Elly FLOOR LAMP, $450; Vero THROW, $120; June JUG, $50; EQ3. Artificial OLIVE TREE in pot, $500; plant (on dresser), $84; potted CACTUS, $38; Véronneau. Natural CUSHIONs, $30 each; Faces line-art CUSHION, $28; Boutique Kozy. Swimmer CUSHION, $68; rattan BASKETs, $32 each; Buk & Nola. Wooden monkey, $150, Nüspace. Round WALL STICKERS, $18 (20"), $40 (30"), $70 (40"), Artza. PAINT, French Gray Linen DLX1029-3, Dulux.
Sophisticated space
You love an elegant, well-tailored look, but never go totally by the book.
Photography, Julien Faugère
Pro Styling Tips
► A serious and cool palette of black, grey and white is the perfect backdrop for the warmth of gold accents, as in our choice of rug, cabinet, lamp, art and accessories.
► Don't be afraid to add accents that show your personality, especially in a room that's furnished with restraint.
► One striking artwork holds power in a space. Go big, bold and modern to make a statement.
Photography, Julien Faugère
Photography, Julien Faugère
Photography, Julien Faugère
Wenzel glass COFFEE TABLE, $499; Emente RUG, $279; Mobilia. Eclipse FLOOR LAMP, $376, VdeV. Simpliste WALL ART, $319; artifical BIRD OF PARADISE, $340; Véronneau. Gold PLANT HOLDER, $17; black CUSHIONs, $50 each; CLOCK, $23; Boutique Kozy. Oro CUSHIONS, $35 each; black VASE, $20; CURTAIN, $70 per panel; Bouclair. Caro THROW, $120, Zone. Seletti STARMAN, $195; Seletti my SPACESHIP, $250; Black Leaves WALLPAPER, $44 per panel (21" x 48"); Station D.
Light & bright
Fun, that's you. Pretty, happy colour and a touch of whimsy is the only way to go.
Photography, Julien Faugère
Who says a gallery wall has to have framed artwork? Install unusually shaped pieces for added interest.
Pro Styling Tips
► Here's a look to really have fun with. Wake up a neutral grey sofa with lots of colours, but keep the palette related by choosing hues
in soft pastels.
► Let your heart lead you to the art you love. If this is your look, you'll naturally gravitate to works that don't take themselves too seriously and that make you smile.
► Ceramics, books and even toys all offer ways to usher in colour.
Photography, Julien Faugère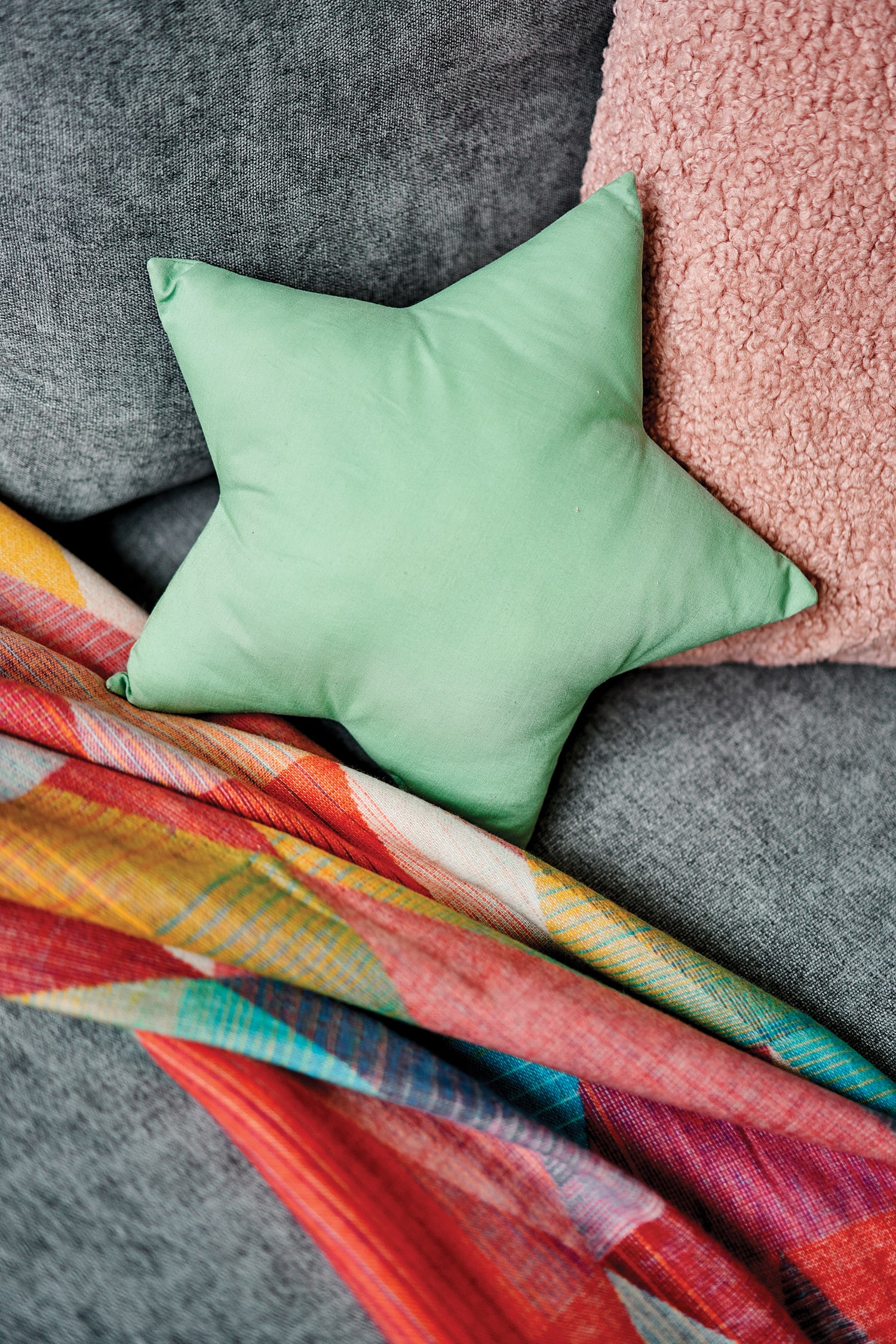 Photography, Julien Faugère
Photography, Julien Faugère
Klay END TABLE, $276, VdeV. Taaj END TABLE, $149; Sisley BASKETs, $30 each; EQ3. Brooklyn RUG, $160; artificial Ficus elastica, $390, Véronneau. FLOOR LAMP with terrazzo base, $945, Luminaire Authentik. Umasq Rita wood WALL ART, $170; Klippan THROW (in basket), $170; yellow CUSHION, $70; Candylab TOYS, $65 (Beach Bus), $15 (orange Rio Grande Mule), $45 (yellow Cotswold); Nüspace. Nador CURTAIN, $40 per panel; Heart WALL ART, $30; Blowing Bubbles posters, $3 each; IKEA (frames not included). Striato VASE, $17; Stri Hori VASE, $17; Gradient triangle THROW, $120; Zone. PLANT HOLDER (on dresser), $20; Pompom Wassel CUSHION, $49; pink Nelina CUSHION, $119; Mobilia. Star CUSHION, $42, Buk & Nola. PAINT, Flora AF-470, Benjamin Moore.