Living Room & Dining Room
9 ways to achieve a chic and natural holiday look
Living Room & Dining Room
9 ways to achieve a chic and natural holiday look
Lifestyle icon Aerin Lauder creates a striking holiday setting in her Aspen, Colo., chalet. And in honour of her lineage, we've compiled nine tips to create a stunning festive look, whether they're applied to the face or the home.
1 CONTOUR WITH HIGHLIGHTS AND LOWLIGHTS
The key to any polished look is to play with light and dark shades to showcase points of interest. In the living room of this winter retreat owned by Estée Lauder's granddaughter Aerin, a feature wall draws attention to the fireplace and grounds the space. The same technique is used to celebrate the view, with black window frames highlighting one of the best features of the chalet: its picturesque setting.
2 MAKE A STYLE STATEMENT
Even the most natural beauties go glam on occasion – particularly for the parties that pepper the month of December. This dining table is set with a mix of organic materials and hues but is punched up with a play of patterns and materials, in everything from the plates and glasses to the placemats and tablecloth. "I love to incorporate a sense of surprise, whether through colour or texture," says Aerin. Subtle shimmer comes from the ice bucket at the foot of the table, like a touch of sparkly eyeshadow in the corner of the eye.
3 APPLY THE BASE
Find a foundation hue that suits your space and its surroundings. For this interior envelope, which seamlessly blends with the snowy landscape, "white, beige and green tones, as well as accents of pine and create, cypress a warm cozy environment," says Aerin.
4 KNOW YOUR ANGLES
Let's face it: With oversized windows framing stunning sylvan mountain views, this interior serves as almost a sideshow. Since the focus is on the outdoors, low-slung furnishings with clean lines that don't compete with the scenery were favoured, and a pair of iconic Hans Wegner chairs add interest without compromising sightlines. "I wanted to make sure the house was very restrained, but also cozy, so we gave it an edited, warm palette," explains Aerin, who included lots of texture for the same reason.
5 STEP INTO THE LIGHT
Rooms shine when they radiate a sun-kissed glow, so Aerin left her windows largely unadorned. Natural light flows into this room, unimpeded by the furniture's open frames and the wood tones that echo the outdoors.
6 ADD A TOUCH OF ROUGE
Conventional beauty wisdom says that if you accentuate the eyes, you should leave the lips neutral, and vice-versa. So it makes sense that delicate pops of red appear in almost every room of Aerin's Aspen retreat (even the kitchen), often serving as the only homage to the holidays and making a statement with their chic subtlety.
7 ENHANCE YOUR BEST FEATURES
Decide what you love most about your space and boost that feature however possible. Since this is a ski chalet that highlights its stunning mountain views, it's only fitting that a key piece of artwork echoes the sentiment.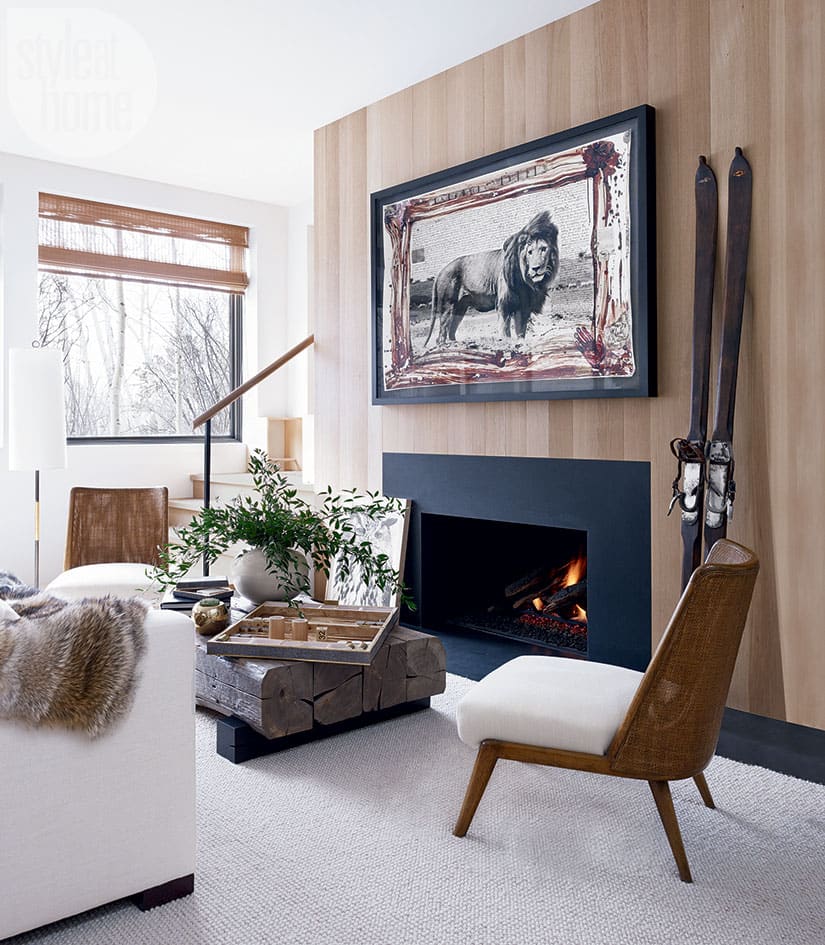 8 BE YOU, BE FIERCE
Whatever your look, let it confidently reflect you. Lion artwork above this snug room's fireplace channels strong energy and power, but it has a hand-painted appeal, as if Aerin's kids lent it their own unique touch. A pair of painted skis pays homage to what this chalet is really all about.
9 WELCOME WHIMSY
A touch of the unexpected elevates any look, be it a bold eyeliner or a surprising shade of shadow. The same is true when it comes to the home. In this quaint corner, a wreath of Alice in Wonderland proportions takes this vignette from everyday to epic.