Living Room & Dining Room
A Brooklyn brownstone gets a glam twist
Living Room & Dining Room
A Brooklyn brownstone gets a glam twist
After a series of nips and tucks, a derelict brownstone in Brooklyn, N.Y., reaches its full potential – and then some.
Four years ago, Nicole and Jordan Stein made the trip from the maelstrom of midtown Manhattan to a quiet, leafy street in Brooklyn that, compared with the city, felt downright pastoral. They had come to tour a brownstone as part of an estate sale, and immediately saw its potential despite certain drawbacks.

"I definitely had some trepidation because the house was in extremely rough shape," says Nicole, who designs fine jewellery she sells through her online Etsy shop, ByNicoleAlexis. Conversely, Jordan, a Montreal-born business consultant and entrepreneur, was confident it could be brought back to life – after all, he had watched his parents successfully transform a beat-up Vermont ranch when he was younger.

"Our goal was to marry classic architecture with a modern aesthetic," says Nicole, who wanted the interior envelope to look original to the house. Though the idea of gutting the space and blasting out the walls was brought up, it didn't get far. "We bought a brownstone, not a condo," says Nicole cheekily. "Sure, we have a narrow hallway and a tiny powder room, and yes, it's a little quirky, but it's true to the original home." So the small rooms remained intact and were slowly brought back to code over the course of a year under their contractor's exacting eye.

Next up? Christine Dovey, a designer based in Oakville, Ont., who has remotely kitted out homes (via email) from America to Norway, stepped in to apply her signature style: ravishing rooms with traditional architectural details in a modern palette of black and white with bursts of pink; spaces in which provocative contemporary artwork often sits alongside antique furnishings.

To deliver an authentic period look, Christine suggested the homeowners invest in crown mouldings. "Nicole wanted something that looked like it was there originally, so we went with big plaster mouldings as a splurge on the living room ceiling but regular crown throughout," says Christine. Making sure the interior looked more downtown than Downton, the designer balanced the historic architectural elements with what she calls "a mixed bag of edgy yet elegant furnishings."

In need of some hand holding a little closer to home, Nicole also worked with local designer Natalie Kraiem, who helped achieve the look by choosing key pieces including the rugs and living room artwork.
The sculptural replace in the eat-in area of this Brooklyn, N.Y., brownstone was in such rough shape, it had to be removed and rebuilt. Above it, the enormous antique filigree mirror that belonged to the previous owners lends romance to the space. "We loved it so much we negotiated it as part of the sale of the house," says homeowner Nicole Stein.
Dripping with crystal beads, the antique brass basket chandelier was a splurge, but Nicole insists it's a forever piece. "I'm crazy about it too," says designer Christine Dovey. "I love how it contrasts the rough-hewn wooden table." The bespoke kitchen peninsula, with its marble waterfall edge, was also pricey, but Nicole had the fabricator use the scraps to make luxurious window ledges. "Everyone comments on them," she says.
A blend of vintage- and modern-look furnishings gives the formal living room an eclectic, collected feel. Sculptural retro Alky chairs are a fun contrast to the stiff-backed caned settee. Heavyweight-cotton curtains draw the eye up to the 11-foot- high ceiling. They were originally placeholders, but looked so fabulous that Nicole decided to keep them – proving that you don't always need to spend a mint on custom drapery.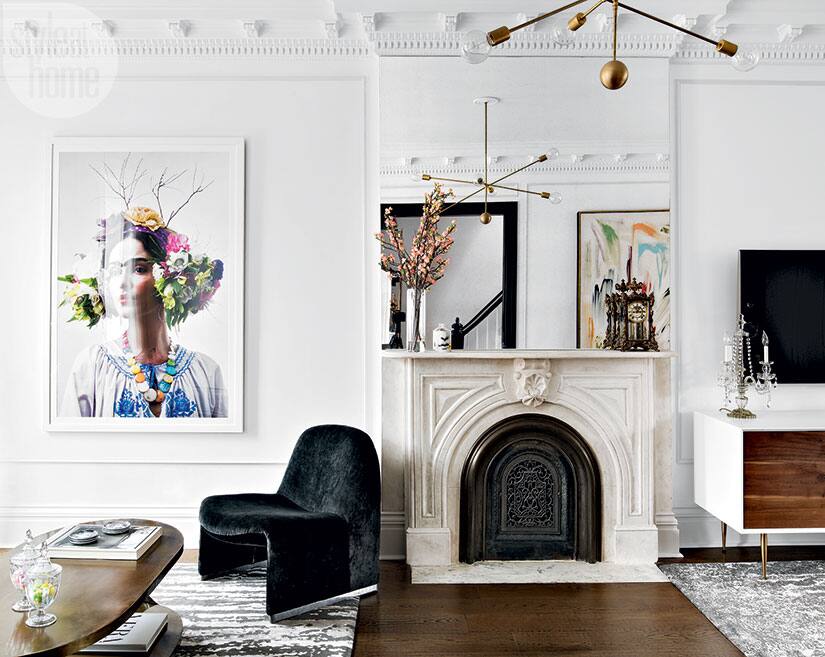 Inspired by the iconoclastic Mexican painter, Frida is a punchy print that presides over this area of the living room, where a brass Sputnik lamp, oversized mirror and sculptural fireplace surround offer exciting diversions.
Wild! This spotted antelope-print runner gives an unexpected punch, introducing a graphic pattern into the front hall. "It's classic but edgy," says Christine.
Show-stopping architectural details on the ceiling of the living room's media area are period appropriate but were non-existent when the couple bought the brownstone. Nicole tracked down a plaster restoration specialist in Long Island, N.Y., and sent Christine samples to narrow down the options. The installation took a week and was definitely a splurge. "It's a real art. There is literally someone there with a cotton swab and a fine blade forming everything by hand," says Nicole.