Small Spaces
A tiny condo enveloped in inky black and peppered with glam touches
Image: Alex Lukey / Styling: Scott Young
Small Spaces
A tiny condo enveloped in inky black and peppered with glam touches
Lavishly layered, this small, mostly black condo has as many glamour-filled moments as a home twice its size.
From the coffered ceiling to the kitchen sink, Jamie Alexander's bold condo is awash in black – now that's chutzpah. The interior designer, who also habitually dons Johnny Cash's preferred hue, has good reason to embrace the dark side. "Black, like white, works with everything," says Jamie, half of Peloso Alexander Interiors, which he runs alongside Glen Peloso. The designers had previously beautified 10 of the units in Jamie's eight-storey building in the city's historic St. Lawrence Market neighbourhood, and Jamie was finally ready to finesse his own.

Even before the transformation of the space he shares with his husband, stylist and hair stylist Joshua Breau, was underway, Jamie's friends were making predictions: "You're going to do a black condo, aren't you?" Indeed, he did. The inky envelope is a sultry backdrop for the dynamic elements, from the eye-catching wall treatments to the striking gold accents, that elevate the 525-square-foot abode.

The renovation took a year because "we wanted to perfectly tailor it to our tastes," says Jamie, who opted for slender appliances throughout the kitchen. "When you're only two people in a small space across from St. Lawrence Market – a.k.a. foodie cen- tral – who needs a huge fridge?"

In the bathroom, Jamie nixed the idea of including a soaker tub for similar spacing reasons: "We're not the bath types," he says, noting that the room serves as a genteel homage to "the throwback New York City loo." Though small, it packs a punch, at once classic (thanks to the pedestal sink, Shaker-style cabinetry and subway tile wall) and charismatic (check out the cloud wallpaper, striking geometric oor tile and prominent shower hardware).

Sure, the bathroom's a stunner, but when you ask Jamie to name his favourite room in the condo, it's the bedroom. "I was ipping through a catalogue and I saw this over- sized palm leaf-printed fabric," says Jamie. "I just had to have it for my duvet cover. Joshua thought I was a lunatic." After all, the designer had already chosen faux leather- quilted indigo wallpaper, gold drapery and an indigo ceiling – the symphony of colours could have clashed or overwhelmed the space. Instead, the union of hues results in a warm and luxurious cocoon. "Green and blue is a magnetic combination," says Jamie. Might this mark a departure from his devotion to black? With this audacious designer, anything's possible.
For the consummate entertainer, a bar cart is essential, even in a small condo. This one easily rolls in and out of service as needed.
Having worked in historic hotels across Canada, interior designer and homeowner Jamie Alexander showcased his love of old architecture in his condo through the coffered ceiling, crown moulding and a wall-to-wall built-in shelf. The custom gold-hued sofa tucks perfectly underneath the window.
Dignified and dramatic, the black kitchen is accented with satin brass pulls, a black granite sink and a gold-hued sunburst light fixture. "I love the black sink because it feels like a natural shadow," says Jamie.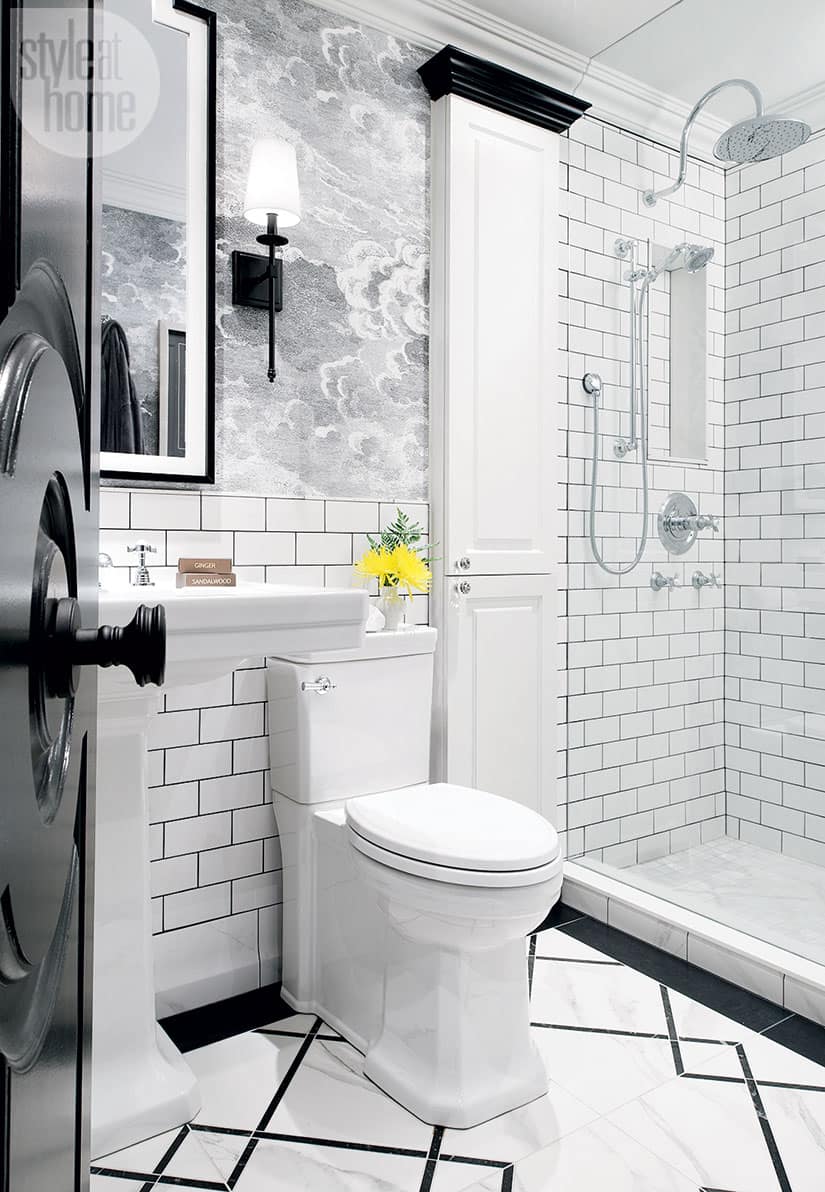 Minutiae matters when you're creating a little oasis, as Jamie knows from decorating the luxurious loo. "A beautiful feature is the porcelain baseboards," he says. Though the rim on the shapely pedestal sink offers no storage, the sleek custom linen closet offers plenty.
Sophisticated sconces, a stately mirror and subway wall tiles with contrasting grout keep the playful wallpaper from looking too ethereal. "The mirror is a custom beauty," Jamie says, adding that it also serves as a medicine cabinet. "We were able to steal from the wall cavity behind it for storage."
Not a single square inch of the fastidiously decorated bedroom was left untouched. A coffered ceiling inset with royal blue paint hits a luxurious note, as do the walls, which are strapped in quilted faux leather and set against a studded headboard. A matching gourd lamp and cheery palm-print bedding provide a show-stopping punch.