Small Spaces
Interior: Coastal condo
A serene coastal-inspired condo in British Columbia.


Small Spaces
Interior: Coastal condo
For these Surrey, B.C., empty nesters, downsizing means truly loving where you live.
Downsizers fall into two camps: sentimentalists and pragmatics. The former cling to their children's doodles for decades, as though Picasso himself drew them; the latter expunge the contents of their lives with panache and purpose. This last group describes these Surrey, B.C., homeowners.

For nearly 20 years, the couple lived in a 4,000-square-foot home. But after they retired and their now-grown children moved out, they surveyed the many rooms, anticipating the endless dusting and vacuuming (not the most enjoyable way to spend their golden years), and decided to buy a condo.

They methodically downsized from their three-storey home in small bites until they moved into their new 1,450-square-foot, three-bedroom condo. (The purging took about a year). Although the light-inviting corner unit was fitted with windows on three sides and a pair of glass doors in the living room leading to a large southwest-facing deck, the condo was painted a drab colour and the previous owner hadn't done a good job of maximizing its potential - and it had lots. So these new homeowners called in Karla Amadatsu of Kerrisdale Design to address its lack of personality.

"They wanted it to look like something out of a Diane Keaton movie - a little bit Hamptons," says Karla, referring to the iconic cream and pale blue coloured beach house in Something's Gotta Give.

Entryway
The home's design certainly has coastal moments. Botanical artwork graces the entryway with a mélange of seemingly disparate items, such as a damask ottoman paired with a zebra-patterned book, makes for an engaging entranceway. Symmetry is always pleasing to the eye: here, the modern Parsons table, gold captain's mirror and twin table lamps establish a pyramid.
Tabletop accents
Pretty peonies add colour and texture and feel effortlessly elegant stacked on conversation books.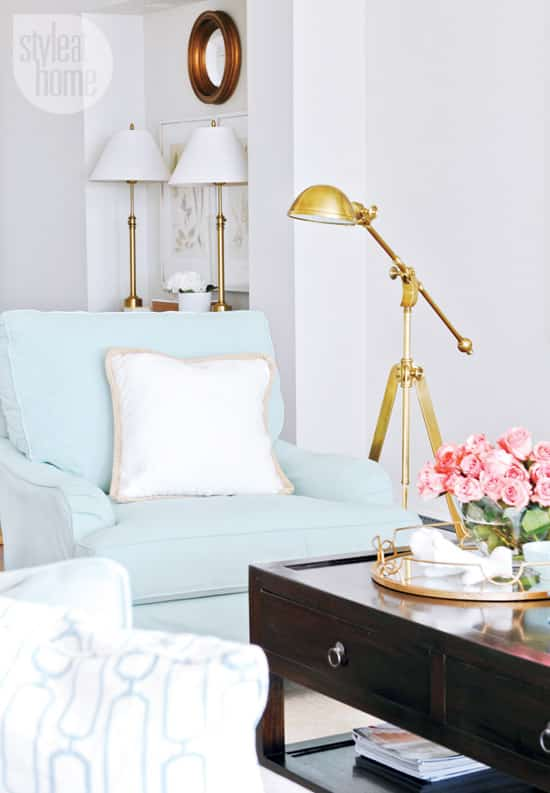 Family room
"Rather than brand-new polished fixtures, antique-look brass has warmth and gives the condo a sense of history," says Karla, noting the brass accents in the table lamps, floor lamp and the coffee table tray.
Pale blue toss cushions
Botanical artwork graces the entryway, while a dreamy turquoise landscape painting offers a blast of brightness near the pedestal dining table. But, in the open-concept living room the pale blue toss cushions are what add to the coastal feel of the space.
Dining table
Who doesn't love a pedestal table? The classic space saver is paired with bright white fretwork-backed dining chairs (matched dining sets are so yesterday!). For continuity, the table lamp base and gold-flecked vase on the sideboard echo the hanging lantern.
Kitchen
The maple kitchen is surrounded by similarly hued bamboo flooring for a dramatic effect, but the wood isn't overpowering thanks to the silestone quartz countertops, stainless steel appliances and subway tile backsplash. The space also holds an airy, spacious quality to it becuase the kitchen cabinets don't extend all the way to the ceiling.