Small Spaces
Small space: Eclectic and colourful condo
Small Spaces
Small space: Eclectic and colourful condo
Lindsay Mens Craig's condo uses pattern, colour and furniture to create a bold and confident home in a small space.
It may be a bold move to fill a small space with this much pattern, colour and furniture, but designer Lindsay Mens Craig boasts as much confidence as her space does personality – and it really works!

At 22 years of age, most of us weren't walking up to Sarah Richardson asking for a job. But most of us aren't Lindsay Mens Craig. Humorous and energetic, she's positively effervescent when she talks about what she loves – and what she loves is walls brimming with personality, bedding topped with texture à-gogo and surfaces accented with glitzy accessories galore.

Meet Lindsay Mens Craig
"When something calls my name, I buy it," she says simply. She knows she'll find a place for it – even if it's a chorus of voices calling out to her different tastes and styles. So when Lindsay decorated her 800-square foot condo in downtown Toronto, a crowd of textures, colours and patterns seamlessly came together, mixing and mingling as easily and comfortably as old friends.
Behind the sofa sits a tiny black bar that hides an ugly vent cover. Plus, "hits of black in a room keep the rest of the colours anchored," says Lindsay.

Looking for more colourful living room inspiration? Check out our high/low colourful living room.
Making a small space work
You can't tell from this angle, but the coffee table is actually six feet long. Homeowner Lindsay Mens Craig's friends were unsure how furniture of this scale would fit inside the compact living room, but angling sleek chairs and using a large mirror to reflect nearby Lake Ontario makes the small room shine. Meanwhile red tulips stand out against a cohesive collection of watery blue vases.

Find more helpful tips for small spaces with our 6 small space decorating ideas.

Hallway
Lindsay turned her front hallway into a gallery wall by painting a pale blue rectangle on the wall, then hanging her pictures inside of it. The bench below is great for putting on shoes, putting down groceries or serving as extra seating when guests stop by.

Keep your front hall looking neat and organized with our front hall organizing 101.
Lindsay took advantage of a small nook in the main living space and created an elegant dining area by incorporating glass and metal furniture with clean lines. The round dining table ensures ease of flow, while the light, airy quality of the chairs makes them less obtrusive in the open-concept layout.
Feature wall
Within the first week of moving into her new place, Lindsay had painted eight-inch-wide stripes to create a feature wall in the living room. In the end, the thick charcoal grey stripes make a statement, while corals in the painting and stool fabric punch up the look.
"I believe in splurging on well-built beautiful things, even if you have to cut corners elsewhere," says Lindsay. "For instance, at first I wanted to rip out the carpet in the bedroom but I ended up putting the sheepskin rugs down instead to save money because I had already splurged on the dresser."
The bedroom feels bigger with floor-to-ceiling windows left unadorned.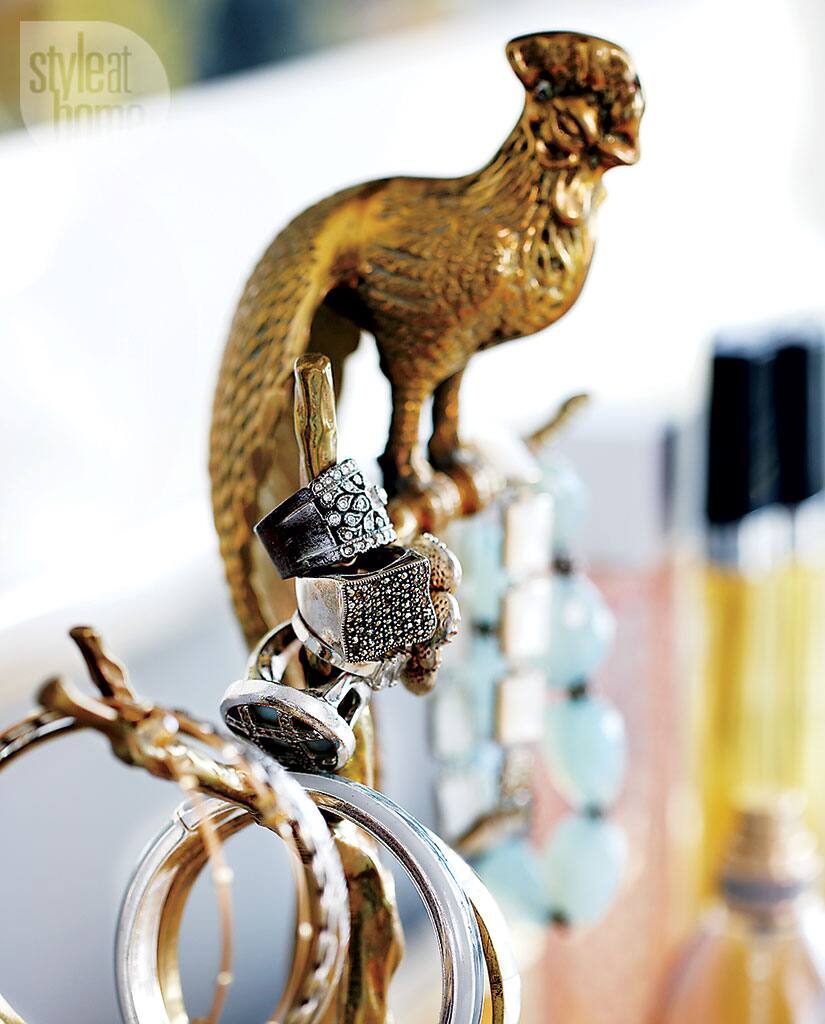 Lindsay really gained the confidence to push her boundaries, bringing in intense blues, deep pinks, bright yellows and sparkly accents and brass touches. From rugs and throws pillows, down to the pretty jewellery that hangs on a whimsical stand on the dresser.


Short on space? We have 25 ways to make the most of a small space.